THE DOGRUN
a place to share ideas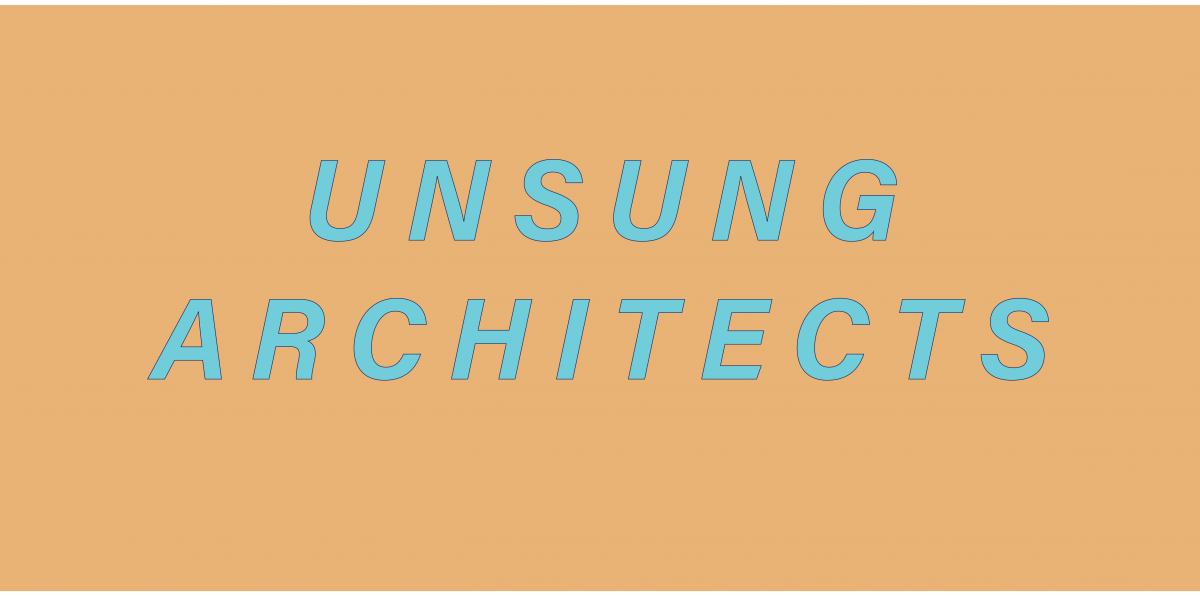 Posted by Ayesha Erkin on 4/26/21 at 1:20 pm
Unsung Architects is a series celebrating architects not often highlighted in academia with the intent to collectively educate and provide new perspectives within the architecture discipline.
HASSAN FATHY:

Hassan Fathy (1900-1989), a regional modernist, was Egypt's most well-known architect in the 20th century, but his (controversial) popularity did not extend beyond the region. His formative years as an architect were during a time when Egypt was within its struggle to gain sovereignty against the British. It was also a time when Romanticism & Enlightenment were thriving, creating waves within artists & intellectuals. However, architecture remained as is - an import from Western ideals.
Fathy was a philosopher, a painter, a journalist & even wrote a play (The story of al Mashrabiyyah) where he designed the costumes. Fathy's interests were primarily in housing & collective living. The New Gourna project (1943-1947) defined a courtyard system that combined residential and public life, & set a precedent for future work including New Baris (1965), amongst other housing developments, master plans & community schemes in Egypt, Pakistan & Iraq.
His primary choice of building material was clay, which was vernacular to the region. Building from clay created softness in his work, flooding the spaces with ethereal light, while also being available & affordable. He wrote extensively in regard to working with adobe. His ideas on universality within architecture were hinged on the difference in the East & the West, where many architects practiced functionalism.

"We know that architecture, in all its styles, is one of the most important elements of culture, & that culture may be defined as the results of the interaction between the intelligence of man and his environment in satisfying both his spirit & physical needs.... we must define the interchangeable & noninterchangeable elements in, & between cultures. Anything that belongs to the functional can be interchangeable, since it has no native country and belongs to a specific example. Like mathematics, it is universal; we cannot, however, limit architecture to the functional."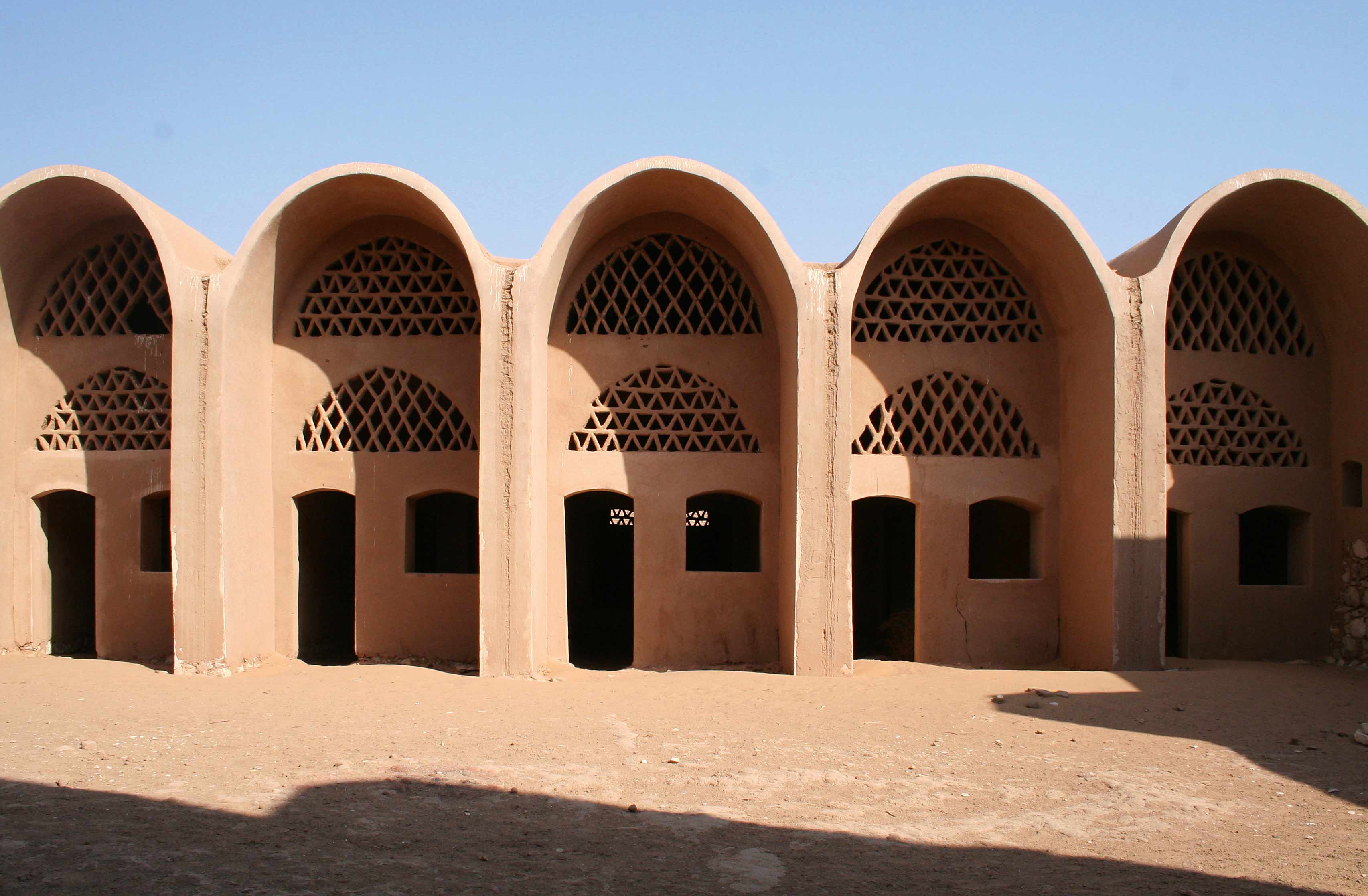 He followed beautiful principles in his design ethos:
- Musicality in Building: Spaces sing when they're proportioned harmoniously, like music but for our eyes.
- Building as a Spiritual Act: Removing what is superficial & preserving what is essential. Man is not the creator, but a vehicle.
- The Mechanical is Death: "The mechanical takes away from human harmony with nature, materials & tradition; the mechanical, like symmetry, is death."
- The Shell of a Snail: When you create something, be it as small as a brick, you are placing a part of yourself in it.
- Civility in Building: Architecture is a communal art. It is seen by everyone. It is forced on everyone. Make it good.
- Forces of Climate: What serves the form of heating cannot serve the form for cooling.
HELEN LIU FONG:

 
Helen Liu Fong was a Chinese-American architect and interior designer from LA. Fong's parents owned a laundry shop in Chinatown, LA, where she was born in 1943. She was one of five and all grew up helping run their family business. However, Fong's father was determined to have his daughter educated so she could be independent. When asked at age 12 what she wanted to do she said "I don't know, build houses?".
She became a prominent figure in the Googie architecture movement. Googie architecture was coined as 'futuristic' architecture (think The Jetsons) with bright lights, boomerang angles and eye catching forms that are iconic to Southern California roadside architecture. Fong passed away in 2005.
In 1951, she worked for Louis Armet and Eldon Davis as a draftsperson, learning about the Googie aesthetic and where she was appointed an associate in 1964. Some of Fong's projects include Norms Restaurant, the Holiday Bowl, Denny's, Bob's Big Boy, and Pann's Coffee Shop. Fong was one of the first women to join the American Institute of Architects (AIA).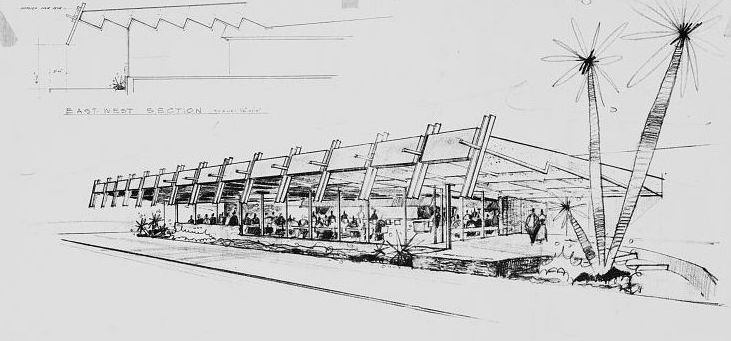 "Although Fong has primarily been credited with her work on Armet and Davis interiors, Wong says he believes she was much more involved in other aspects of the firm's work. "She's oftentimes relegated to the interior design or landscaping. But some of the interviews that we did said, 'no, she actually had a big role in the overall design in some of these buildings too,'" Wong says. "But I think perhaps she was allowed to truly express herself on the interiors."" - via Curbed
Fong had a knack for practical yet fanciful touches - she insisted on using "strong colors, such as reds because they would register from the roadside" in her work when it was an unusual thought to exhibit such theatrics. She loved to merge the line with fun and functionalism. Fong mostly focused on commercial architecture, but in 1956 she designed a modernist home for the Starr's. The house was a single story, family friendly style with plaster exterior and a gravel roof. The hearth of the house was the kitchen with the other spaces radiating around. This allowed Mrs. Starr to watch her children while she was working in the kitchen.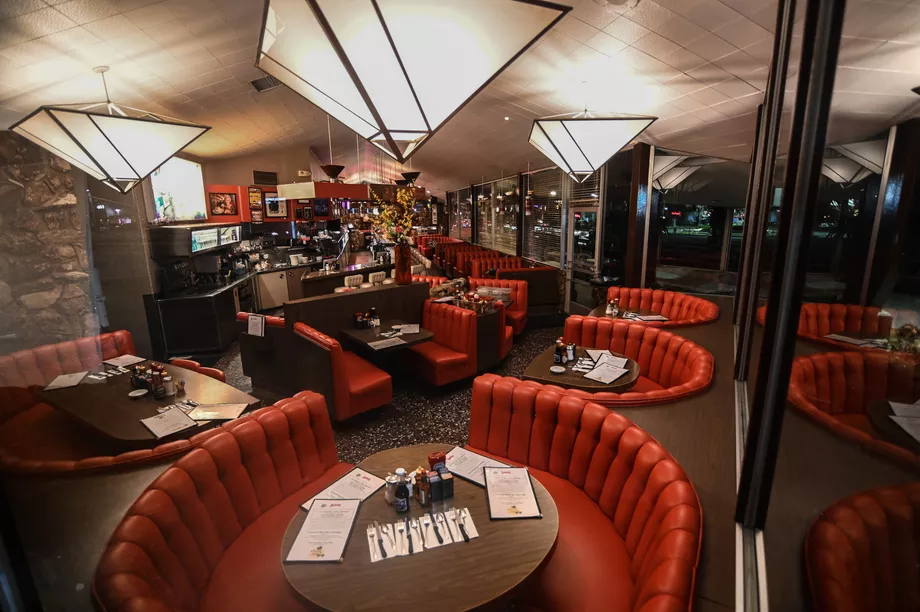 "If it wasn't for the race issues and gender discrimination in a very, still a very male-dominated field, she could have been so much more if she was alive today. She should have been a licensed architect. She shouldn't have had to work under two white men. Perhaps she couldn't have gotten to where she did if it wasn't for the support of the firm. But at the same time, I believe that she could have done so much more. Her legacy is all over the country, represented through architecture, through these very stark visual forms, and Helen had a heavy hand in that. It's a pretty large legacy that she has left, although it's not that well known, Shedding light on her contributions will help truly acknowledge what women have contributed, that often times conveniently men forget about in this industry." -Steven Wong (curator of the Los Angeles Municipal Art Gallery)