THE DOGRUN
a place to share ideas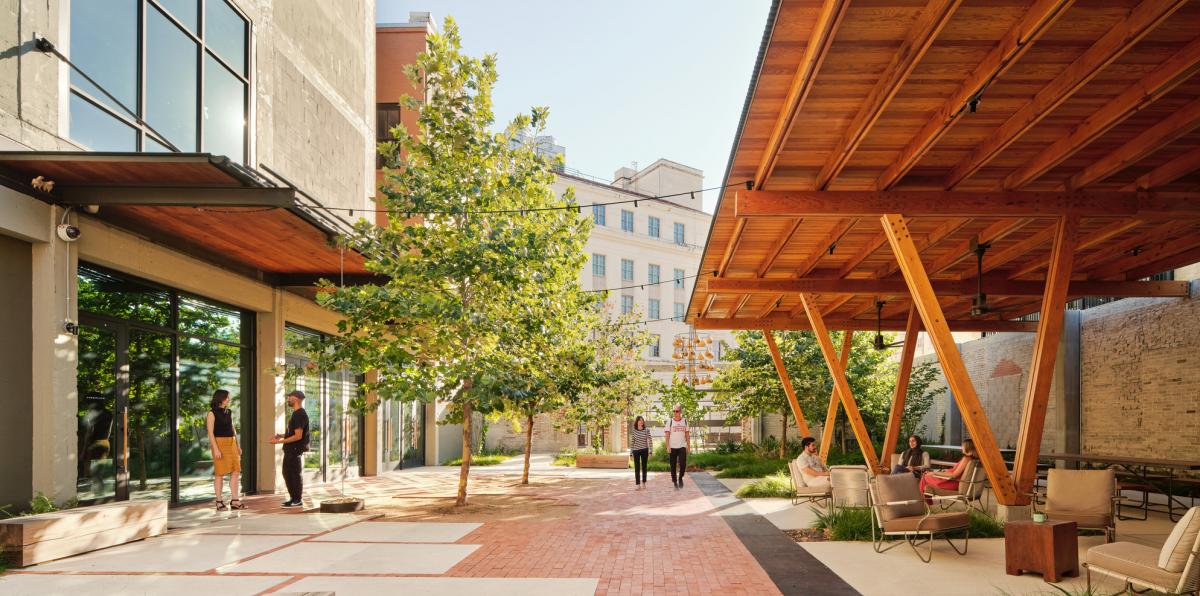 Posted by Lyanne on 9/26/23 at 5:32 pm
Following an extensive transformation of Lake|Flato's office in downtown San Antonio, we are thrilled to be back together in a reinvigorated space designed to promote creativity, collaboration, and culture. Over the last few years, our internal design team has worked tirelessly to create a healthy, inclusive work environment that applies design principles that have defined our work for decades. The result is a flexible office designed for the modern workplace that connects people to the outdoors and to each other.
With the building's original bones on display, and through a design exercise of subtracting rather than adding, our new 311 Third office proudly references the firm's history in the Alamo City while supporting our continued growth.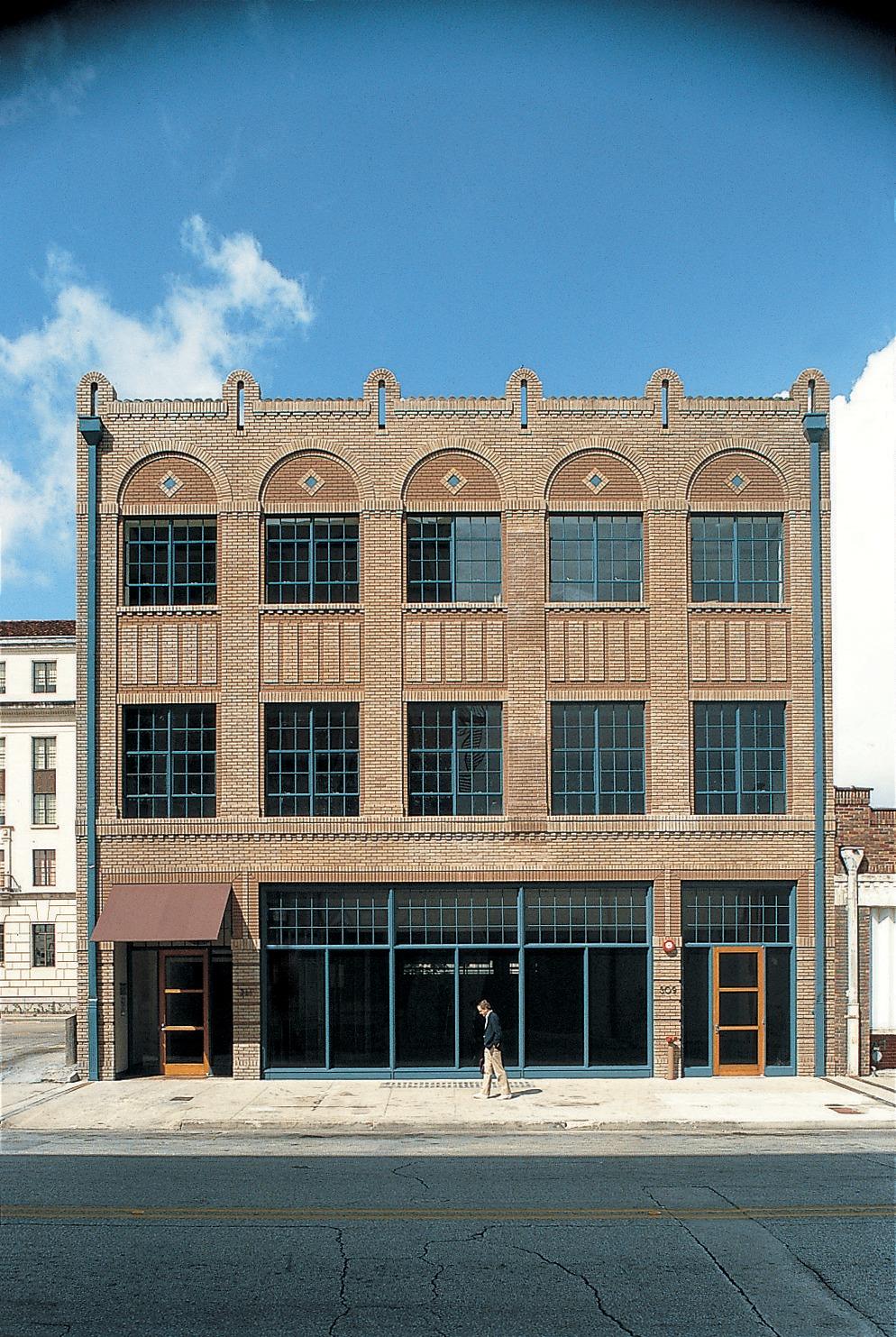 HISTORY: 311 THIRD IN THE 80's 
For almost 40 years, Lake|Flato has been housed in the same building in downtown San Antonio – a "warehouse-like" three story structure that was once a car dealership. The building's original function is to thank for much of the original design: massive, heavy concrete beams spanning 50 feet and 13-foot ceilings were necessary for the cars stored in the upper levels.
Initially, Lake|Flato rented only one half of the building's second floor and was surrounded by other tenants, including lawyers, a radio station, and fellow architects. A deal was struck between the building's then-owner and the eager architects on the second floor, David Lake and Ted Flato: ownership in the building in exchange for their design services to fix it up. Up until then, the firm had mostly worked on ranch houses and residences that were embedded in the landscape. Lake|Flato's first office became our first commercial project.
"Adaptive reuse was always something we wanted to be doing and so this was an early option to do that… We really desperately wanted to be downtown and be a part of the whole revival of downtown, so everything about this opportunity was perfect," Ted Flato says.
"LIVING THE DREAM" 
Fast forward to 2019, and the firm had taken over every square foot of the building with more than 100 employees based in San Antonio. While the office had been renovated in pieces over the years, it had been years since the building's most significant design overhaul. Designers from across the firm named the office's future transformation "Living the Dream," a commitment to renovate and expand the office into a healthy, high-performing, and flexible workplace.
When the pandemic hit in 2020, the design shifted towards indoor-outdoor environments calibrated for flexibility. As it turns out, what is good for our respiratory health is also good for our mental, emotional, and environmental health.
"Our design process, much like we conduct with our clients, was very inclusive. We spent a lot of time talking to staff members at all levels about what they would like to see in our renovated office. We did that through individual meetings and surveys to hear all the voices. From there we spent time, of course, creating a beautiful design that Jamie [Sartory] led," says Brandi Rickels, a partner at Lake|Flato.
Equipped with new ideas and tools supporting hybrid work, Lake|Flato decided to reconfigure its indoor office environment and replace onsite parking with an outdoor courtyard. The design team saw this project as an exercise in removing and renovating, rather than adding – encouraging health and wellness through outdoor amenities, connections to nature, and alternative modes of transportation.
The historic façade of the former parking garage was preserved and reinforced to maintain the urban scale and streetscape. In place of the former garage doors, a new pedestrian gate serves as the office's "front door" and transports employees and visitors into the shaded urban respite as they enter the office. The four-season outdoor courtyard is now an extension of the office and serves as a natural backdrop for a variety of work, community, and social collaborations throughout the year. Immersed in a garden setting, this outdoor space has become the firm's most cherished collaboration space.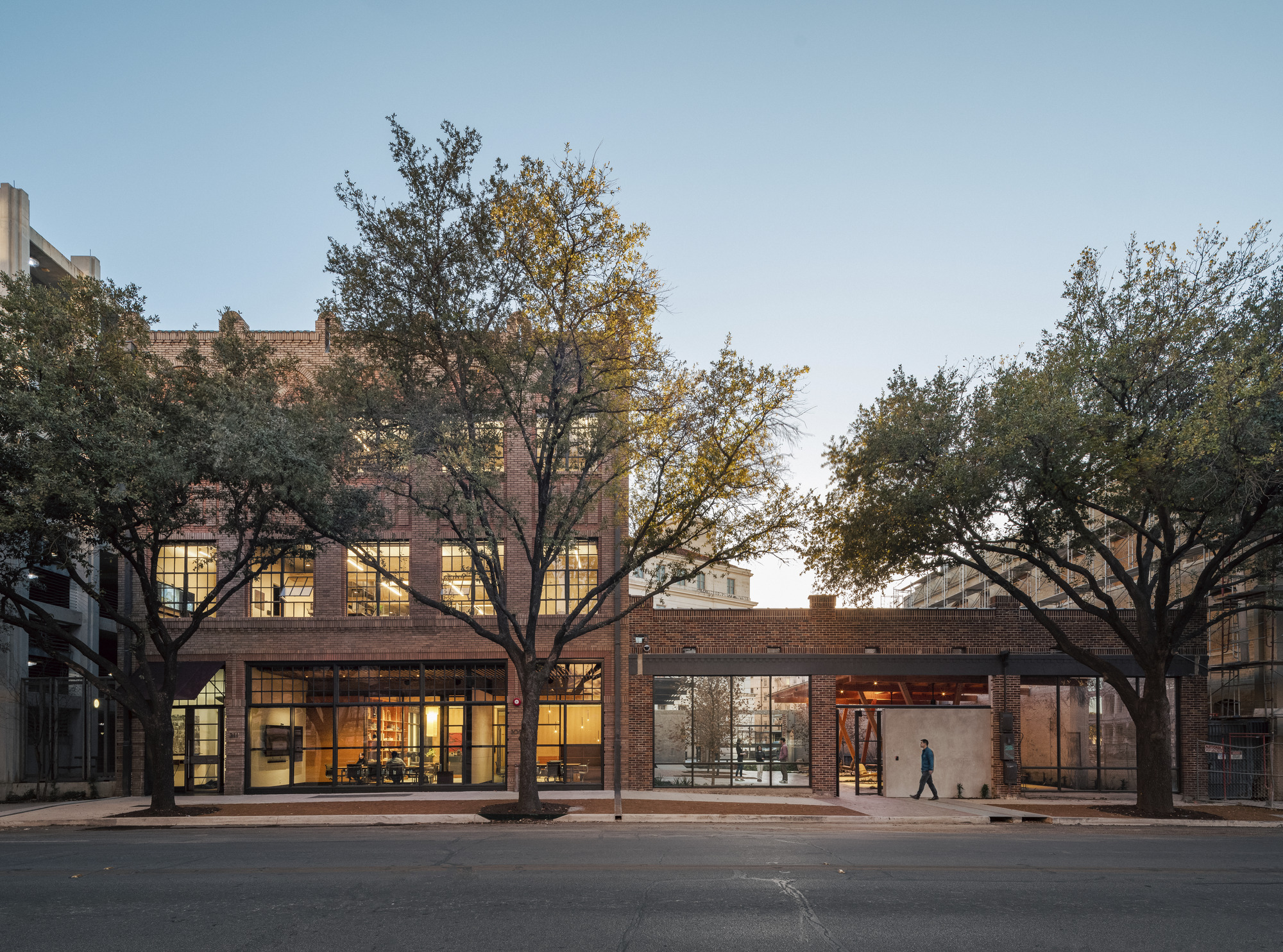 Expansive doors connect the courtyard to the ground level of the office, where the floor plan has been opened to create generous gathering spaces for employees and clients. In the reception, Lake|Flato's interior design team mixed vintage and custom furniture with significant pieces by regional artists.
"When we started looking at the materials for the renovation, one of the important things we took into consideration was how much of the material already existed. What was really fun about this project was that this is a building that's so important to Lake|Flato's history, and so much of it has already been here and has its own story to tell. So we wanted to choose materials that were consistent with that story but that also provided a springboard for a new chapter," says Pam Dailey, a member of the firm's Interiors team.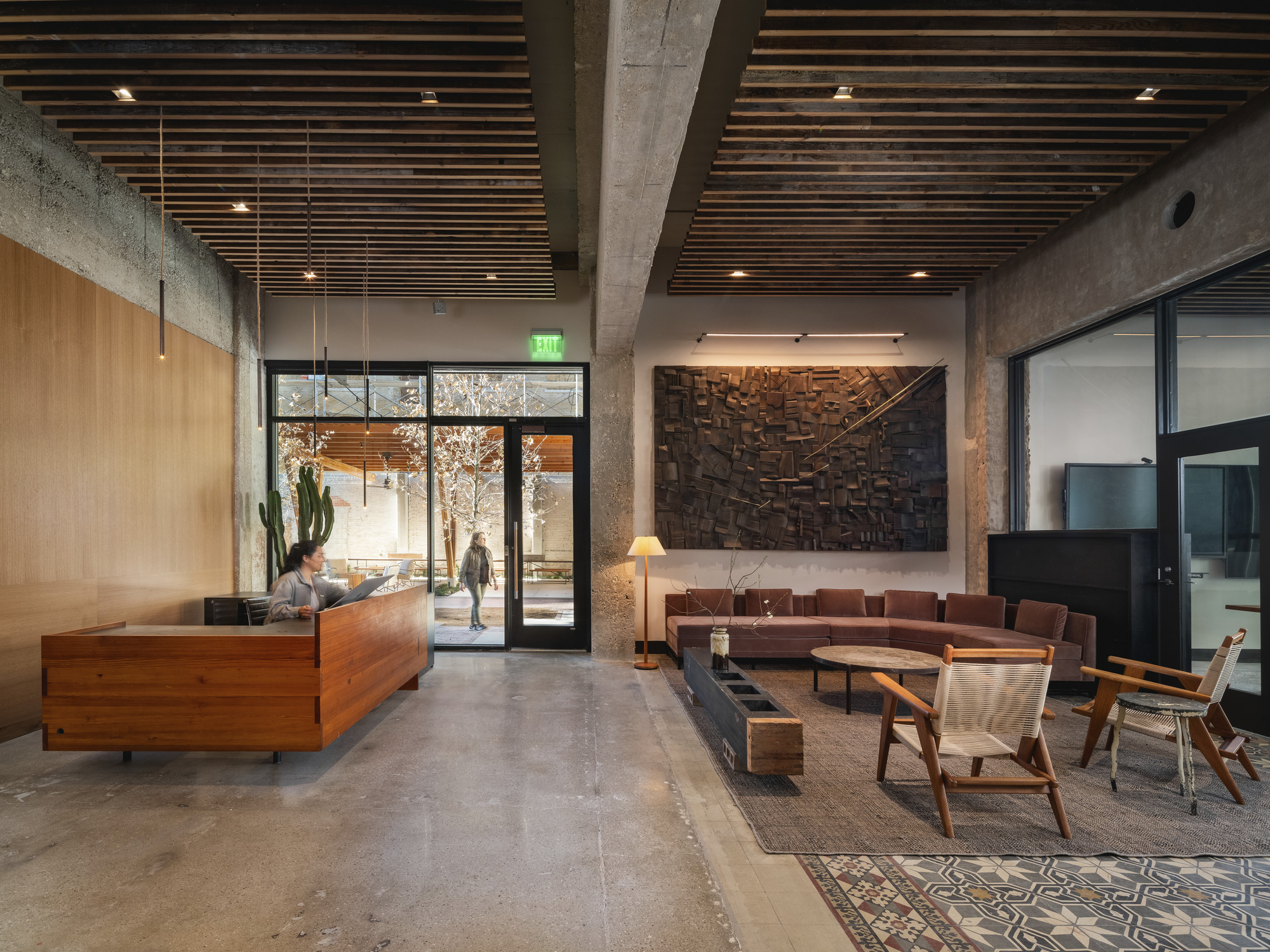 Just beyond the entry, the communal kitchen can seat more than 70 people to accommodate the firm's diverse social and educational programming. The workspaces that take up the remainder of the first, second, and third floors are an exercise in restraint, preserving and showing off the building's robust and rhythmic concrete structure and introducing an elemental pallet of wood, steel, and glass.
"The first day back was really exciting," says Jamie Sartory, who was the project manager for the renovation. "We had these really great morning sessions where we were talking to people about the building, getting everybody ready to move in and get the day started. We had coffee outside in the courtyard, and then everybody started to get to work again… I was just sitting on the second floor and was looking around thinking 'It's working, there were people at their desks, there were people in a conference room meeting with a client, there were people in a phone room, a group was having a little charette at one of the huddle tables' and it was just really nice to see."
TECHNOLOGY
Propelled by necessity and led by Lake|Flato's IT Director, Robert Trinidad, everyone at the firm pivoted to remote work in 2020 during the pandemic, equipped with a tablet, dock, and extended screens in each home office. The shift to a portable tablet allowed for flexibility, and it changed the way we looked at our new office – how could we accommodate more people efficiently?
"The redesign from a technology standpoint allowed us to do a lot of really interesting new things, including all wireless, everything. Our desks don't have network cables going to them. We have built-in dedicated virtual reality stations. We have the ability to go anywhere within the office with our tablet and connect to Zoom meetings," says Dan Stine, Lake|Flato's Director of Design Technology. "Our clients or staff who might be working remotely can be a part of a collaborative process that engages everybody in our hybrid work environment."
A hoteling system that allows people to check-out different desks throughout the office addressed needs for flexibility and connectivity. The portable tablet allows users to plug-in from anywhere in the office, including from a broad set of spatial typologies: open desk areas, phone booths, Zoom rooms, and conference areas of all sizes, both open and closed. More information on the office's flexible technological features can be found here.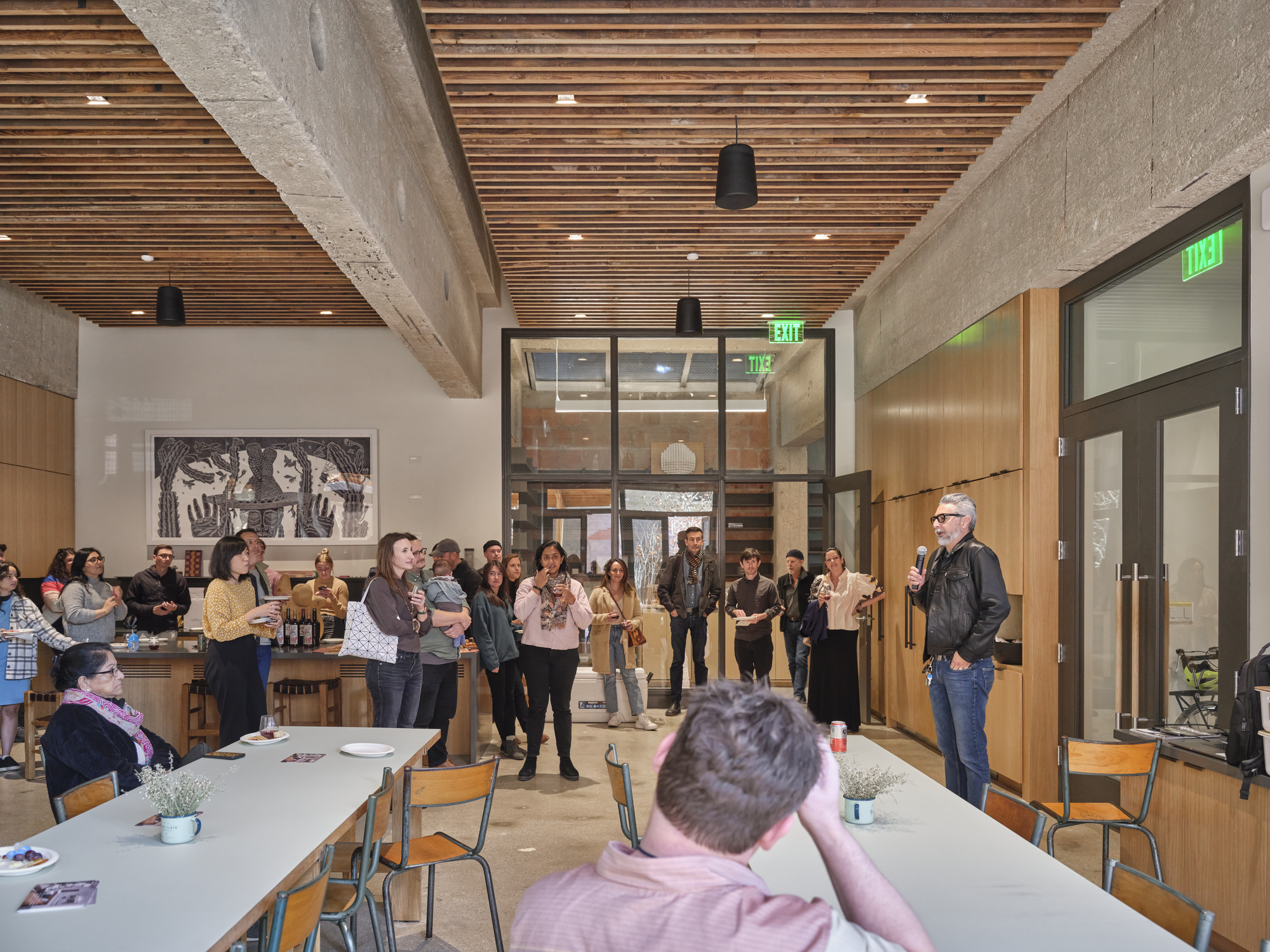 CULTURE
Being back in-person in our beautifully renovated space gives us the opportunity to connect like never before. The new courtyard, which was previously a dilapidated parking structure, now houses a variety of cultural and educational events and provides a daily gathering place where people can eat lunch, work, or decompress in.
"We're professing our values: we believe architecture should first heal the earth and second really make an intrinsic connection between the outdoors with the indoors, and make this pivotal linkage to the natural realm… it's my favorite part of the building," says David Lake.
The courtyard, which connects to our large kitchen, allows us to foster new initiatives: each Wednesday, these spaces come alive with a farmer's market in which employees and friends can shop for produce. Rotating employee volunteers use the market's fresh produce to craft  a weekly communal salad lunch which is collectively enjoyed in the large kitchen and outdoor courtyard. When thinking about the artwork that would go into the transformed office, a new program, ART L|F, was born to curaterotating exhibits from regional artists throughout the building. Currently, San Antonio-based artist Ricky Armendariz's work is on display, and his wood cuts – which have never been shown previously – are hung next to the final artworks in a meaningful display of craft and process. Throughout the year, Lake|Flato opens its doors to the public, bringing the community together for artist talks and tours that celebrate the diverse voices of the local art and design community. Similarly, we offer our office as an event space for a range of collaborators and professional organizations in support professional development, social connection, and community outreach.
DESIGN PERFORMANCE
It is important for our office to reflect our values as we strive to create an inclusive atmosphere in our practice and in our collaborations. As part of our office transformation, Lake|Flato's Design Performance team researched and pursued different building certifications that allow us to apply the energy, water, biophilia, and wellness strategies we espouse on our projects in our own office. Lake|Flato's office is on track to achieve net zero energy and become the first building in Texas to achieve both Net Zero Carbon and WELL certifications. In the summer of 2023, we attained rigorous B Corp certification, and we are also participating in the International Living Future Institute's JUST program as an extension of our commitment to equity, diversity and inclusion. Both programs provide transparent, internationally recognized frameworks for assessing and improving how we operate through an equity lens. By holding ourselves accountable to these high standards of verification and transparency, we aspire to serve as a model for other firms.
"Sustainability has always been integral to Lake Flato's approach. So, having that be reflected and demonstrated in our building was very important to us. It helps us to not only walk the talk and make sure that the building exhibits our values, but it helps us to learn from it as well. We're hoping the building serves as a living laboratory, so that we can learn from these sustainable design principles and practice it in our day-to-day operations," says Heather Holdridge, our Director of Design Performance. 
Read more about our 311 Third Transformation in Metropolis Magazine.