THE DOGRUN
a place to share ideas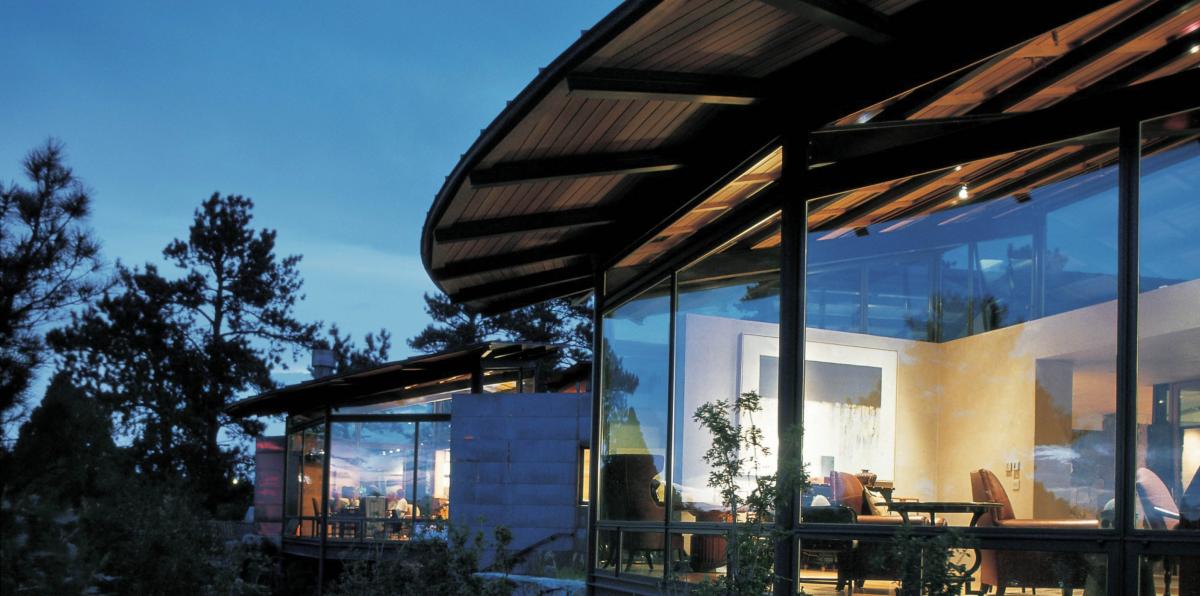 Posted by vyuan on 11/3/14 at 8:52 pm
In honor of Lake Flato's thirtieth anniversary, the Thirty Projects x Thirty Years series has been developed to explore and celebrate the firm's history and culture of design. Published weekly, the series will highlight one project per year, starting in 1984 and ending in 2014.  The projects that have been selected will give you a snapshot of the firm's evolution as well as provide a fun and insightful collection on then and now, and ultimately, who we are today. 
It is difficult to look back at 2001 and not feel consumed by the September 11 attacks and its massive impact on the world. In pop culture news, it was a banner year for technology, with Apple introducing both the iPod and iTunes. Not to be outdone, Microsoft releases Windows XP and XBox. Wikipedia goes online, and Josh Groban releases his debut album, Josh Groban. Not to be outdone, LFers Bob Harris and Robert Trinidad release new children into the world, and completion of the Bartlit Residence establishes a new direction for the firm.    Bartlit Residence Castle Pines, CO Story by David Lake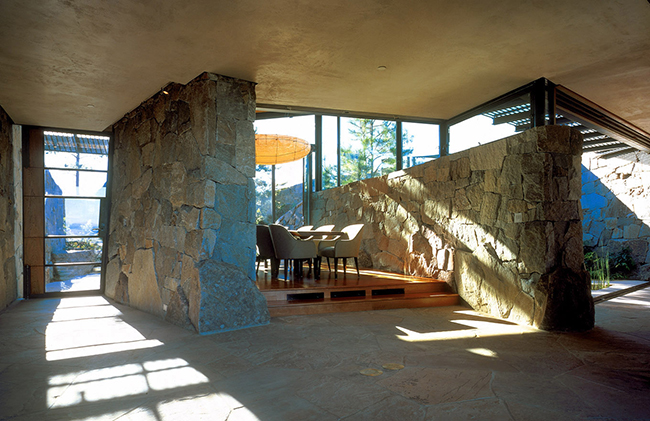 "We would like a seamless connection to the outdoors" (Fred and Jana Bartlit).  We had been toying around with plaster for model and decided to present this clay model angled into the hillside.  Karla and I thought they would never go for this scheme . . . Jana and Fred loved it the minute they saw it which just proves that good buildings require great clients who trust us!  Fred said, "Make it happen."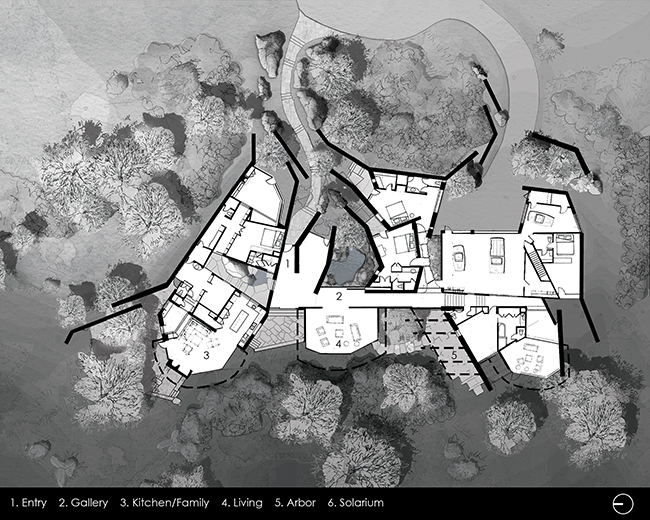 Robert Trinidad implemented the first "point in space" CAD approach on this project (due to the lack of right angles and the need to three-dimensionally show the walls and super structure - actually X, Y and "Z" coordinates) "which Datum and the steel contractor loved."  The steel roofs were constructed on the ground and craned into place and fit perfectly on awaiting steel pipe columns.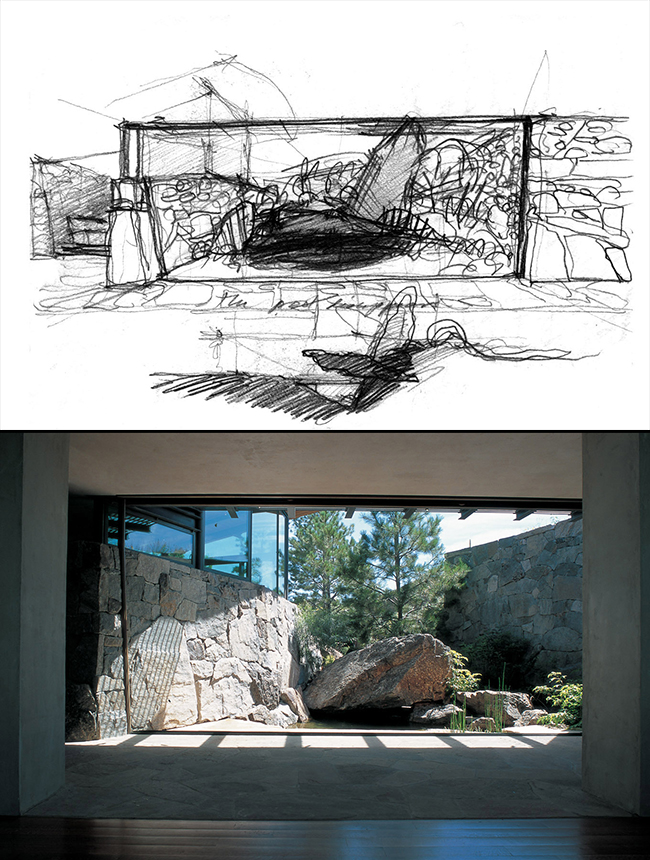 "Boulder" Bill Aylor and landscape architect Rosa Finsley photographed, numbered, dimensioned and then positioned over 25 granite boulders ranging up to 40 tons "all the boulders were scree from a quarry cliff west of Denver."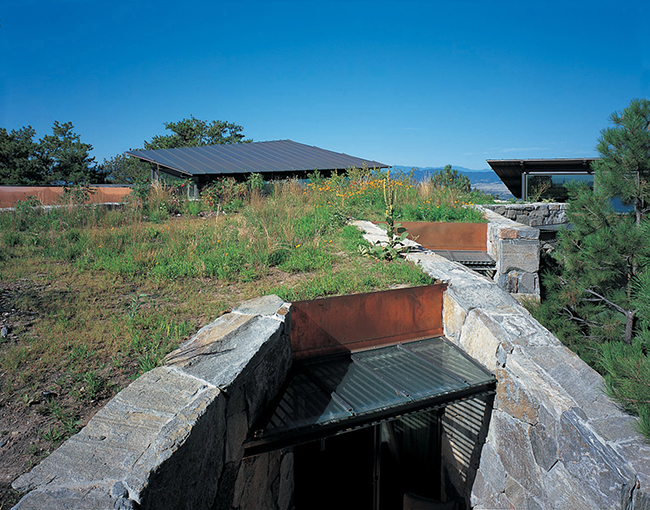 The Bartlit Residence was the first project with integrated green roofs, earth sheltering, solar atria and represented the continuing evolution of Lake|Flato's desire to express mass versus delicate steel structure.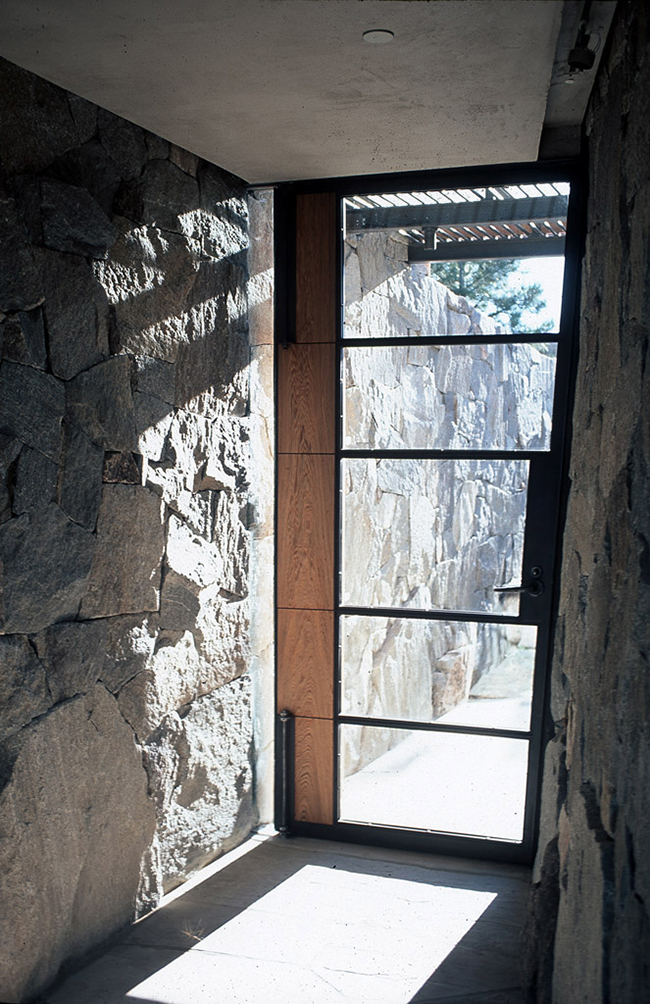 Great construction experience where the mantra of the job was, "There are no problems, only solutions."