THE DOGRUN
a place to share ideas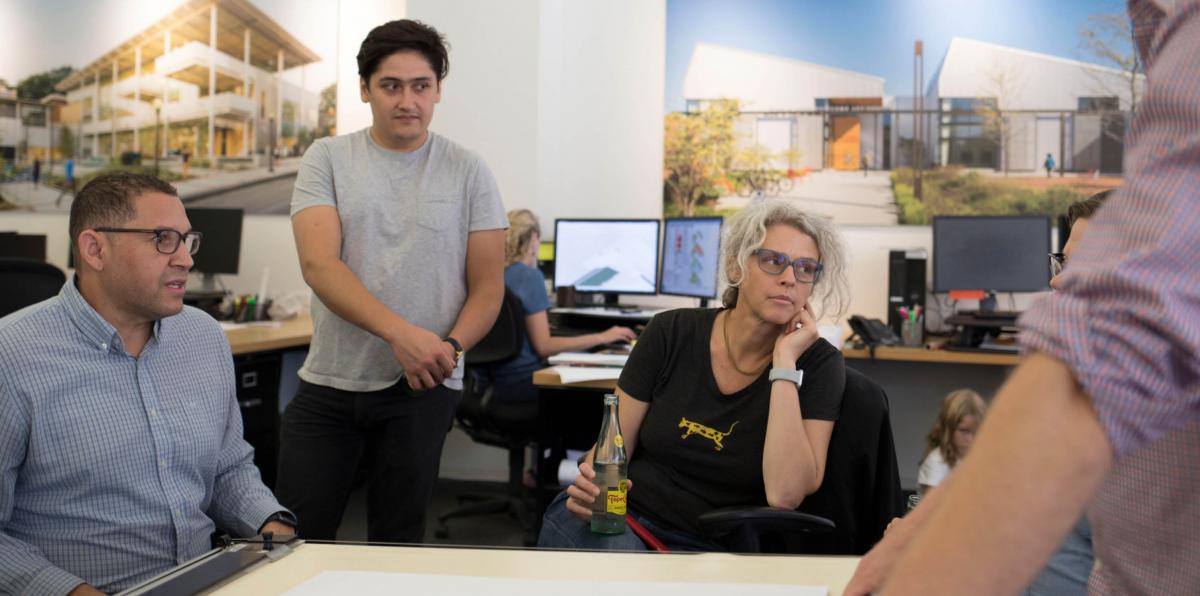 Posted by Mary Beth Lineberry on 11/30/21 at 9:27 am
Designing meaningful, high-performance buildings and landscapes is not a passive act. The process necessitates a sustained exercise in discerning the interconnections between environmental and human health, cultural resilience, and inclusive community building.  The ties that bind are subtle yet irrevocable, with each affecting the others. To truly provide value through equitable design strategies, every community member, visitor, guest, and employee should be welcomed and be able to navigate a building or landscape confidently, independently, and with choice and dignity, avoiding separation or segregation. 
Integrated Design: We have often described our integrated design process in which we overlay environmental context onto building programs to identify synergies between sustainable strategies, sites, and programs. This is a unique process that begins with the land to help guide us in our quest to build responsibly, design artfully, and harness those conditions which are eternal: climate, context, and nature's patterns and rhythms. Adding to this integrated process is the robust effort needed to ensure a diversity of voices are engaged, heard and reflected in our work. If our process starts with studying the land in collaboration with others, this process should be measured by its positive impact on both places and people.
New Initiatives: To facilitate this dialogue and evolution in our process, Lake|Flato's Equity, Diversity, and Inclusion (EDI) Committee has created a process of helping ensure we as a firm are redressing historic inequities through unconscious bias training and by applying best practices in our professional reviews, promotions, and hiring. Our participation in the International Living Future Institute's JUST program is an extension of our commitment to taking responsibility when it comes to sustainability – not just in our built work but also in how we operate as a firm. New this year, we are undergoing the process of applying for B Corp certification, which recognizes firms that are dedicated to building equitable workplaces and inclusive economies of scale. In addition, we began working with an EDI strategy firm to help us articulate, embody, and apply our values of equity and inclusion within the workplace and beyond. 
Ongoing Commitments: In our future efforts, we aim to continue to broaden the conversation beyond sustainability – towards the betterment of building users, communities, the economy, and the planet. To help us measure our impact, we leverage tools such as the LEED Social Equity Innovation credits, the Social Economic Environmental Design (SEED) Network evaluation, ILFI's JUST Label indicator for Local Communities, NAACP's Centering Equity Framework, and WELL's community-focused preconditions and optimizations. We advocate for collectively creating a working definition of equity to help guide the process and design from start to finish. More specifically, in our designs, we advocate looking beyond ADA to ensure inclusivity is embedded at every level of site and architectural design. We assess not just physical but also social and environmental factors when considering effective wayfinding, rest points at frequent intervals, reduced noise levels and sensory triggers, site shading, and gender neutral restrooms.
As we approach the year's end, we look forward to a year ahead of dialogue, perseverance, and a continued commitment to building a diverse and inclusive culture and workplace that reflects the communities we serve.