THE DOGRUN
a place to share ideas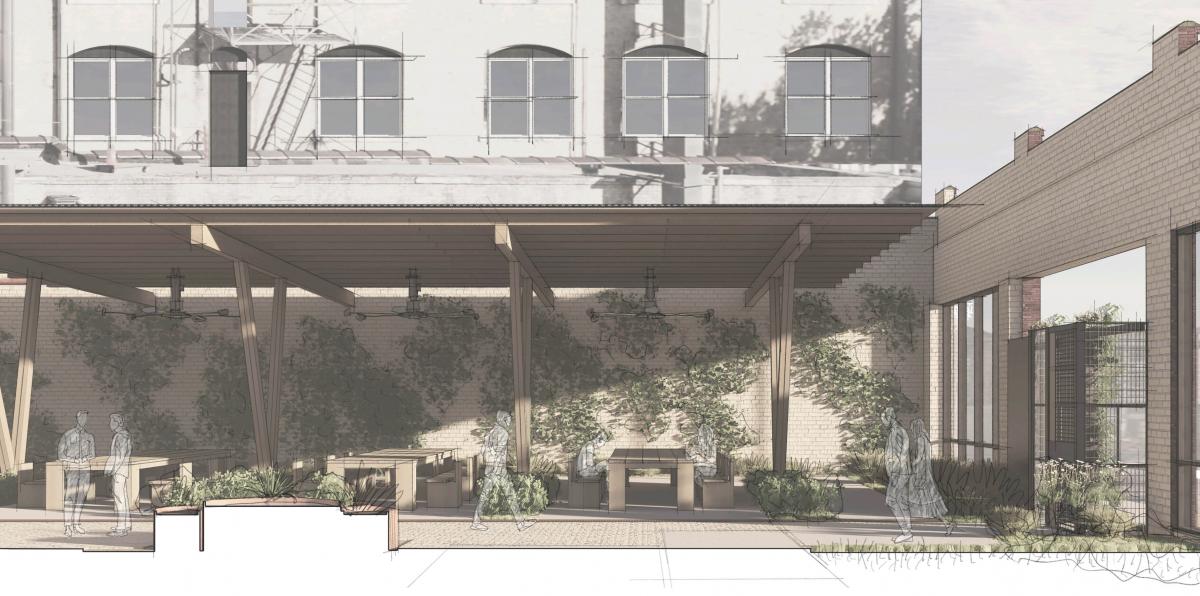 Posted by Mary Beth Lineberry on 3/31/22 at 1:54 pm
Since our founding in 1984, Lake|Flato has expanded to all floors and corners of our office at 311 Third Street in San Antonio. After committing to renovating our office into a healthy, high-performing, hybrid workplace, we decided to go against the grain of the building's origins as a former car dealership and remove all parking and cars to create a community-centric outdoor living room. For a firm with a focus on sustainability, expanding our office meant removing rather than adding, and encouraging human and environmental health through outdoor amenities, connections to nature, and alternative modes of transportation.
The four-season outdoor space will be an extension of our office and leveraged as a natural backdrop for a variety of work, community, and social collaborations throughout the year. Multi-functional, accessible, and immersed in a lush setting, this outdoor space will provide a natural outpost for collaboration that is both highly flexible and functional. In creating a healthy, inclusive work environment, we are physically expressing the goals we aspire to in our design work and firm culture everyday.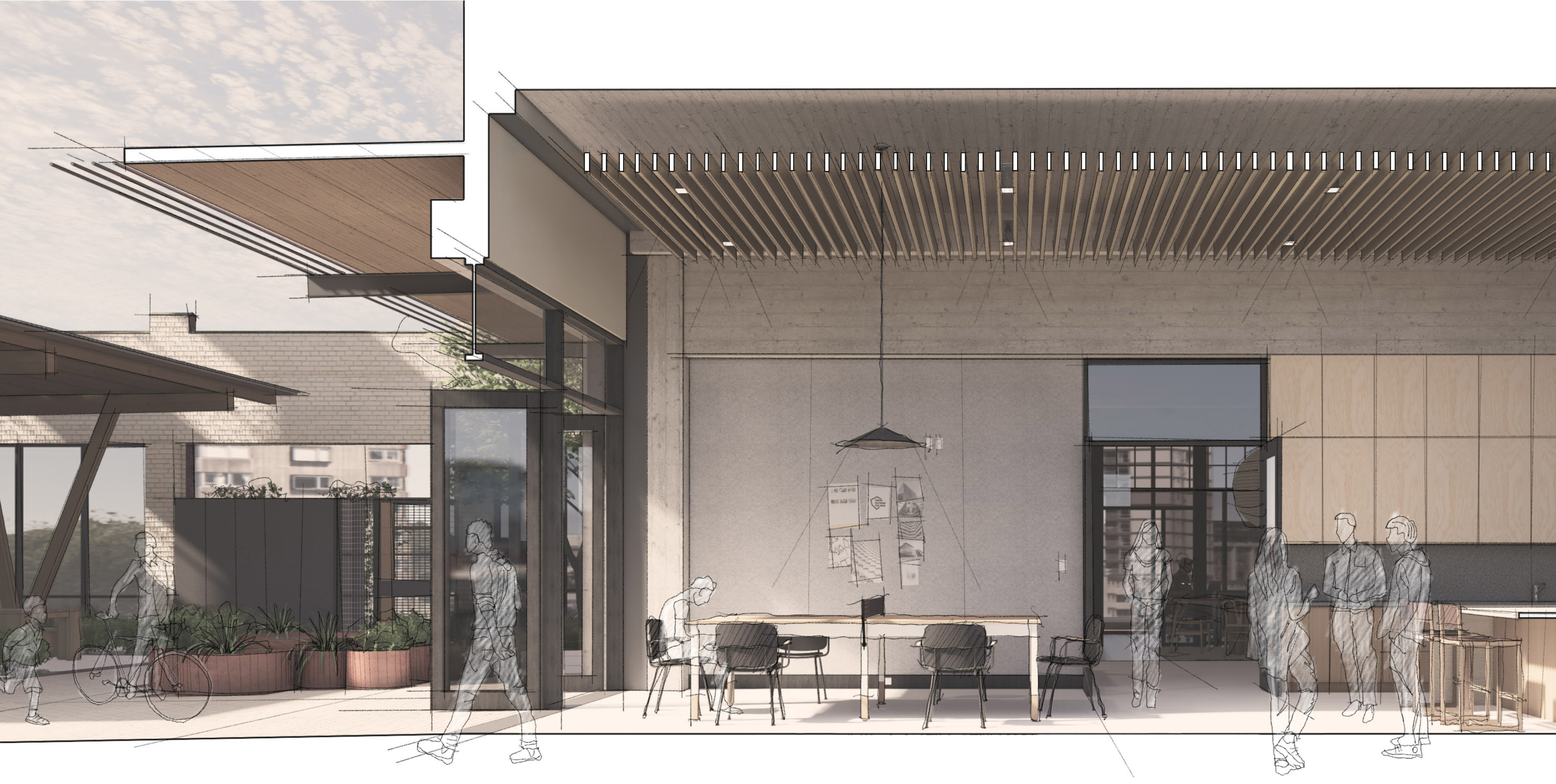 ARCHITECTURAL LEAGUE PRESENTATION
With the Architectural League of New York, we recently shared a behind-the-scenes look at the current renovation of our San Antonio office, including progress on construction. The League's FF – Distance Edition, an online version of the long-running First Friday series, offers virtual access to practices' workspaces and current projects. Informed by lessons learned during the pandemic and evolving research on workplace design and social inclusion, our presentation shared our process for advancing plans for a state-of-the-art hybrid workplace that draws from the best aspects of our community-oriented, place-based culture. You can watch the full lecture by clicking on the image below.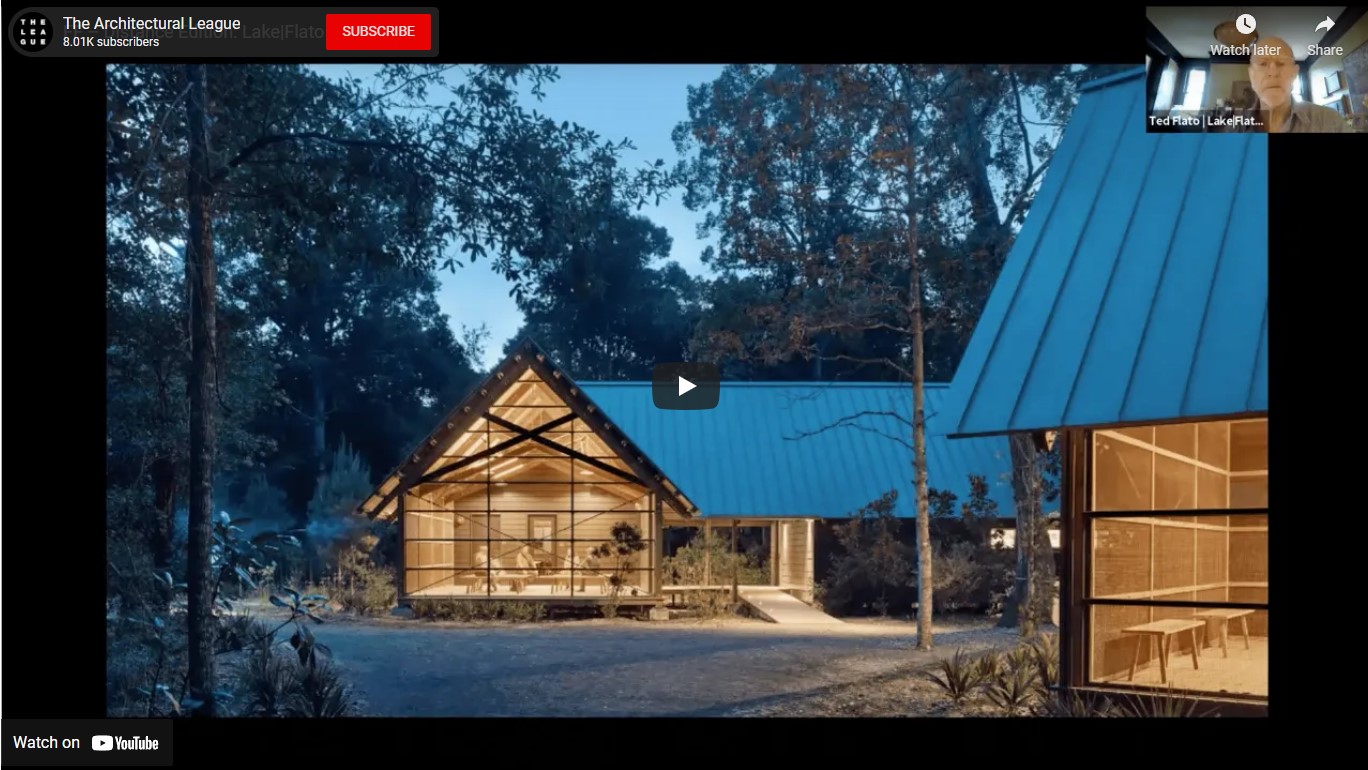 Lake|Flato's First Friday Architectural League Presentation
CREATING A DESTINATION
Another extension of Lake|Flato's ethos is our commitment to renovating our existing office as part of an effort to revitalize urban infrastructure and create a place that people want to be. An inherently sustainable approach, re-use provides an opportunity to transform urban space to be more dense, livable, accessible, walkable, and healthy by design. Our office transformation will be both denser than before and offer more collaboration spaces as well as the latest in collaborative technology. In addition to its renovation and reuse strategy, our office transformation prioritized the following sustainable design goals:


LEADING BY EXAMPLE
To achieve the first goal of transparency and leading by example, we are pursuing two certifications that not only set clear performance goals but will also ensure actual performance data collection and iteration through post-occupancy testing. These certifications include the International Living Future Institute (ILFI) Zero Carbon building certification as well as WELL certification. 

Achieving ILFI's Zero Carbon certification requires that 1) 100% of operational energy use be offset by new or off-site renewable energy and 2) 100% of embodied carbon emissions related to the construction be disclosed and offset. By achieving operational and embodied zero carbon, Lake|Flato also demonstrates a commitment to meeting the 2030 Challenge goal of achieving carbon neutrality by 2030. To achieve our goals of providing a healthy environment through beauty and biophilia, we are pursuing WELL certification. The WELL Building Standard recognizes spaces that enhance human health and well-being through strategies that advance healthy performance standards, set operational protocols and policies, and demonstrate a culture of health and wellness.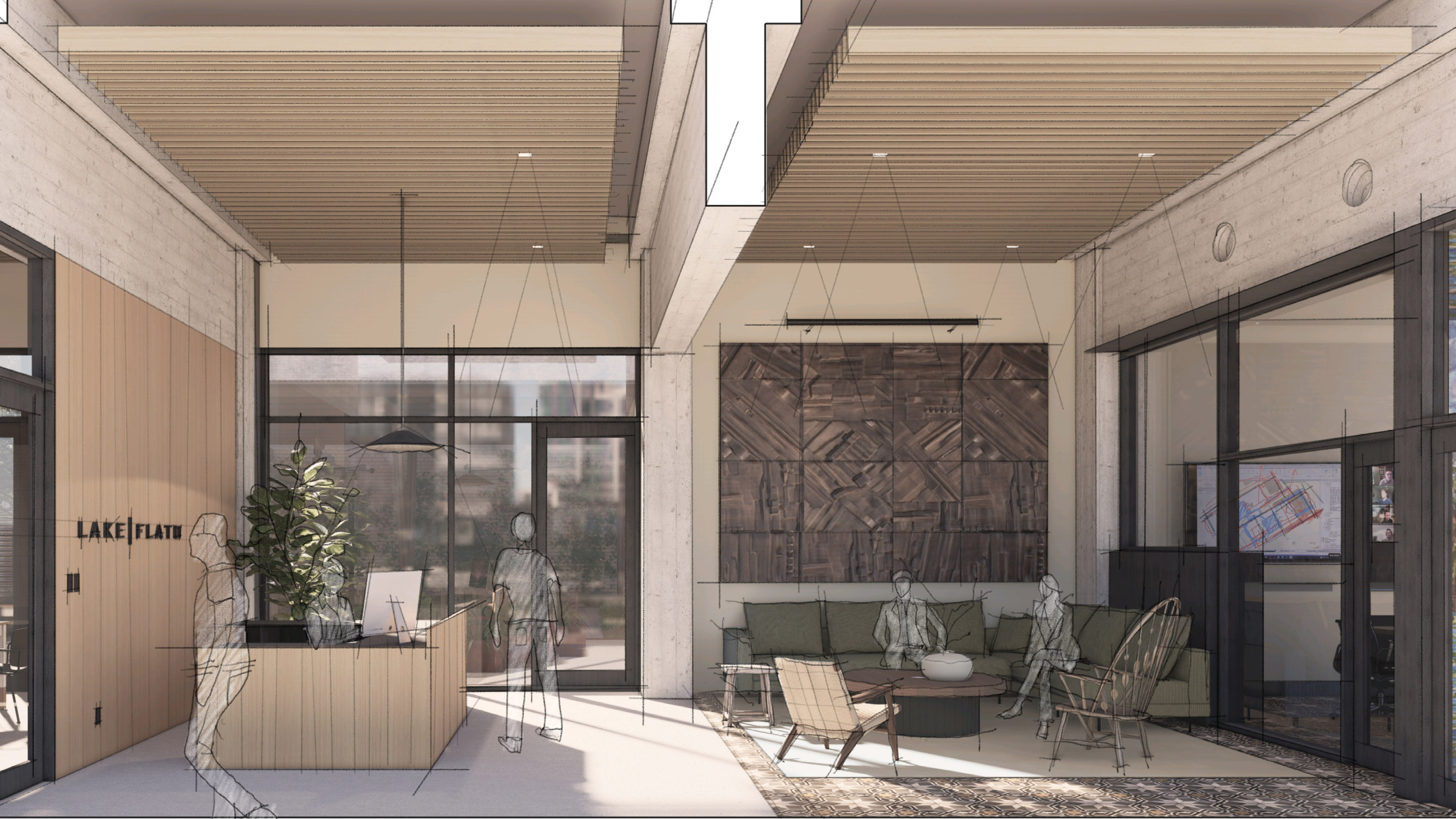 OFFICE PERFORMANCE
Our remaining goals, although not being met through certification, will be met through other design efforts. These include water reduction strategies, the implementation of local materials, and continued universal access and inclusion efforts through our internal equity, diversity, and inclusion (EDI) group. As the firm continues to grow, the timely renovation of our 311 Third building has presented a unique opportunity for us to transform our office into a high-performing building that is appropriate for a post-pandemic workplace and beyond.
More on our renovation progress:
L|F San Antonio Office Goes Zero Carbon with Big Sun Solar | Lake Flato
Lake Flato Architects to renovate downtown office - San Antonio Business Journal