THE DOGRUN
a place to share ideas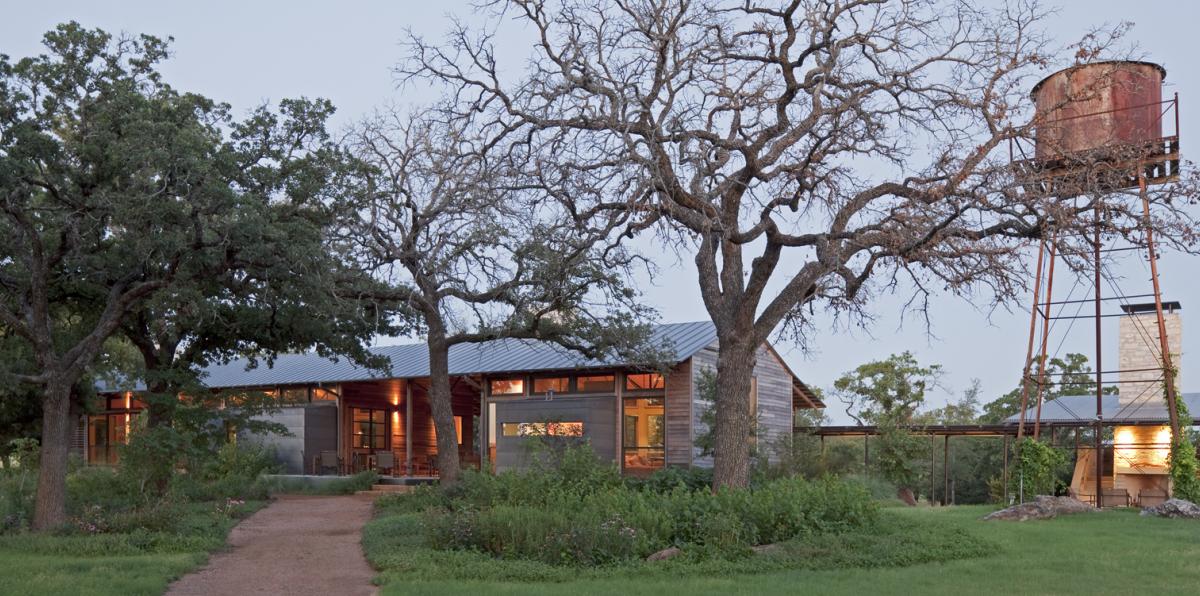 Posted by cknop on 3/6/12 at 10:00 am
The Project:
Cross Timbers Ranch
Location
: Lipan, Texas
Project Team:
Bill Aylor
,
Ted Flato
, Nate Campbell, Ryan Jones, Trey Rabke    
ANSWERS BY BILL AYLOR
Job Origin:
From reputation - books and magazines.
Completion Date:
2007
Program:
Retreat for both family and corporate gatherings for a great client.
LF Scope:
Full Services - Concept, Construction Documents and Construction Administration
The Crux of the Design:
Create a compound of structures that function well individually and as a whole.
Favorite Detail:
The shot put counterweights on the wine cellar door.
Design Team Challenge:
The landscaping was critical to tie all of the separate buildings together. Rosa Finsley imagined the buildings as part of the landscape and then created a very fluid connection between the built and natural elements. She did an excellent job of remediating the site.
Interesting Material:
Sinker cypress. It's good wood!
If you could change ONE thing:
Better protection of existing trees during construction.
Above: Cross Timbers is a ranch house and corporate retreat located in northern Texas. It is four independent structures designed to navigate a tree lined ridge separating pasture land and an adjacent valley. Each structure has a specific purpose: a primary residence, guest house, game room/pavilion and wine cellar/overlook. 
Above: Breaking the design into several structures allowed the project to frame outdoor rooms, collect breezes and integrate itself with the surrounding landscape. Most uniquely, it enabled the owner to control energy usage by limiting the use of lighting and mechanical systems for programmed areas during the majority of the year. 
Door Detail: Reclaimed shot puts used as counter weights for the wine cellar door.
Above: Cast-in-place concrete wine cellar.
Above: Covered walkways connect each independent structure together.
Above: The structures are finished similar to the modest structures that are found on the surrounding ranch – steel pipe fencing, wood clad barns, corrugated metal shade structures, etc.
Above: Interior view of living, dining and kitchen.