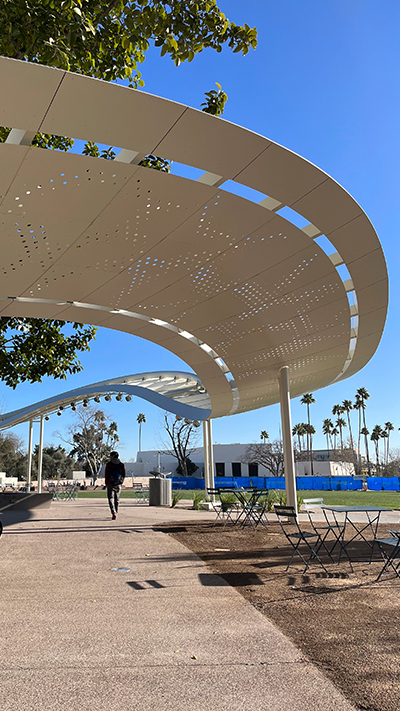 Scottsdale Civic Center
Lake|Flato and Dig Studio collaborated with the City of Scottsdale to transform Civic Center into an event destination and a vibrant, activated family-friendly green space in Scottsdale's Historic Old Town while working closely to preserve the soul of this beloved park. Surrounded by significant cultural and civic institutions the design of this place aims to connect the city, the arts, and the community in a unified space. Each portion of the park, through spatial design and programming, responds directly to its surrounding influences: from a children's garden outside the Scottsdale Public Library, to the preservation of the forested west performance lawn outside the Performing Arts Center, to expanded patio spaces that support outdoor dining, these purposefully designed spaces interweave to create the new Civic Center. 

With overall capacity at 7,479 attendees, multiple pavilions including a new multifunctional 360 degree events structure work in concert to create a seamless performance and events experience while offering a variety of community uses when not activated for concerts, shows, and performances.
20047_P_N30_board.jpg
20047_P_N53_board.jpg
20047_P_N54_board.jpg
20047_P_N33_board.jpg
20047_P_N58_board.jpg
Awards
Arizona Parks & Recreation Outstanding Facilities Award