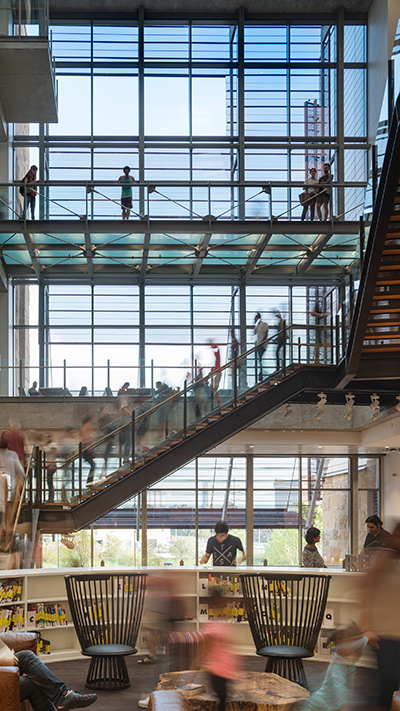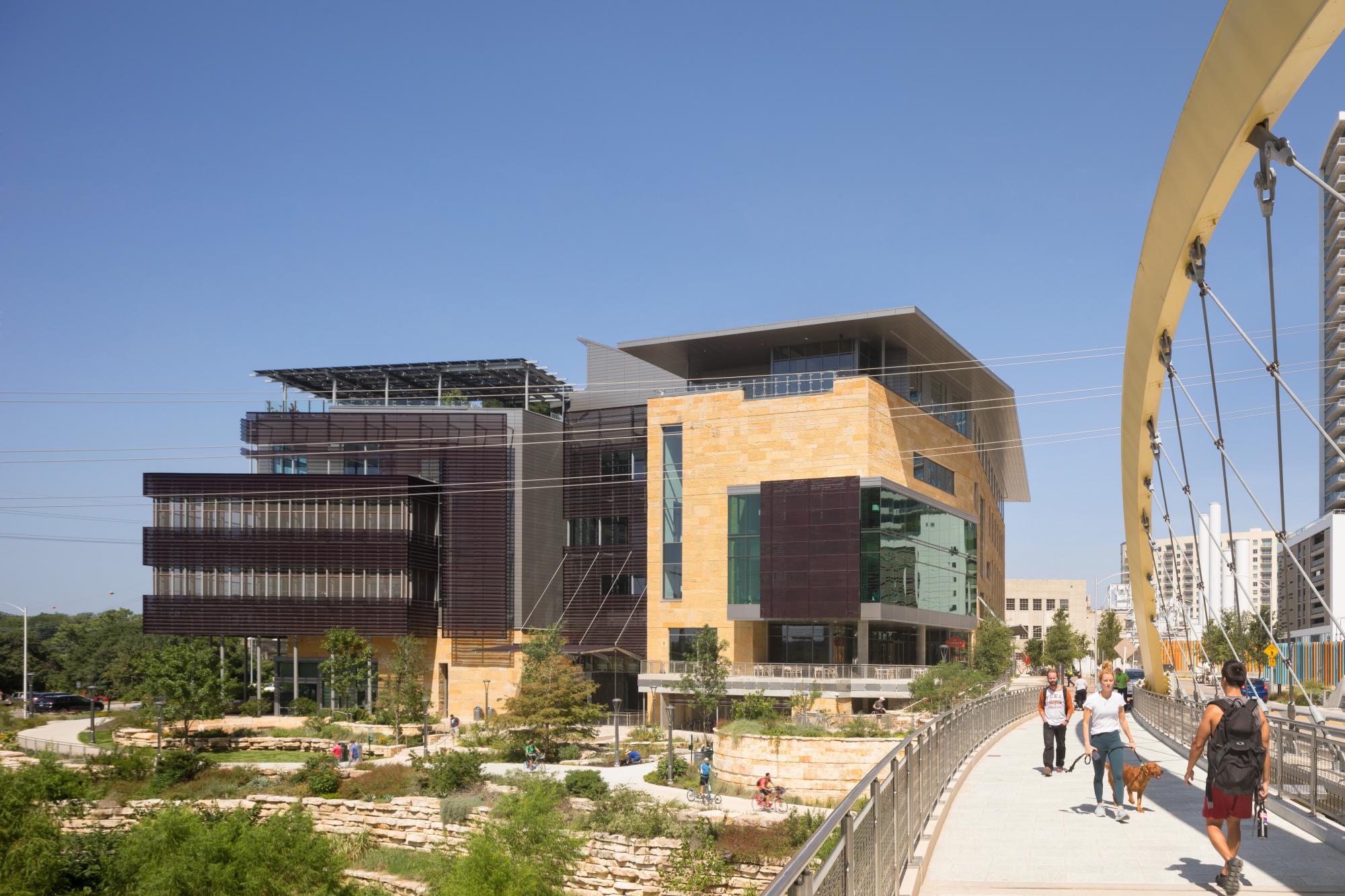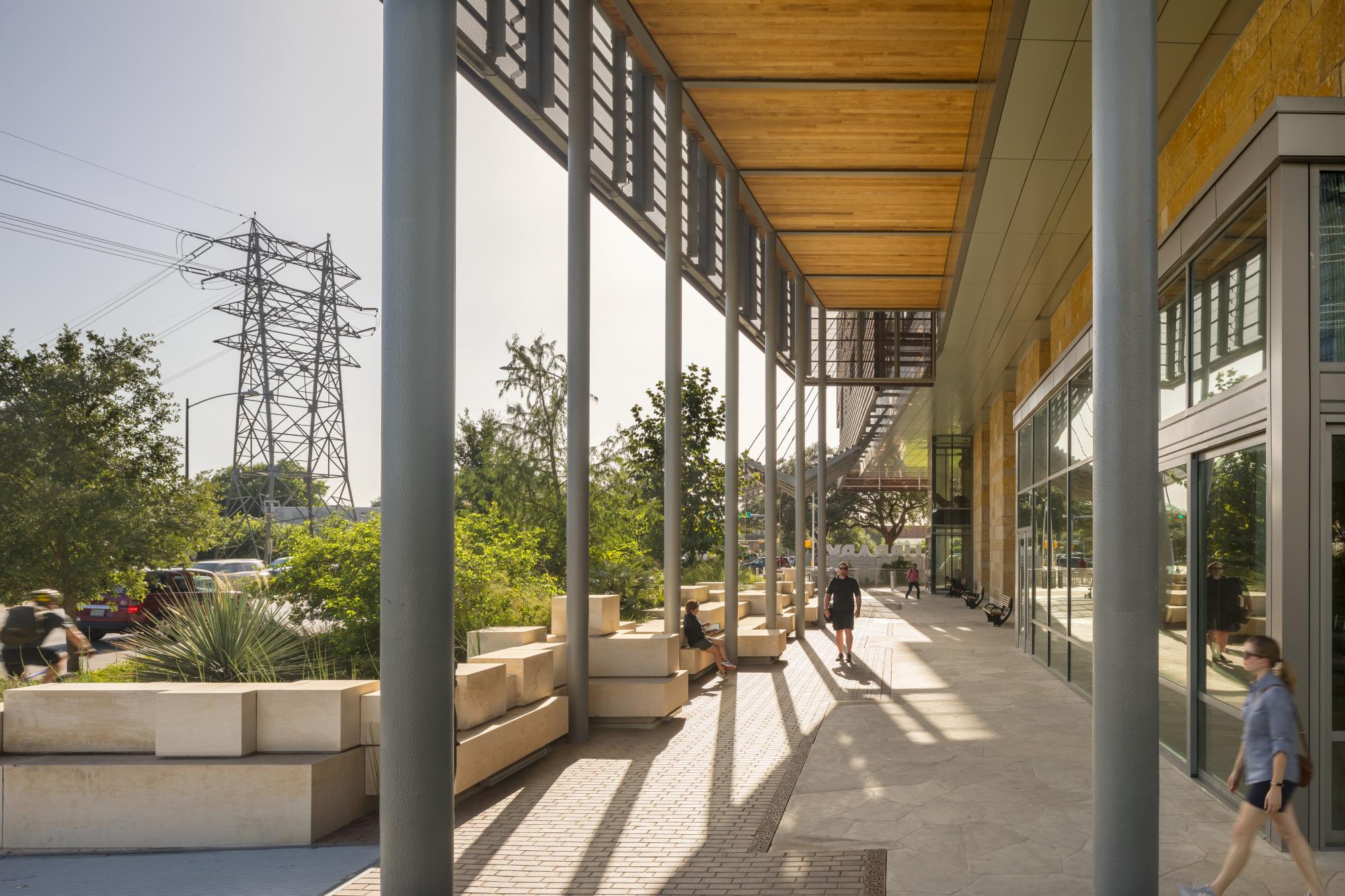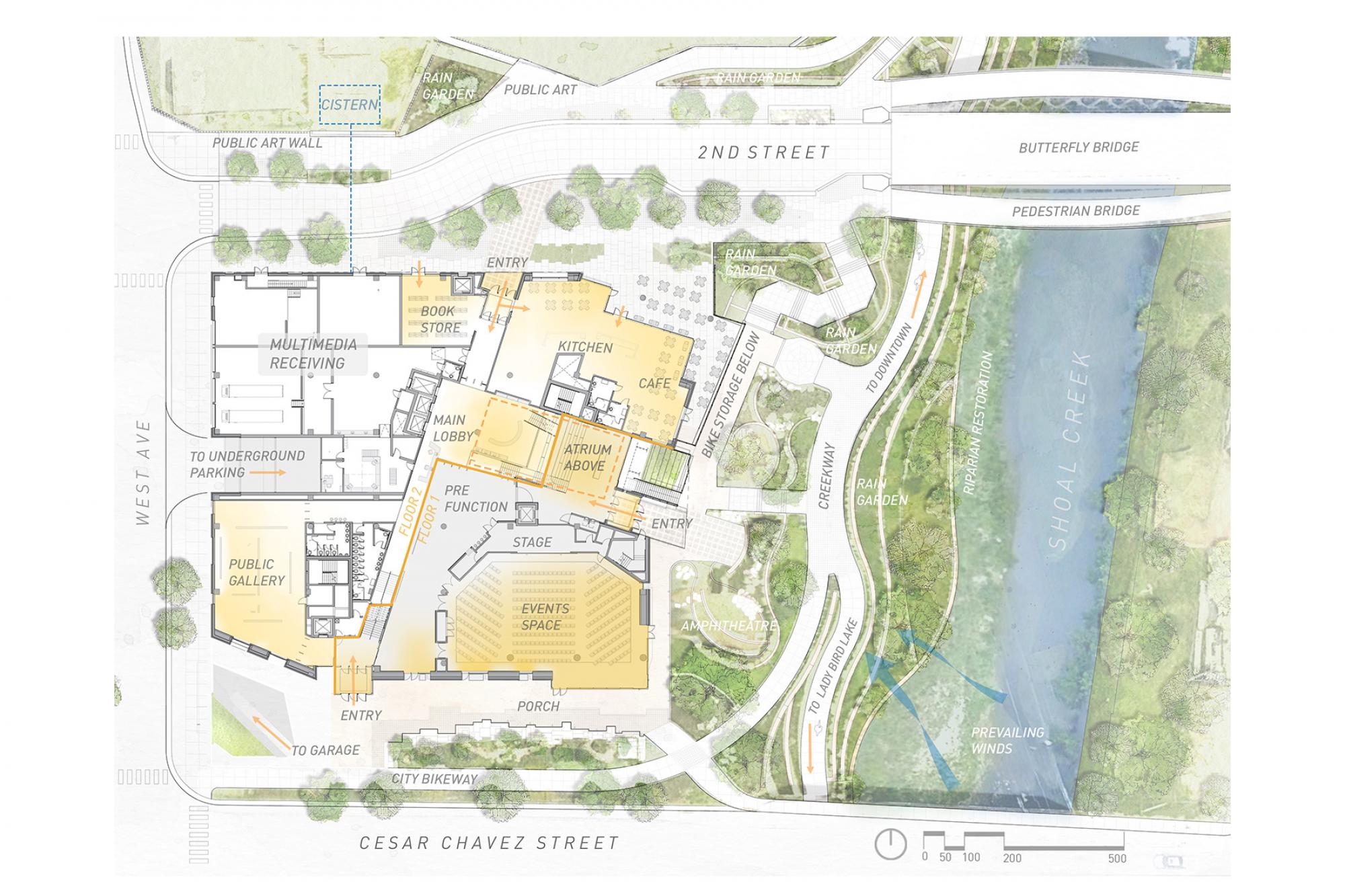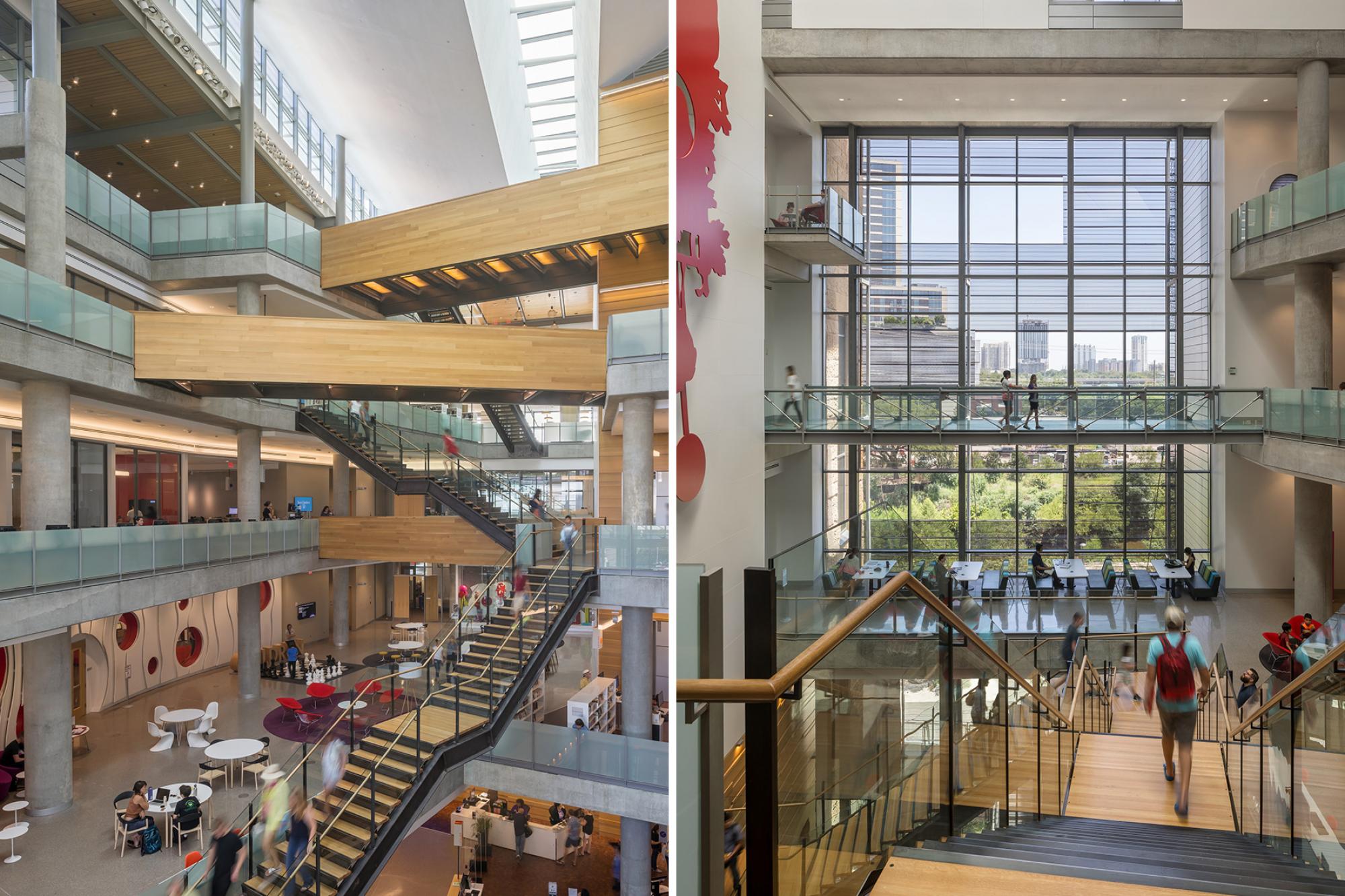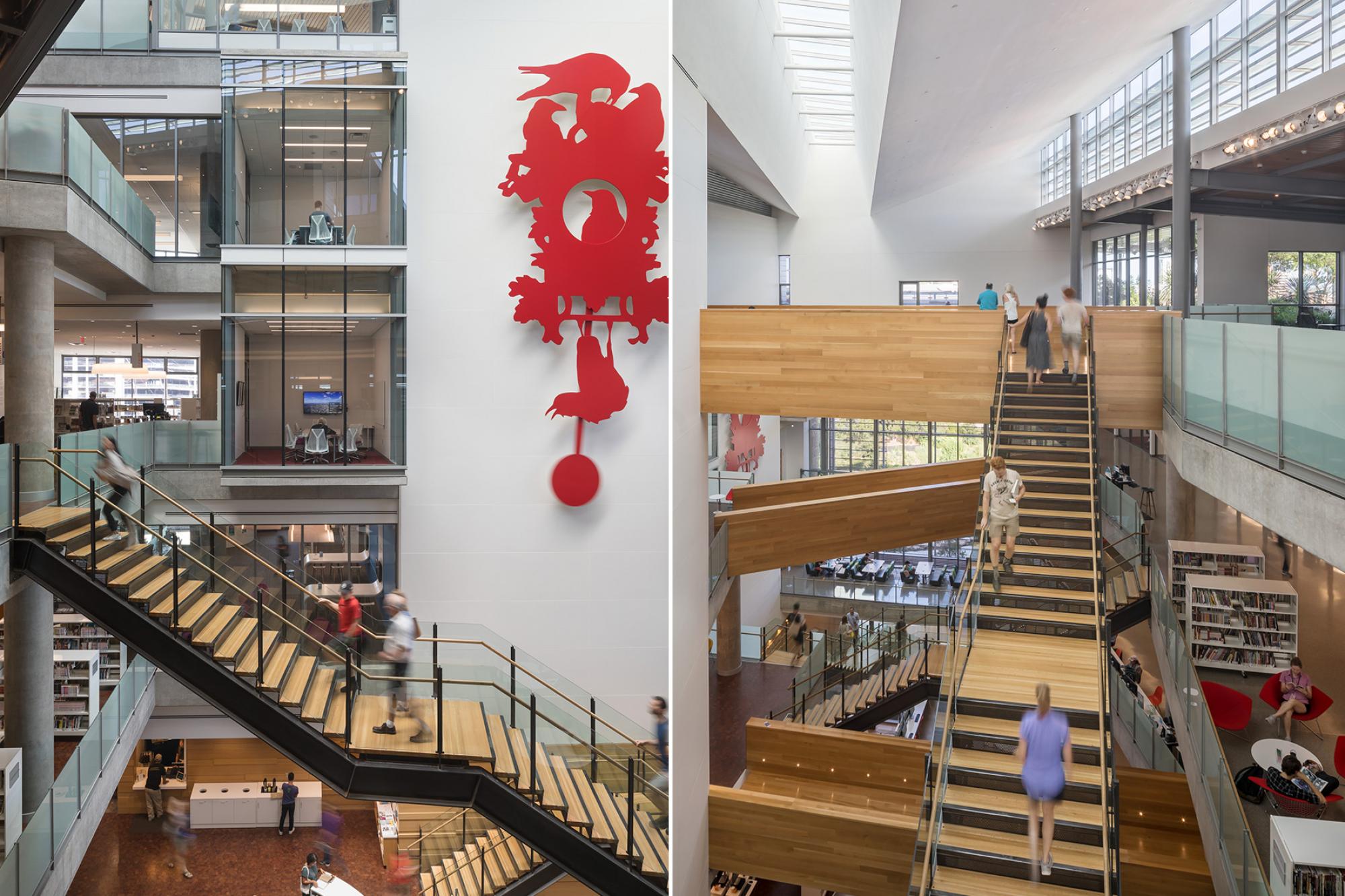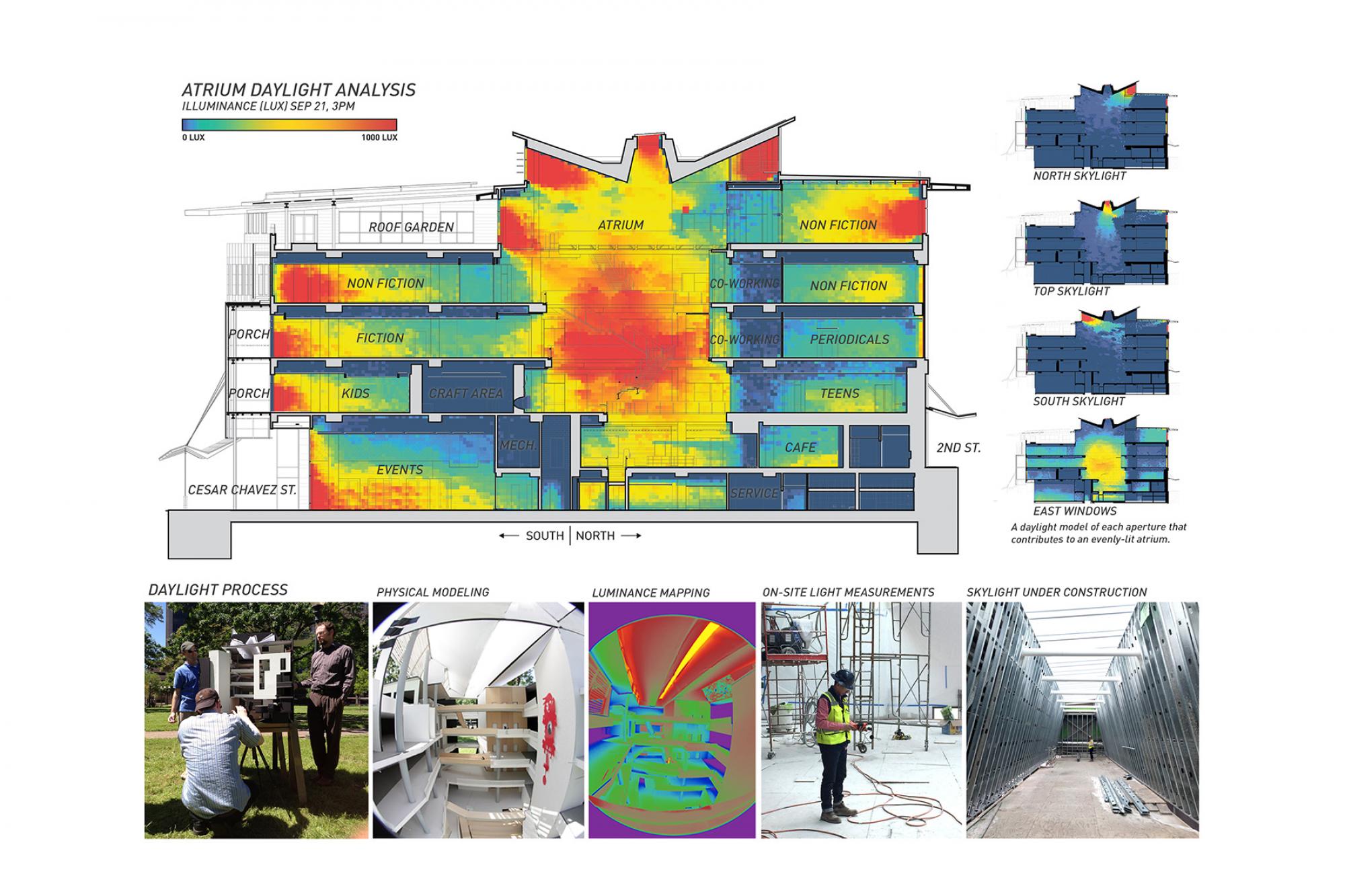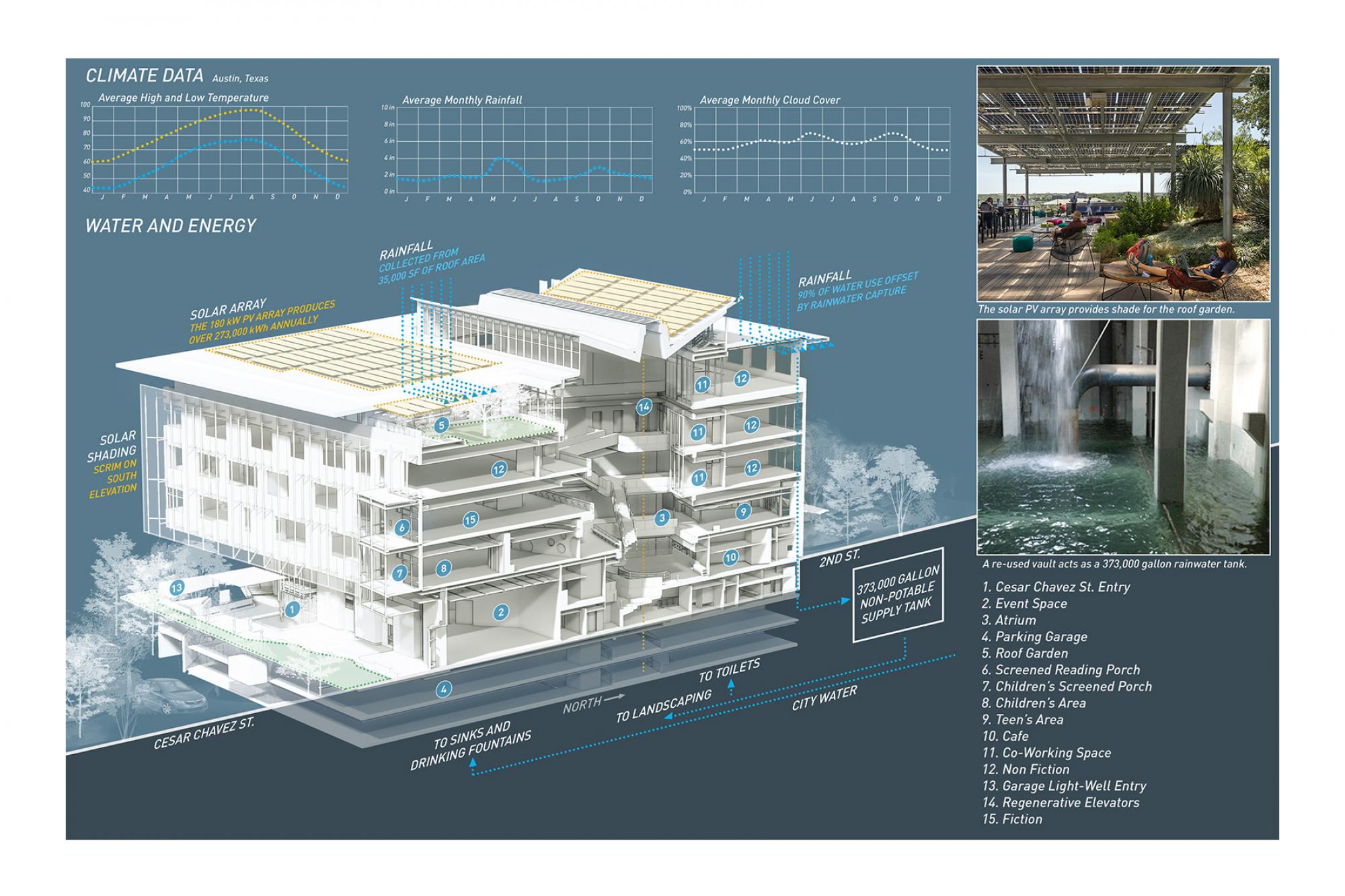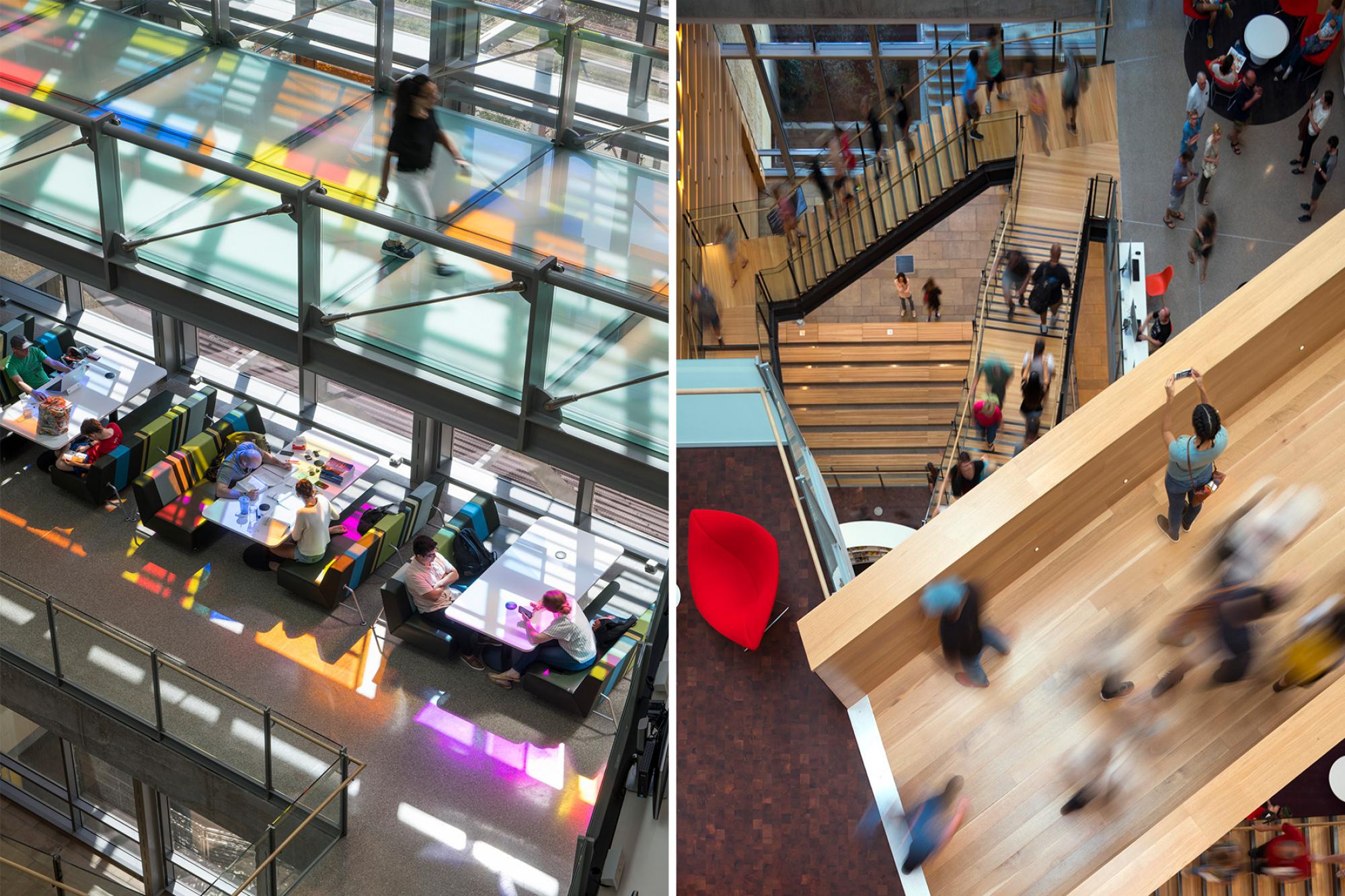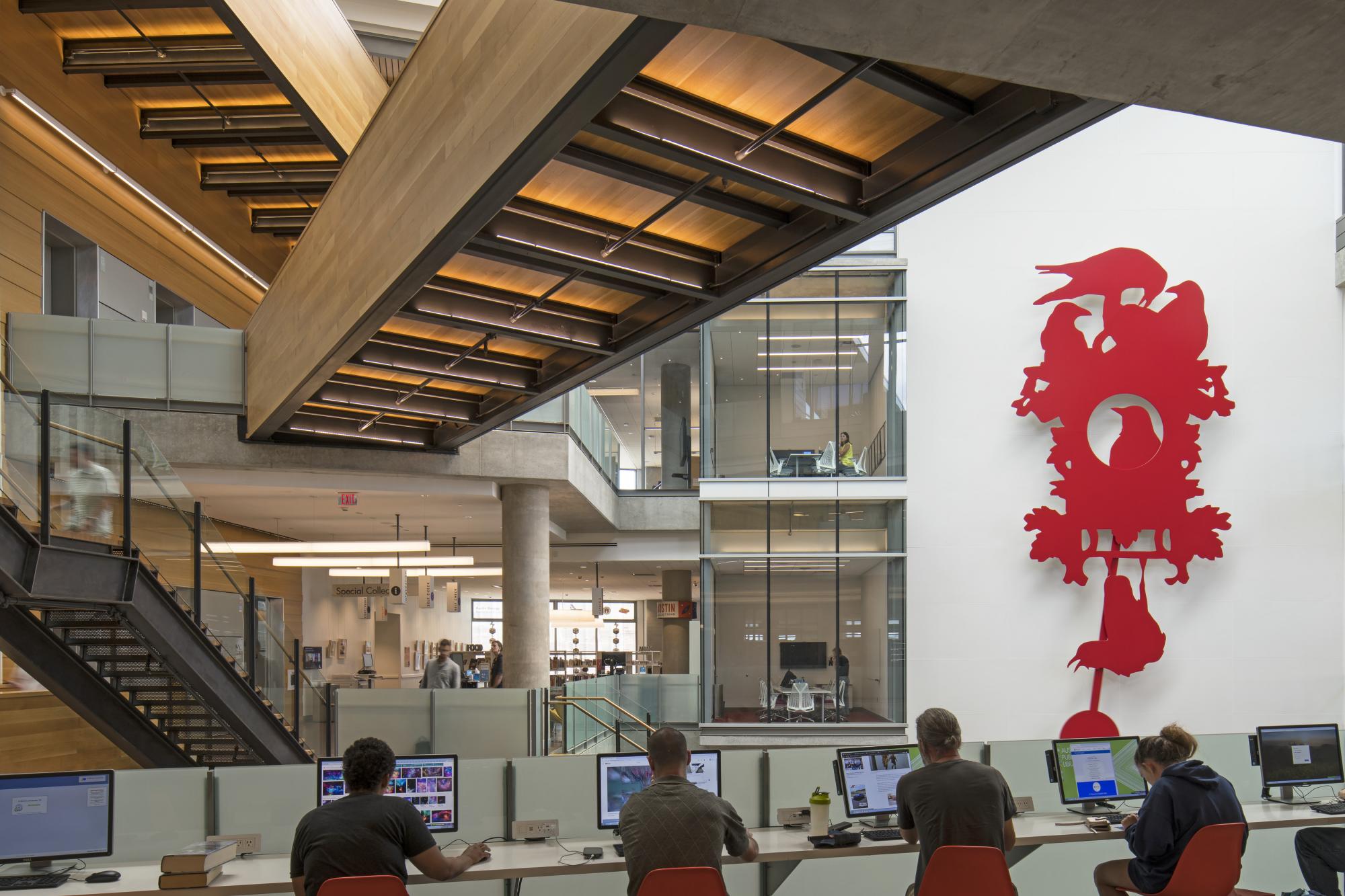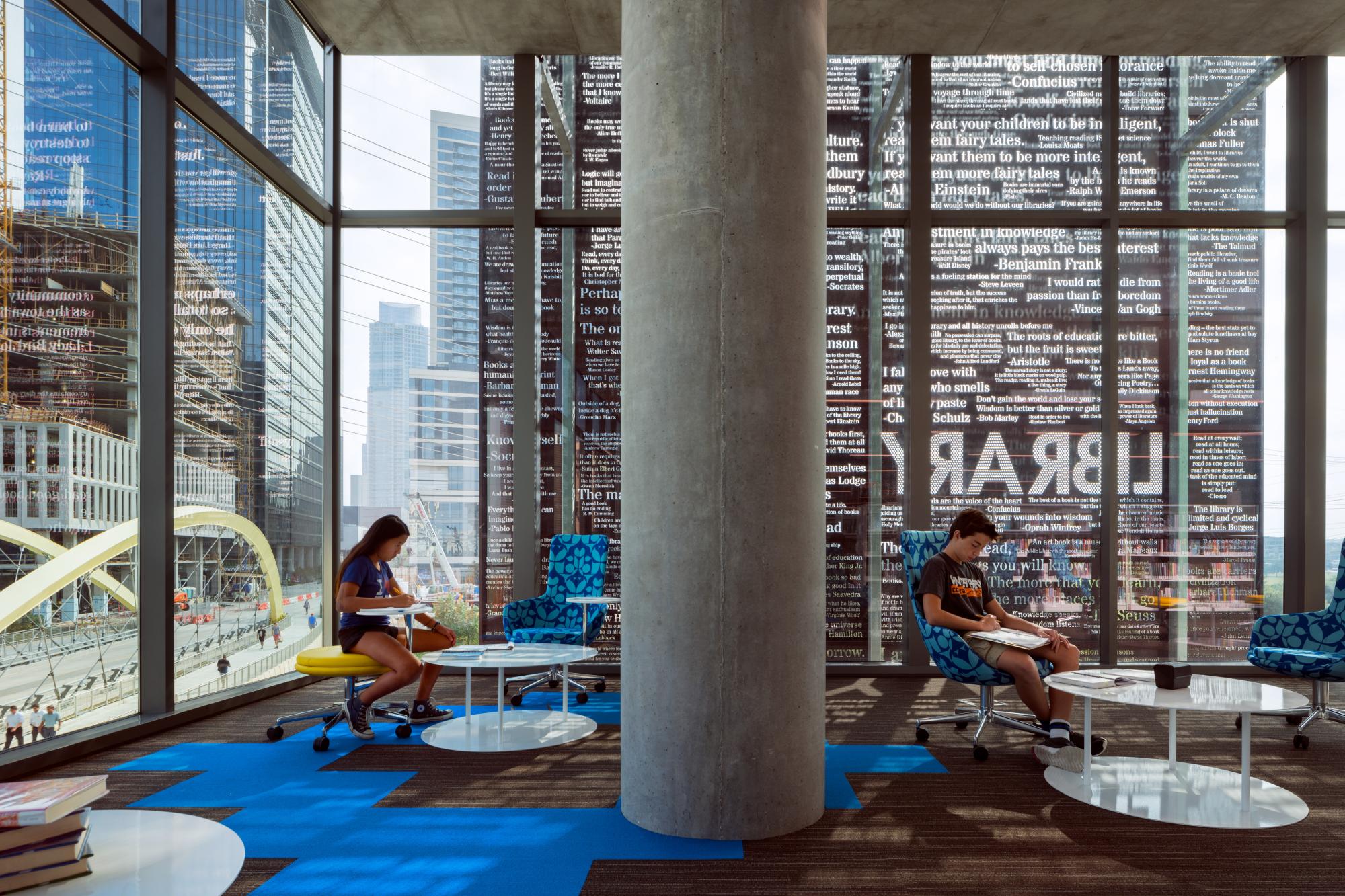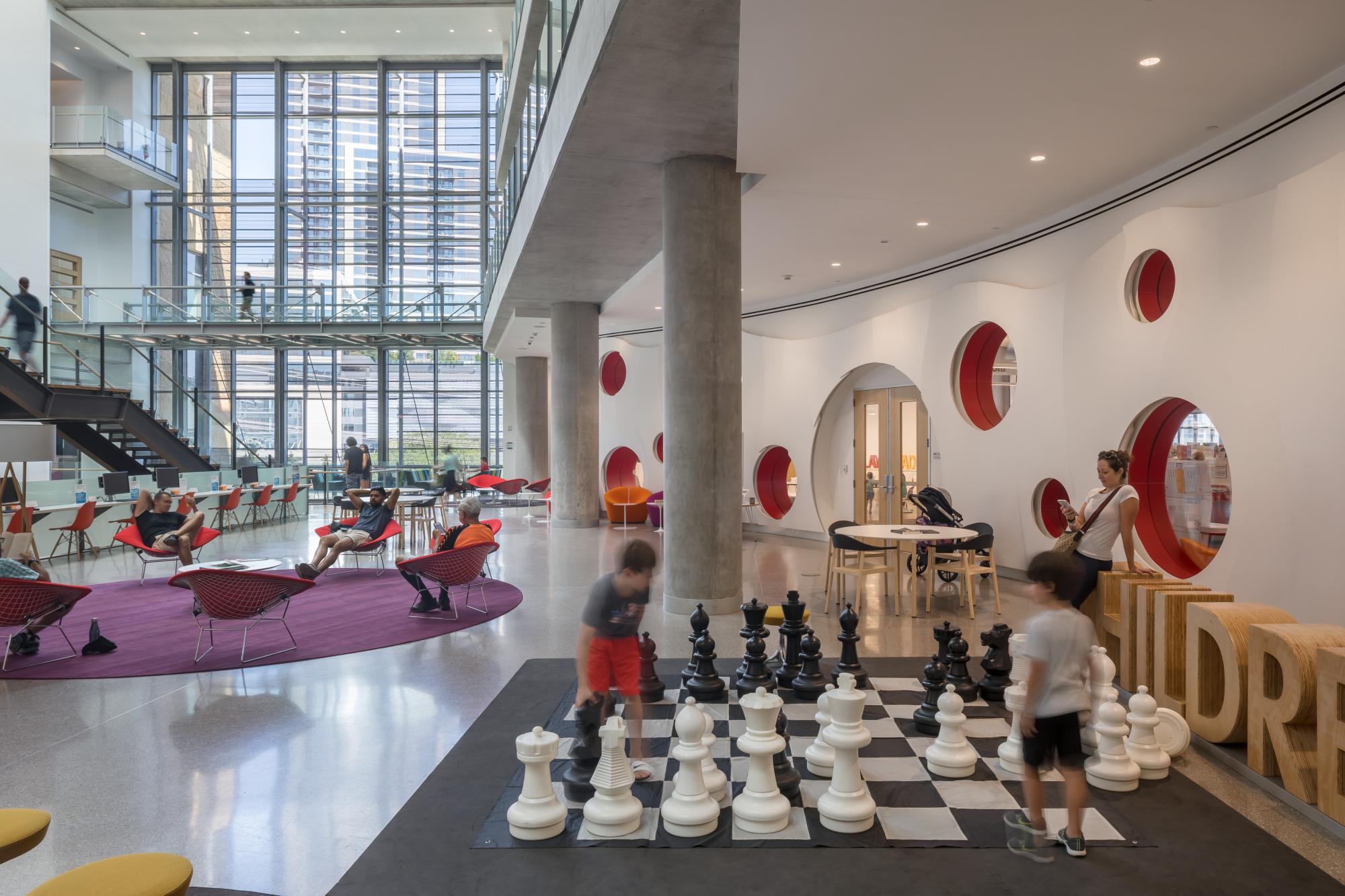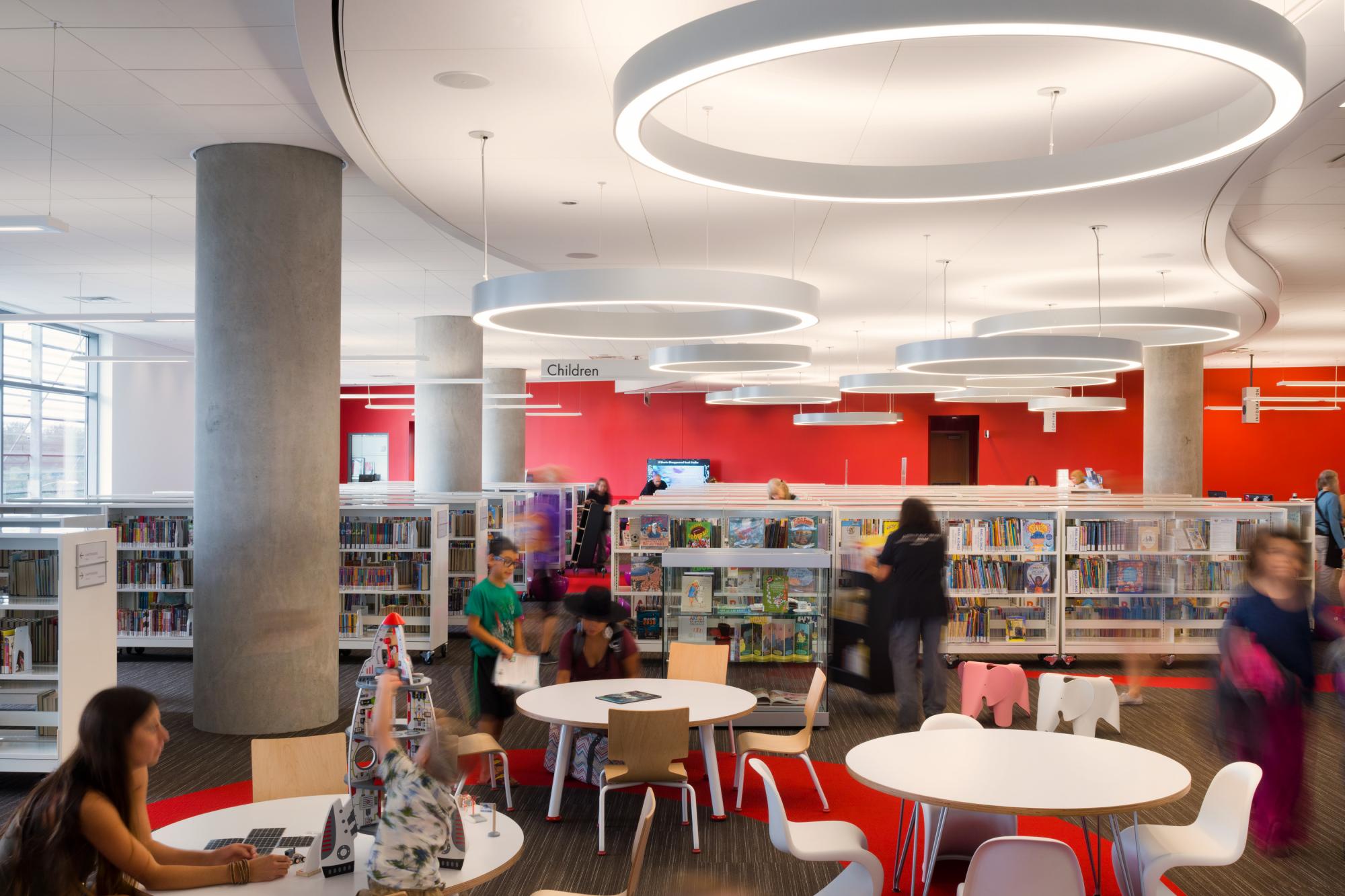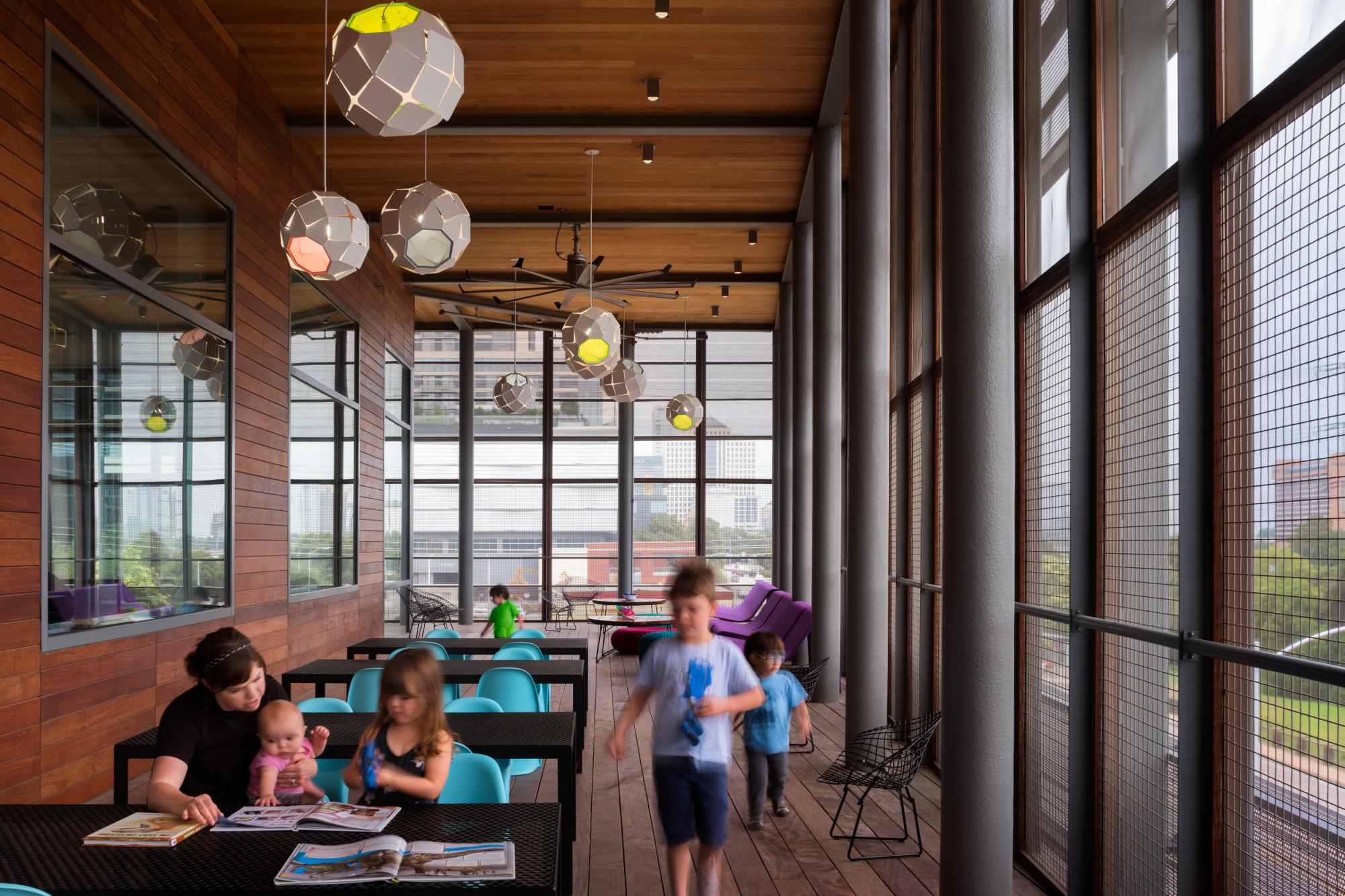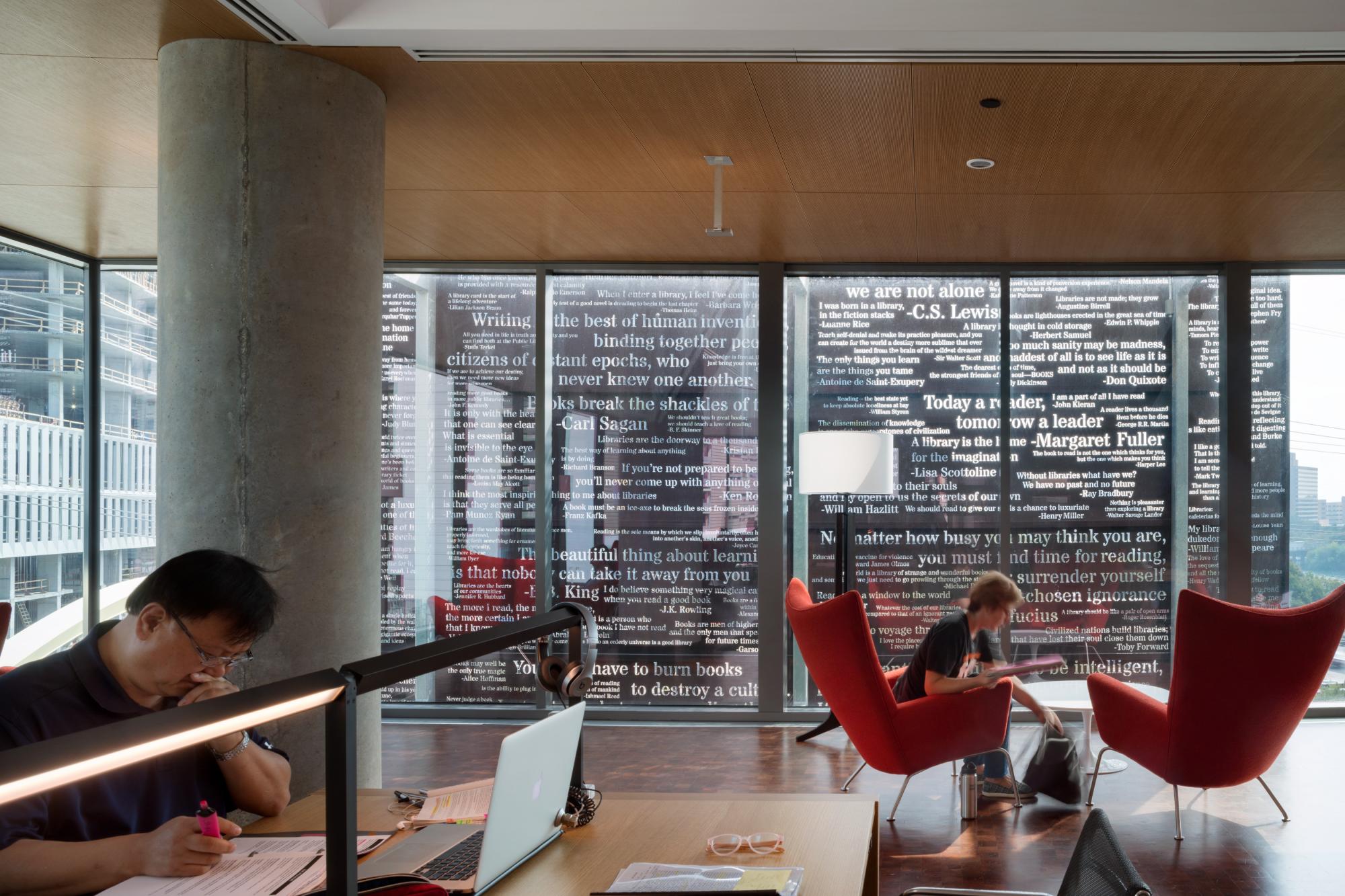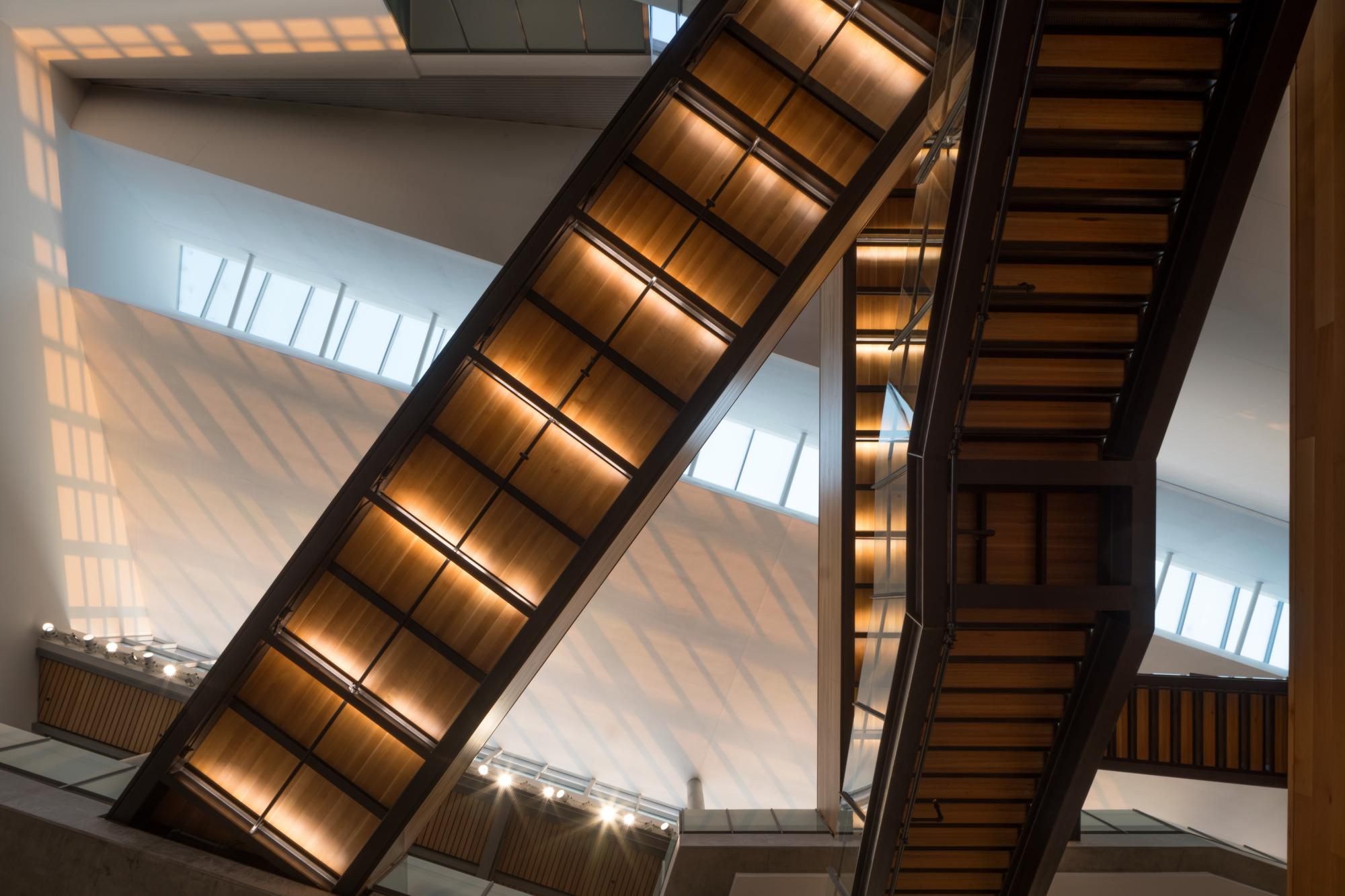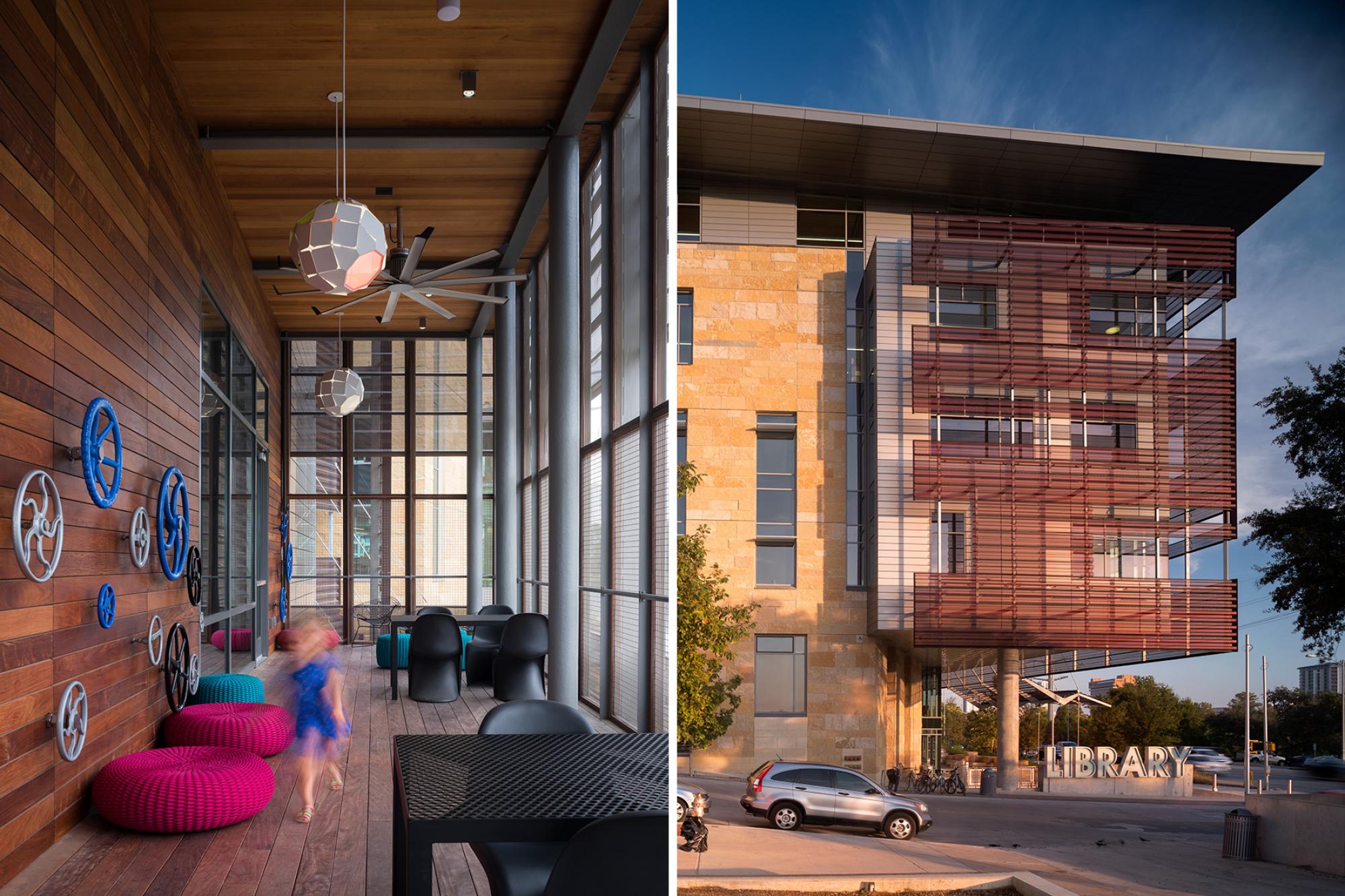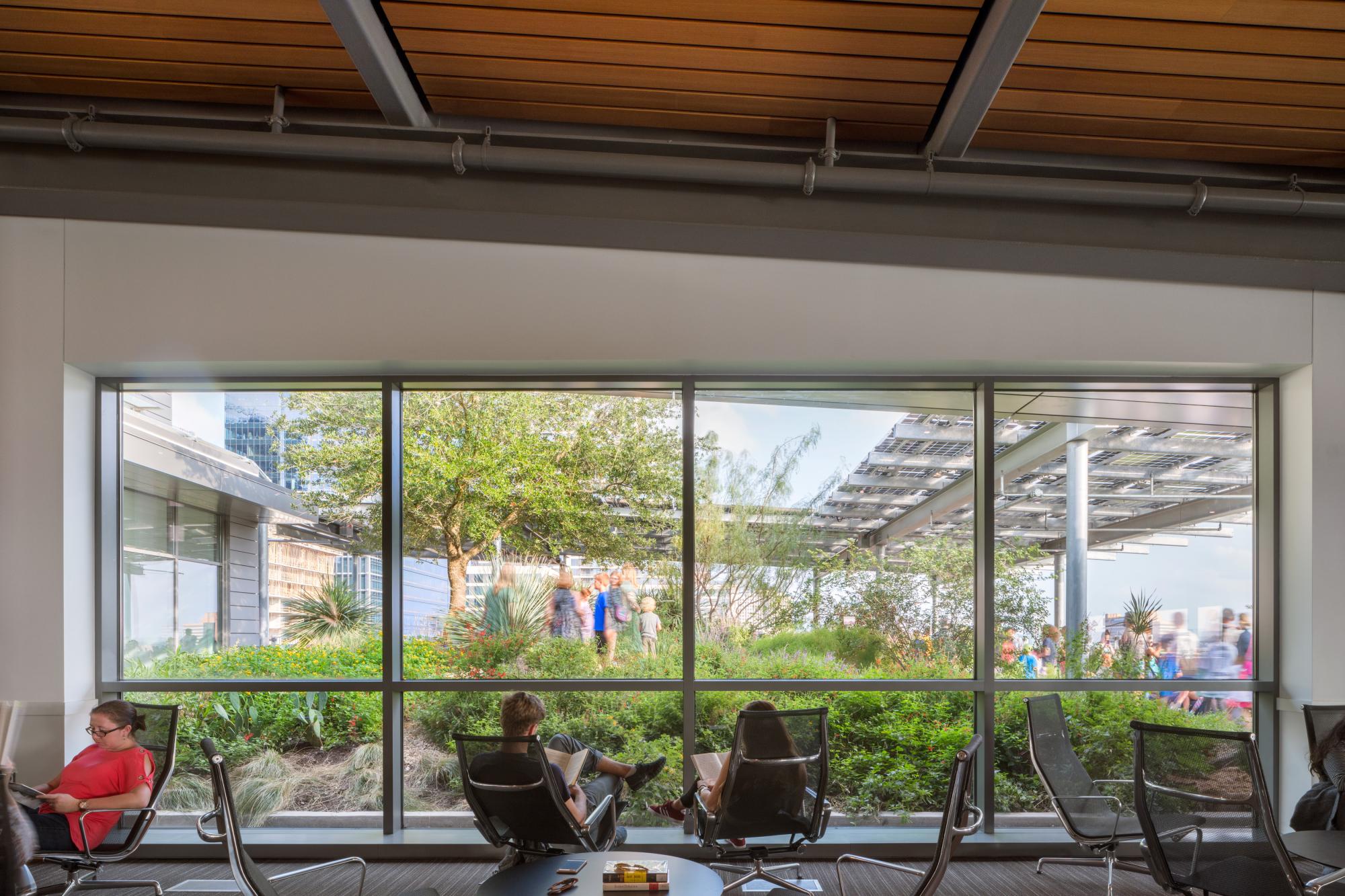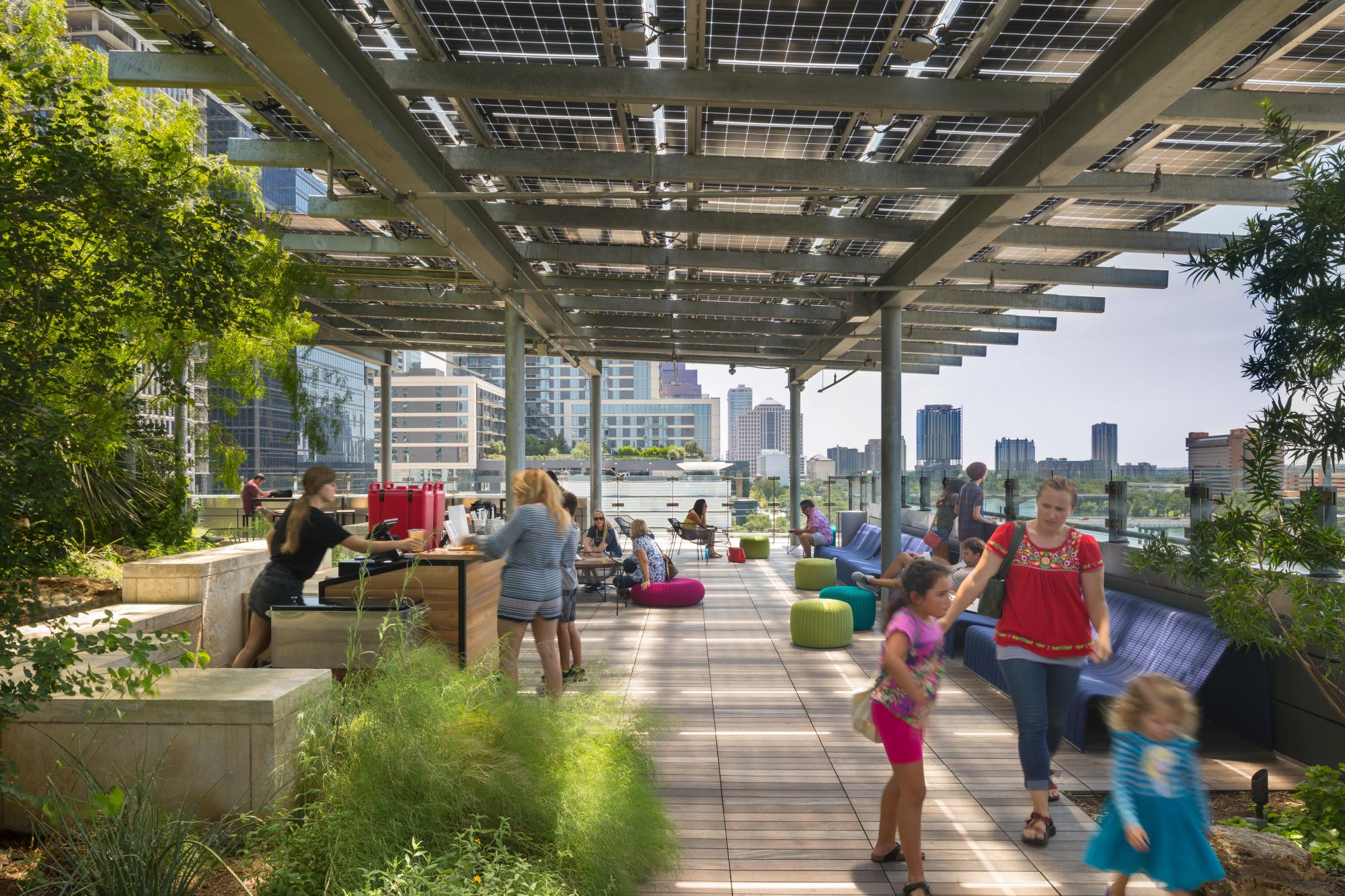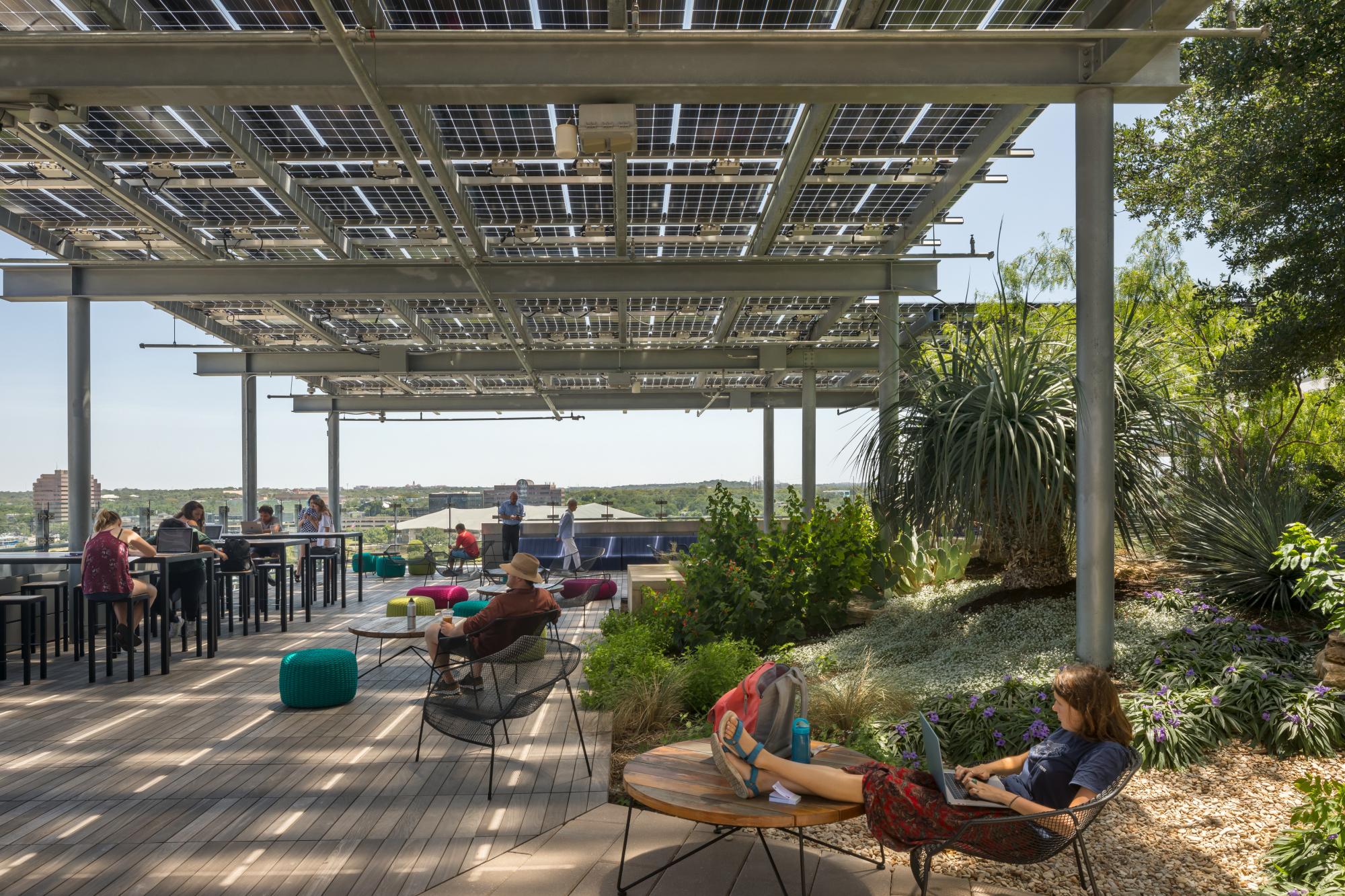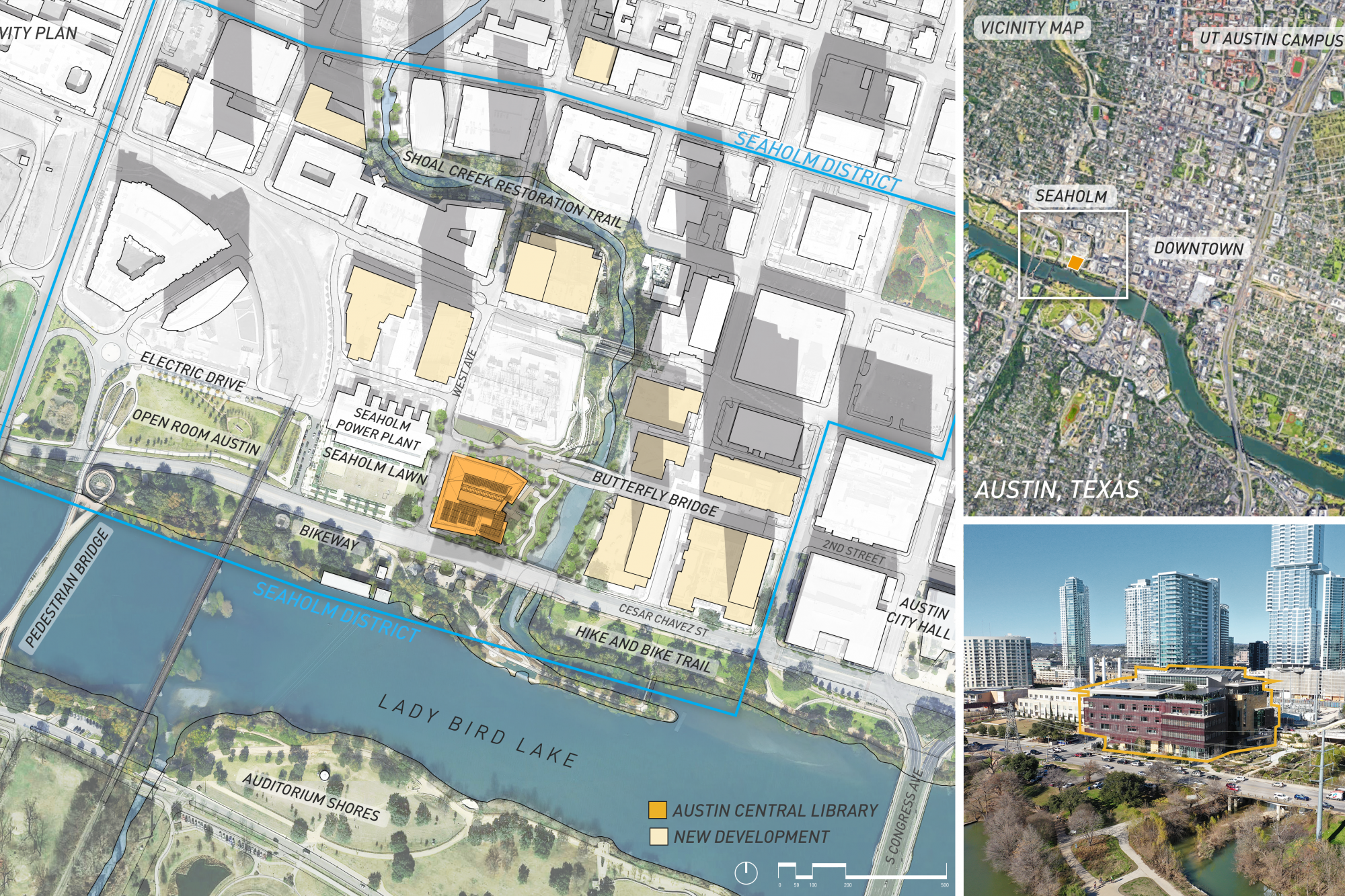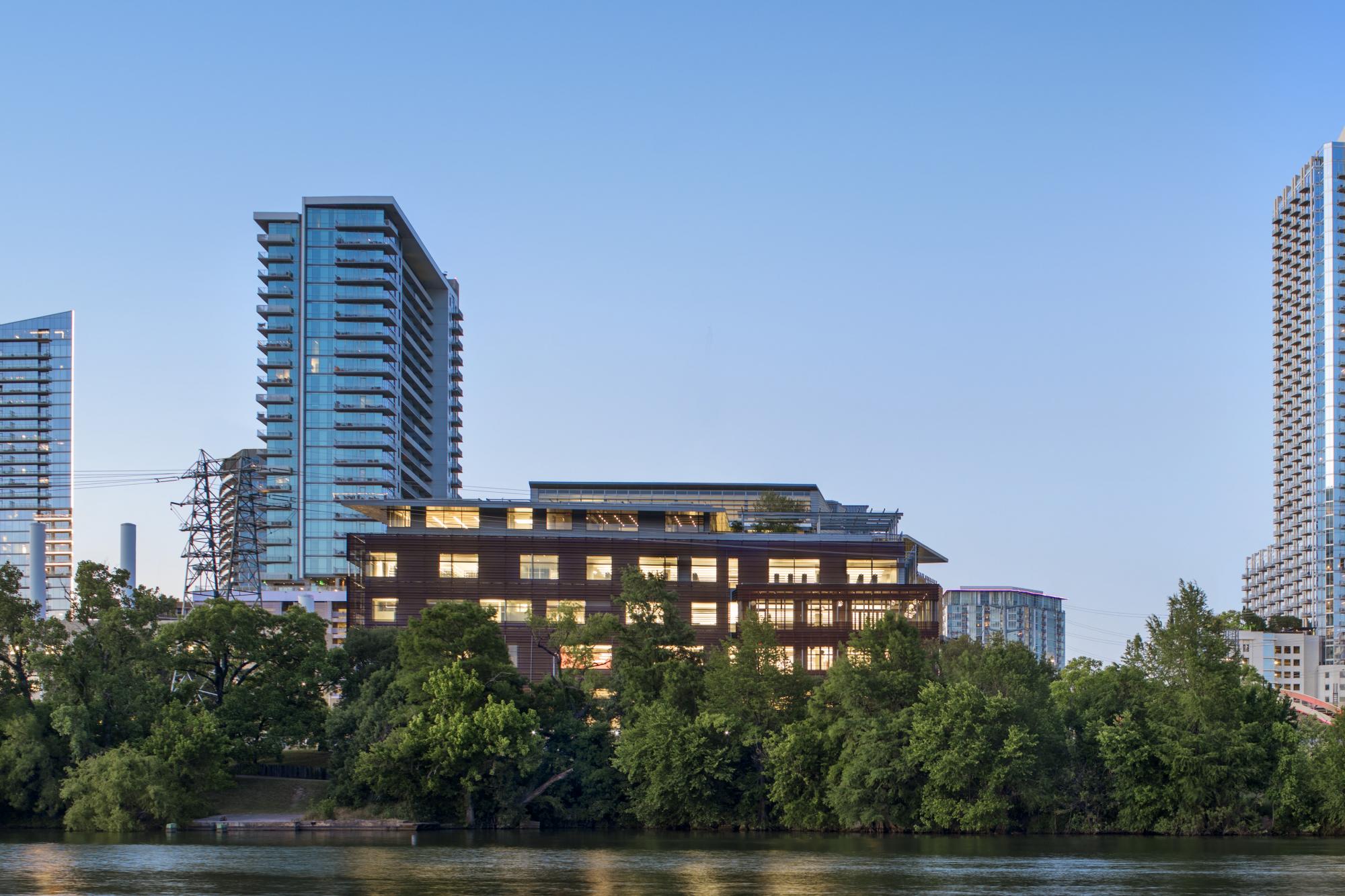 Austin Central Library
Overlooking Shoal Creek and Lady Bird Lake, the LEED Platinum Austin Central Library is a building shaped by light and designed to respond to the context of its place. Aspiring to be the most day-lit public library in the nation, the heart of the building is the six-story atrium. which provides daylight for more than 80% of regularly occupied spaces. The unique rooftop butterfly garden and reading porches, inspired by Texans' love for the outdoors, draw visitors to connect with nature. Serving as the western portal to downtown, the library is a technologically-rich, innovative community hub which establishes a culturally-sensitive, major civic presence and community gathering space in the heart of downtown.

The final design is a 198,000 sq. ft. library that serves as a model for sustainable resource use and library efficiency while promoting visceral connections to collections, history, culture, and place. The facility is based on flexible, blended spaces including indoor collections and reading rooms, outdoor reading porches, maker spaces, technology center, café, bookstore, 350-seat event center, art gallery, outdoor dining, demonstration kitchen and rooftop garden. The learning rooms for children and teenagers create designated spaces for different age groups to enjoy a part of the library tailored for them. Integrated art works enhance this technology-focused environment by showcasing local and national artists. The Austin Central Library is a framework for lifelong learning that creates stronger, more resilient communities.

Lake|Flato & Shepley Bulfinch joint venture.
This is a library that went and studied libraries across the world, to come up with a template for it. This is something that this part of the world has never seen before. We hope people really enjoy it. It's just as technology rich as you can imagine.
City of Austin Facilities Manager
09000_P_N253_board.jpg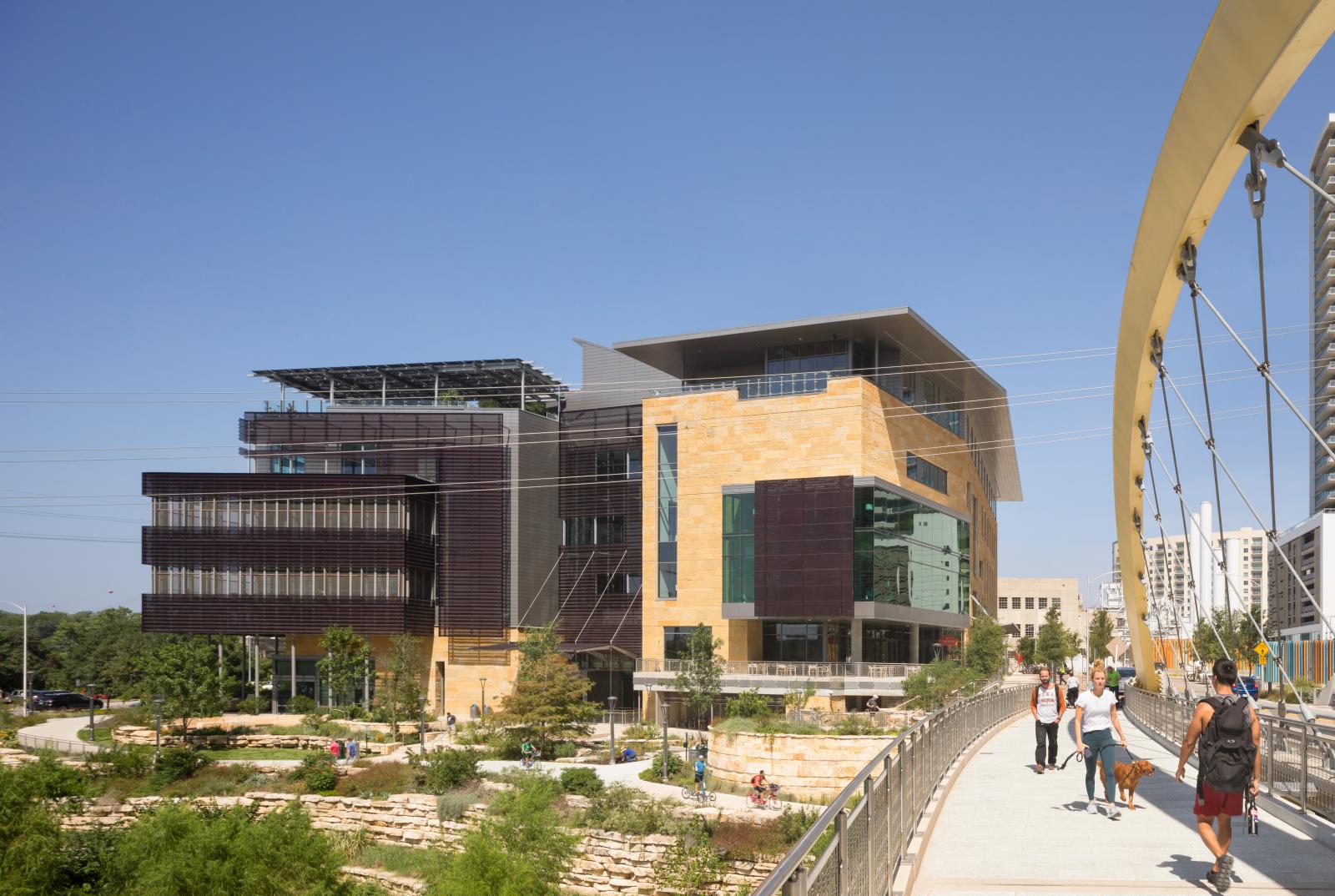 09000_P_N268_board.jpg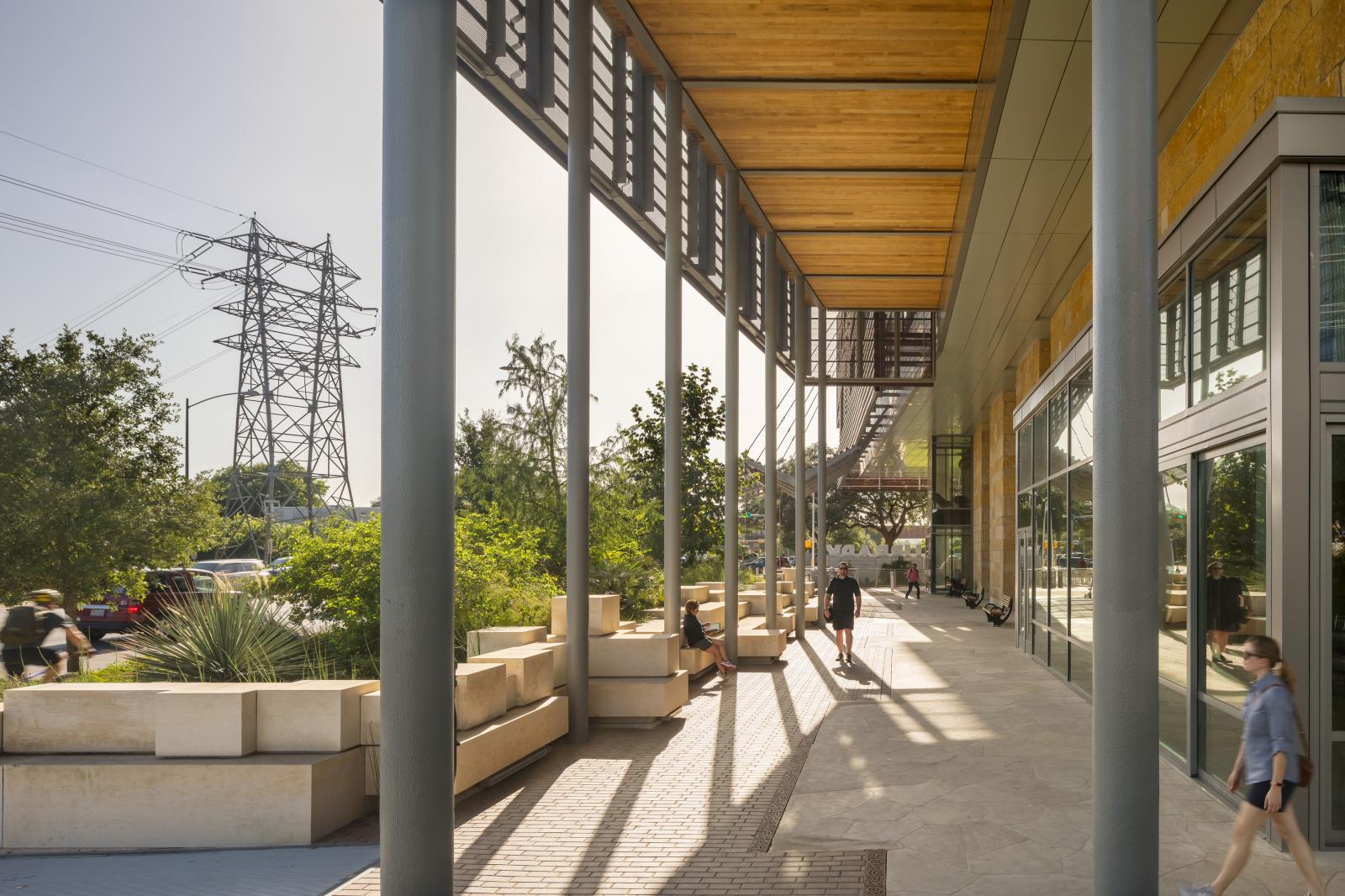 09000_P_N255_board.jpg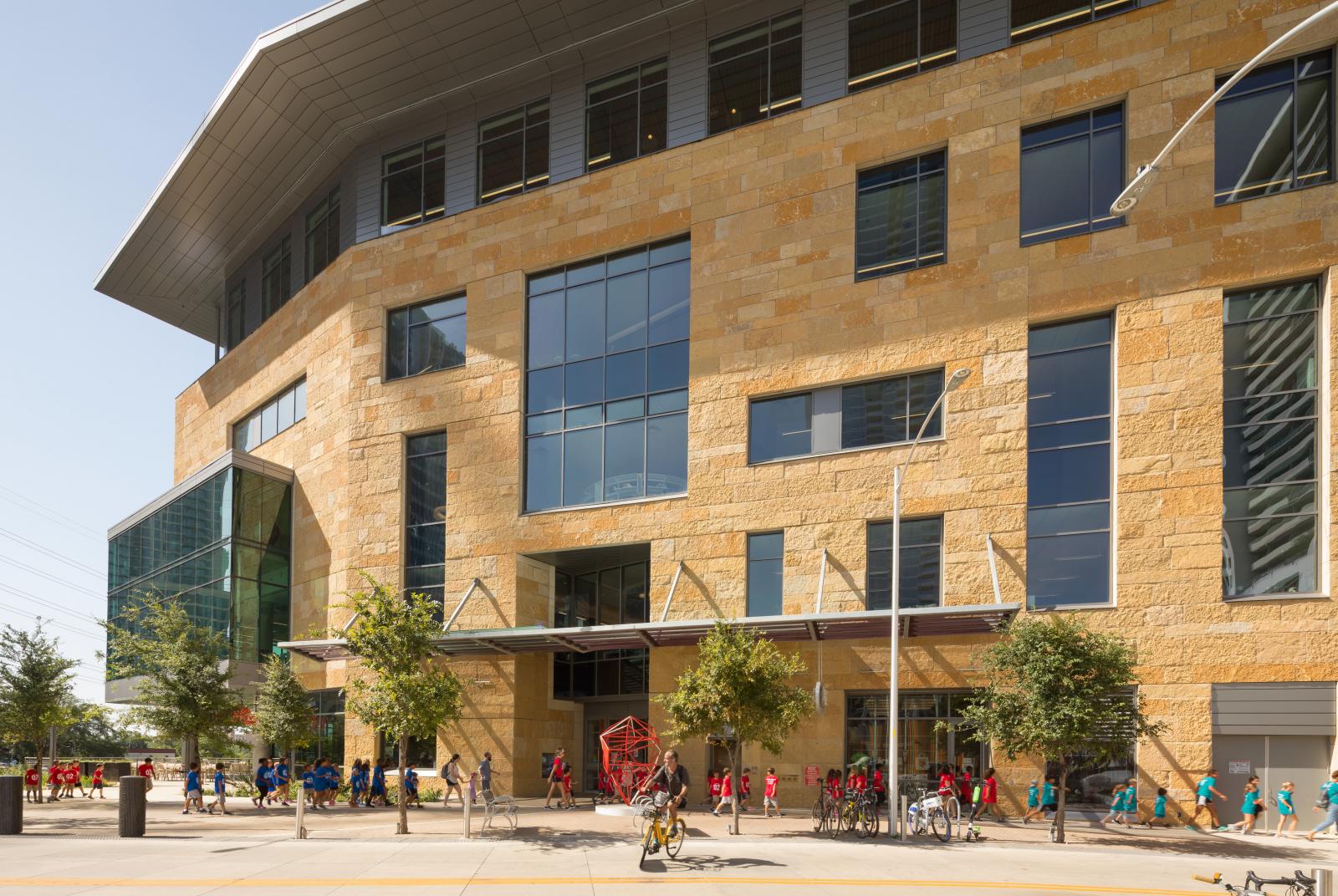 updated-site.jpg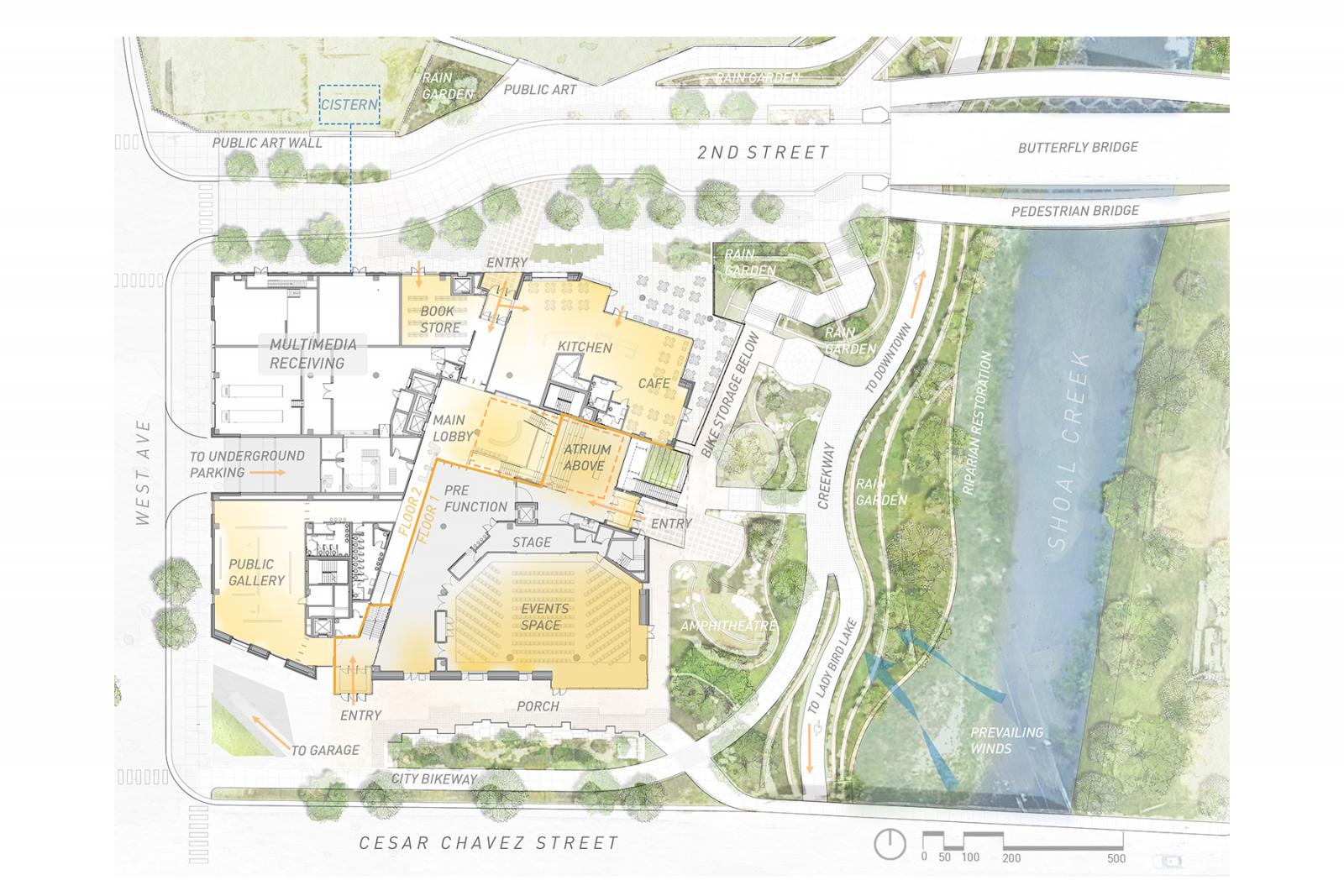 atrium.jpg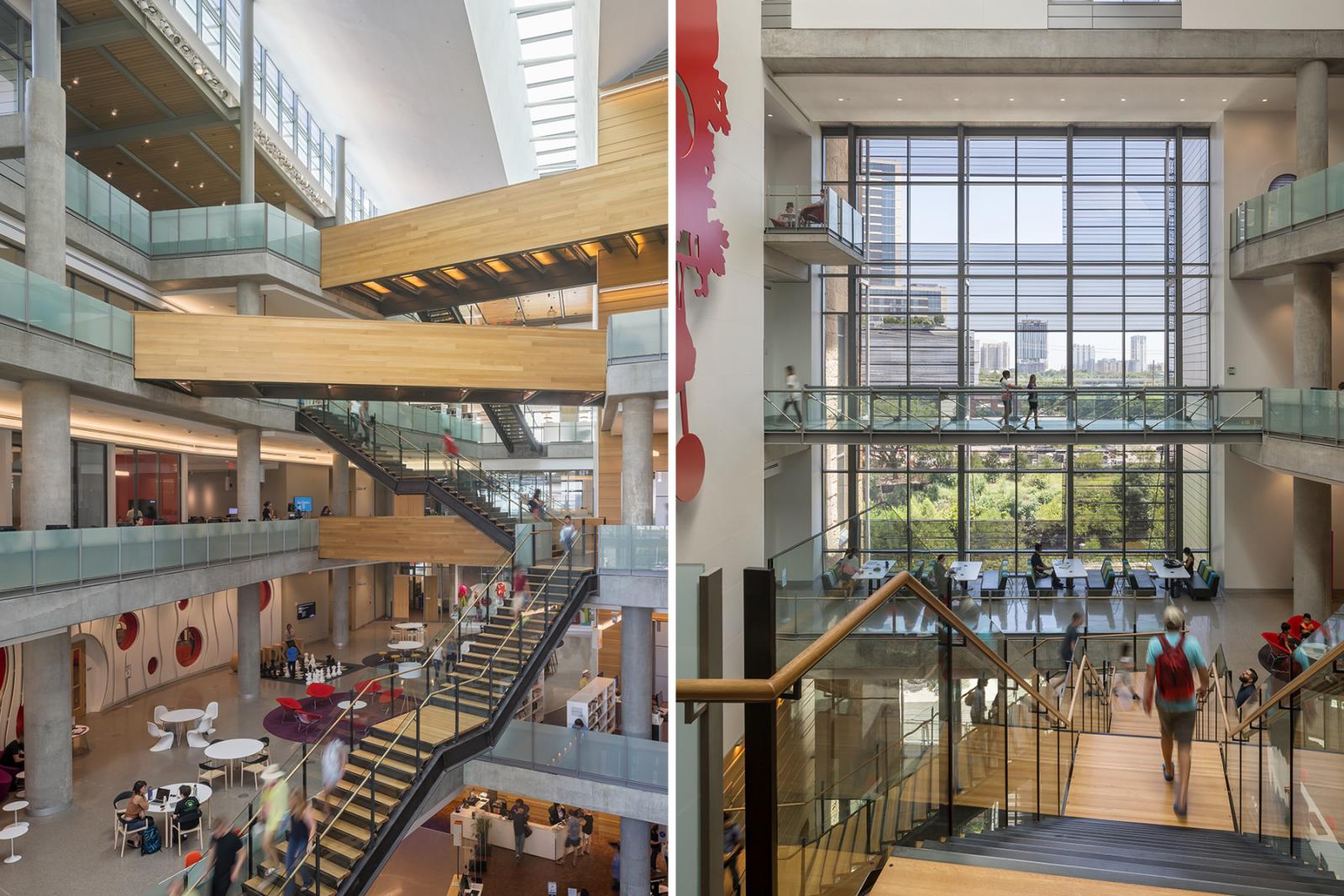 atrium2.jpg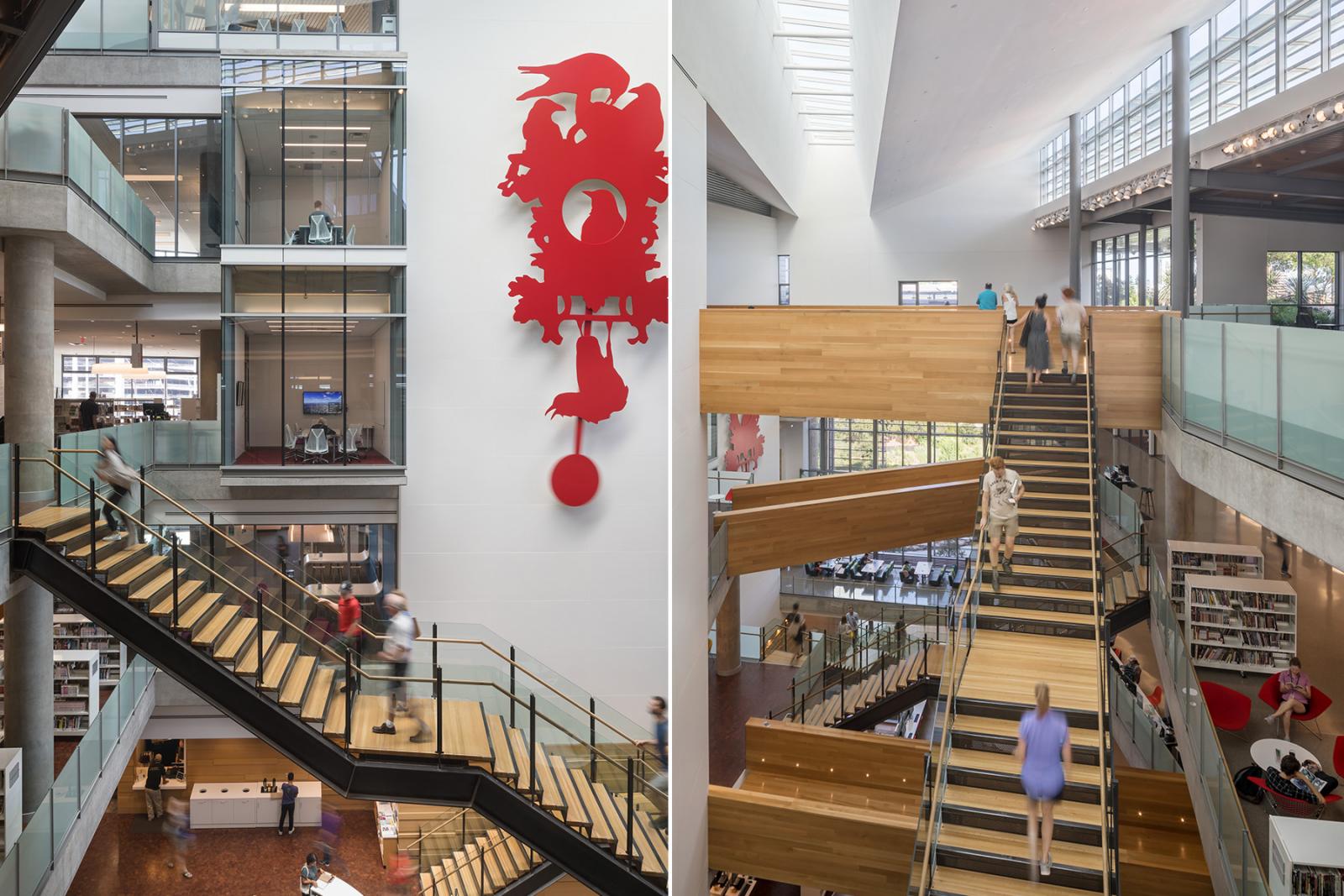 daylight.jpg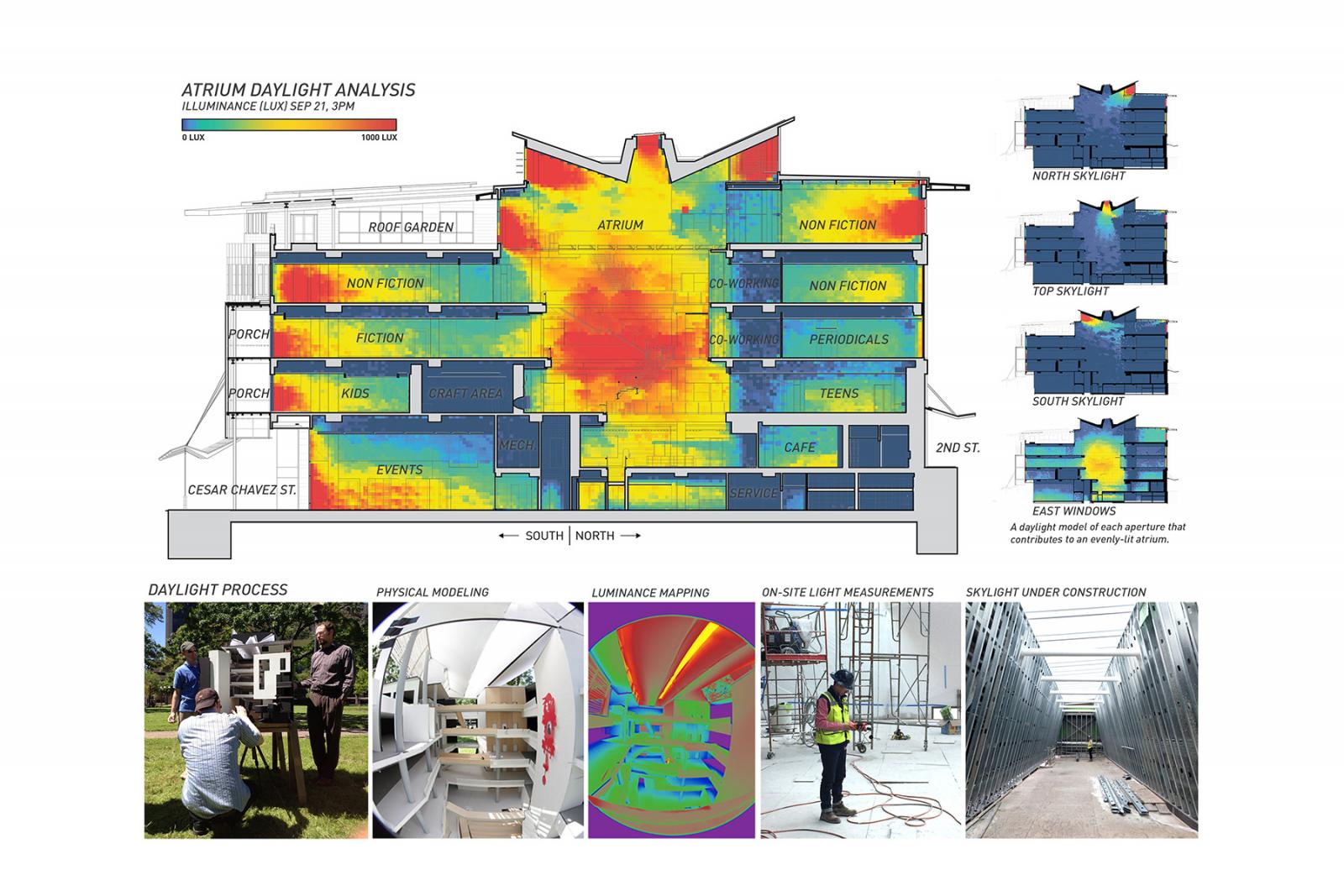 wateraxon.jpg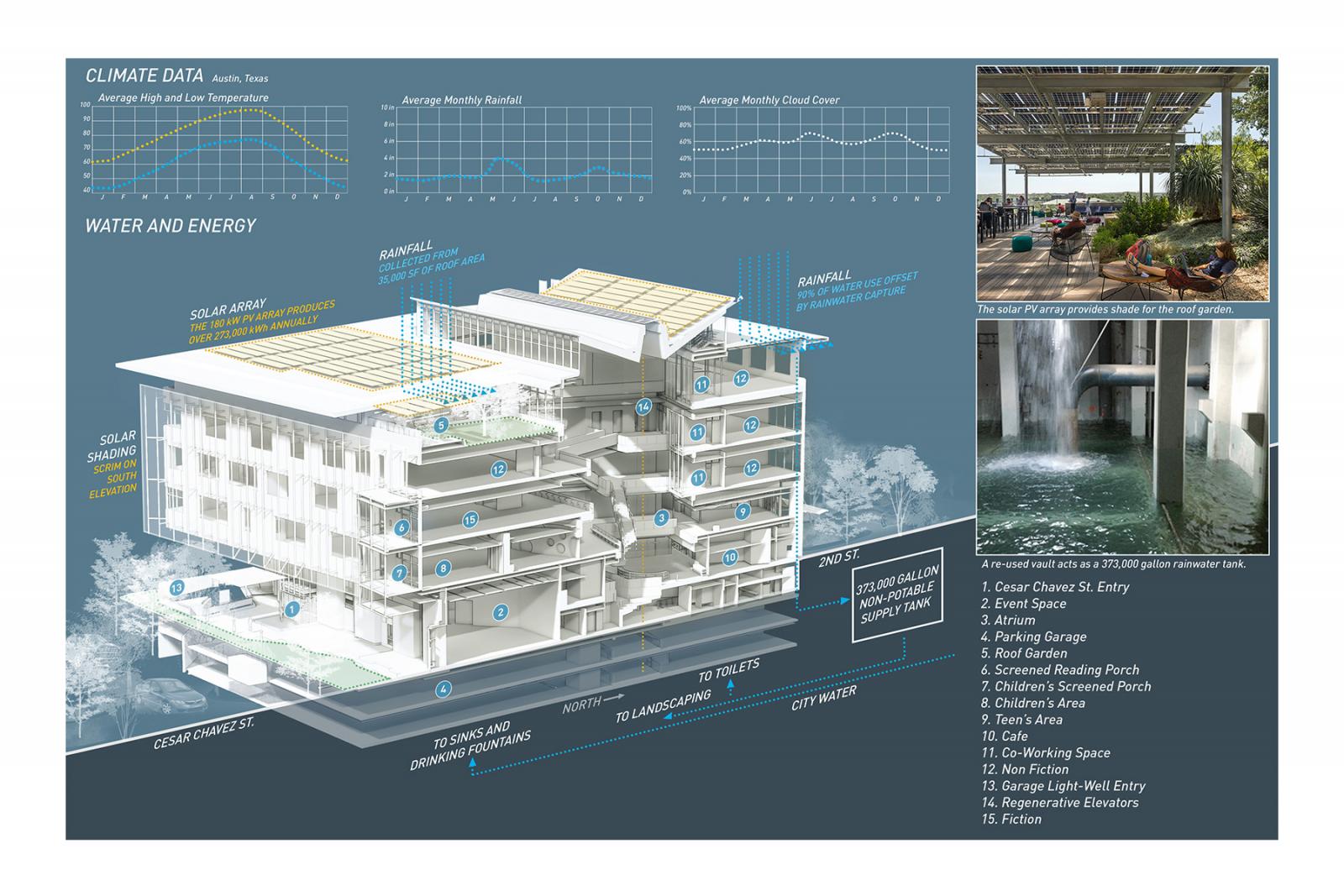 vertical.jpg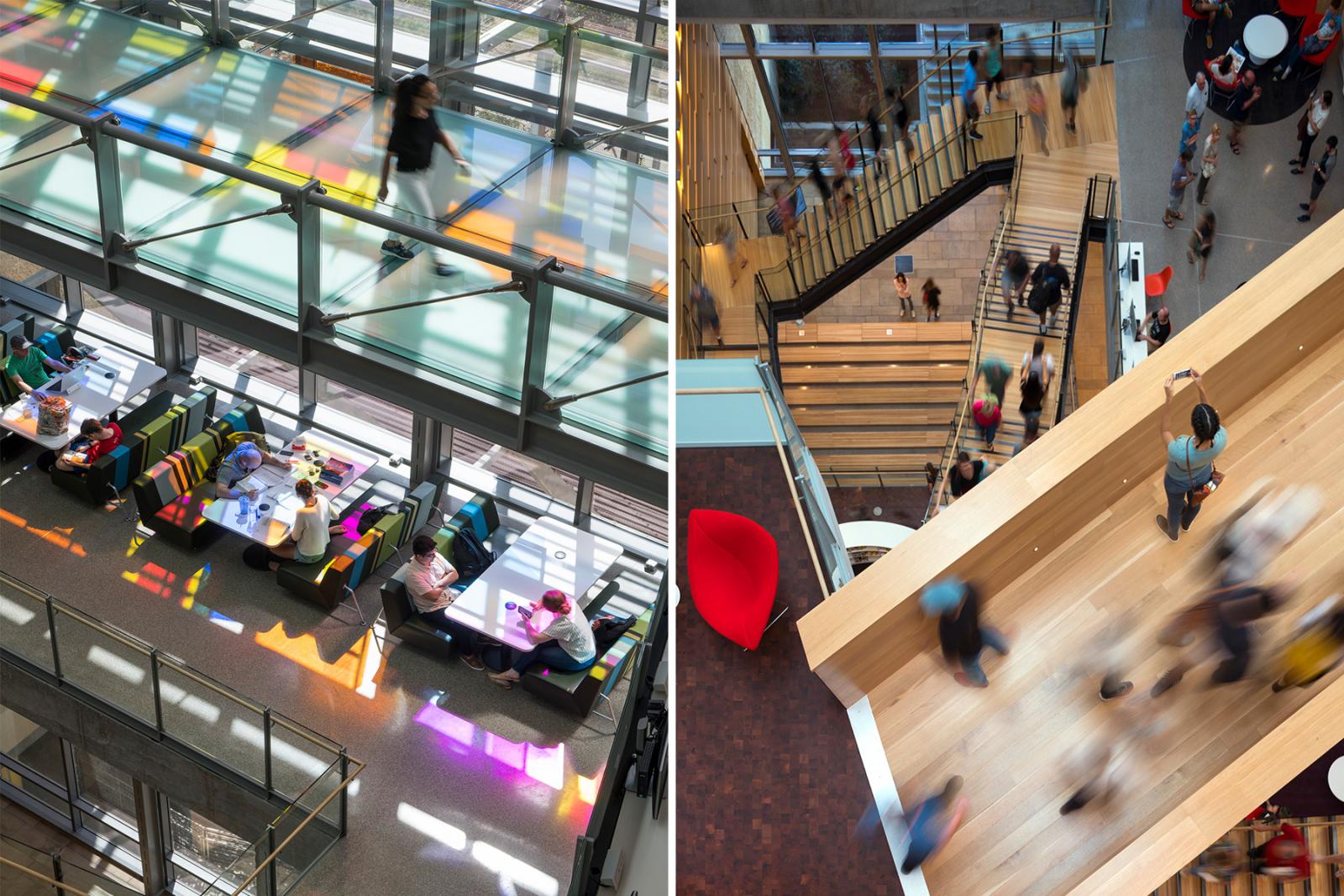 09000_P_N324_board.jpg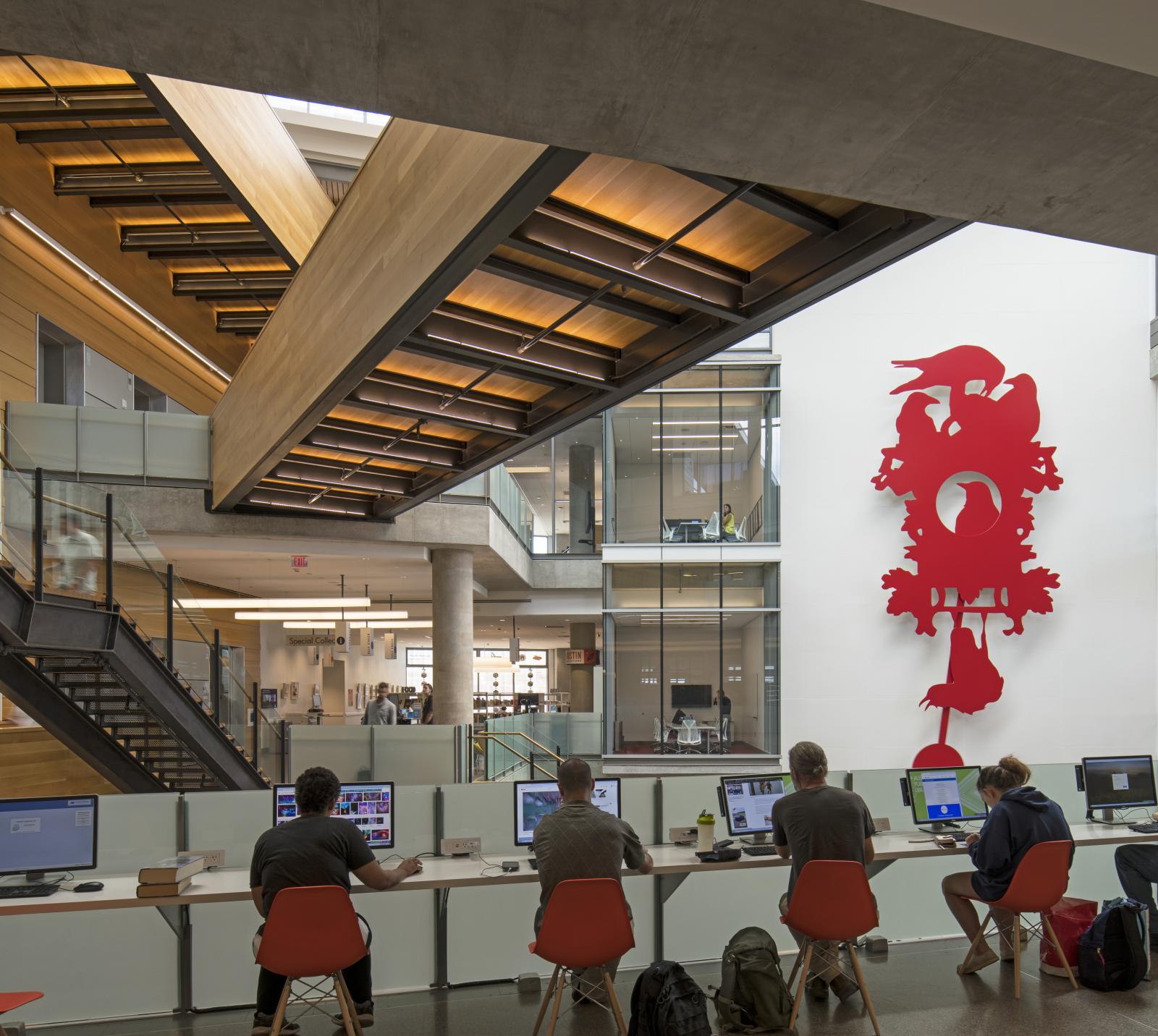 09000_P_N83_board.jpg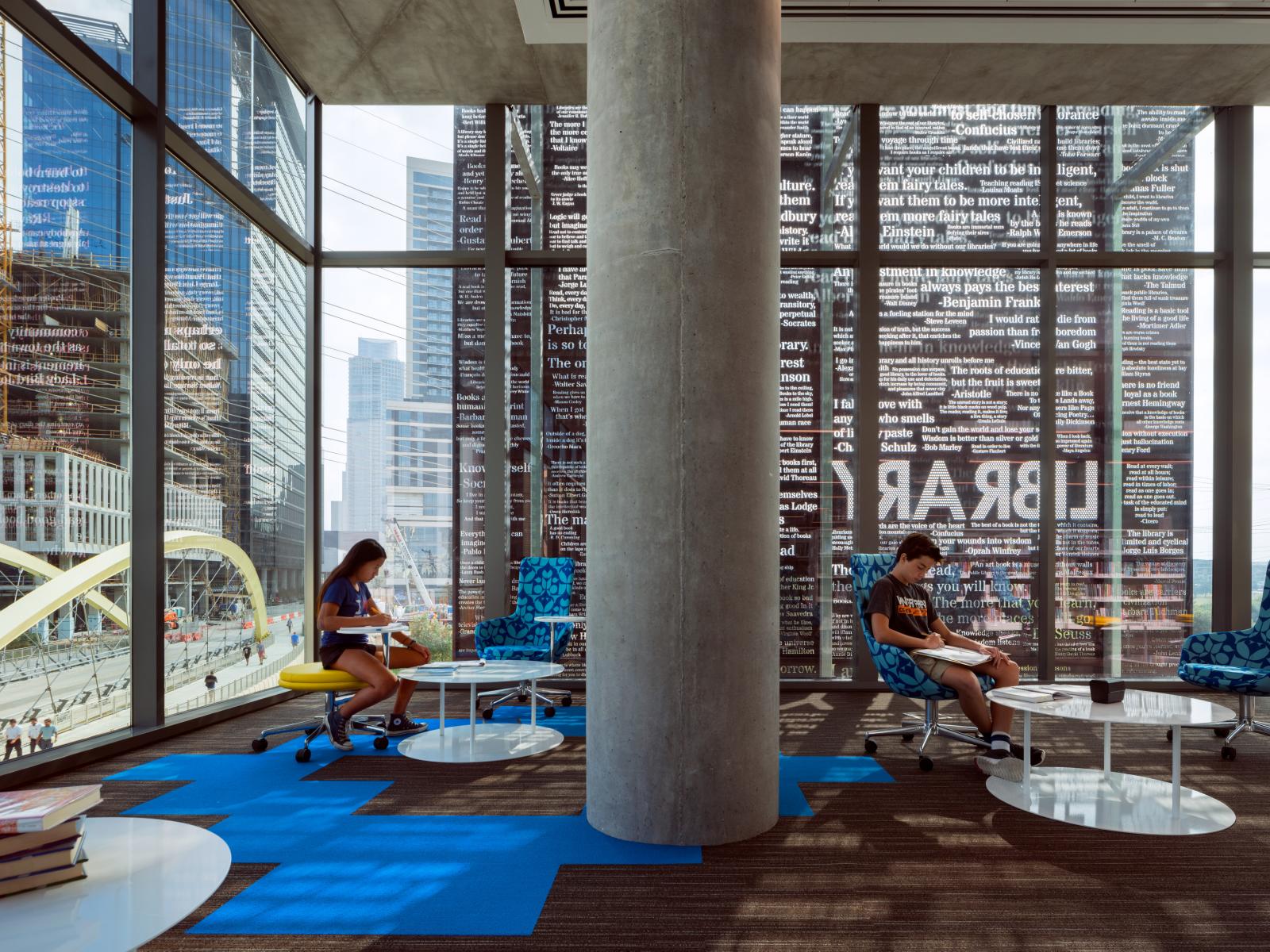 09000_P_N245_board.jpg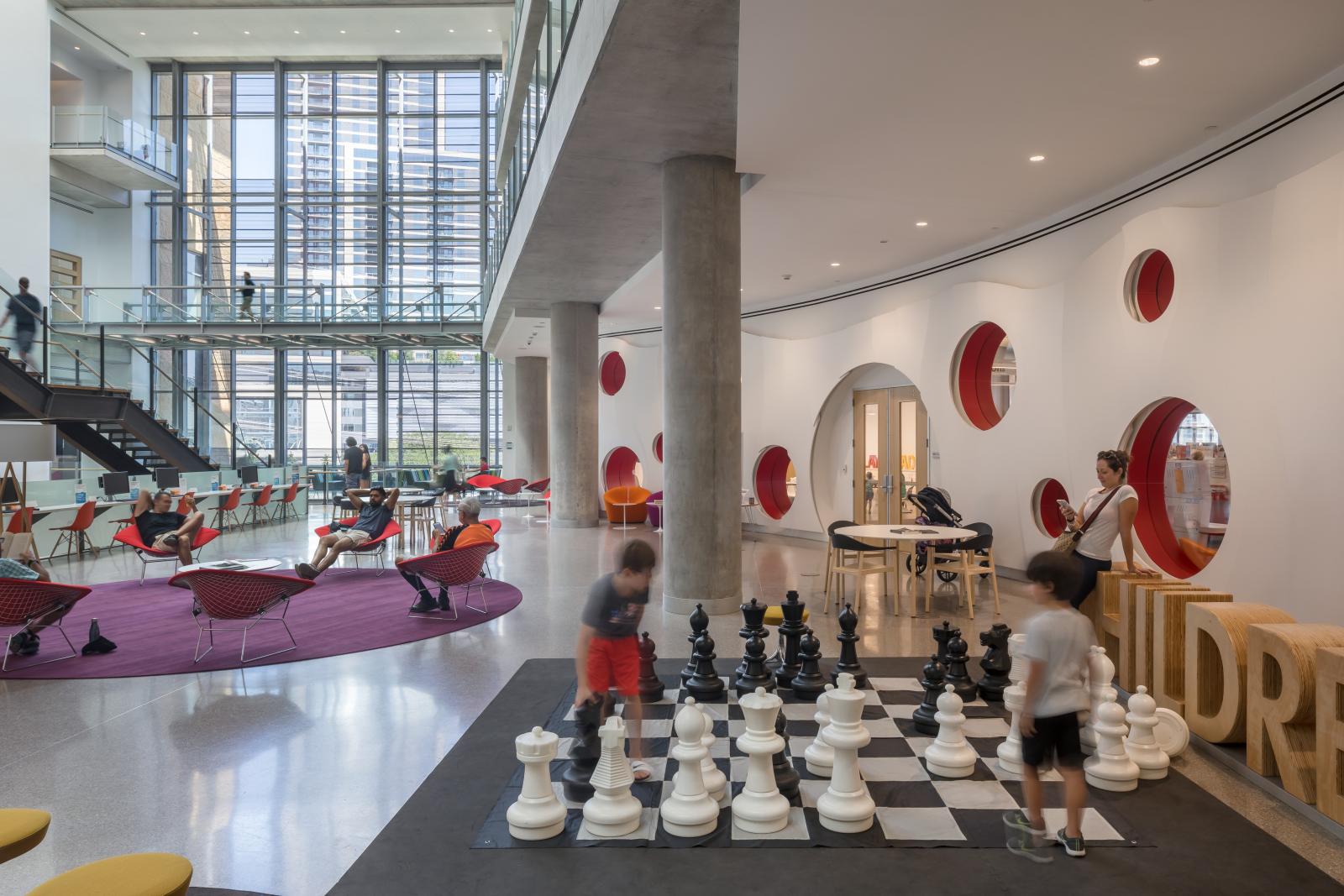 09000_P_N137_board.jpg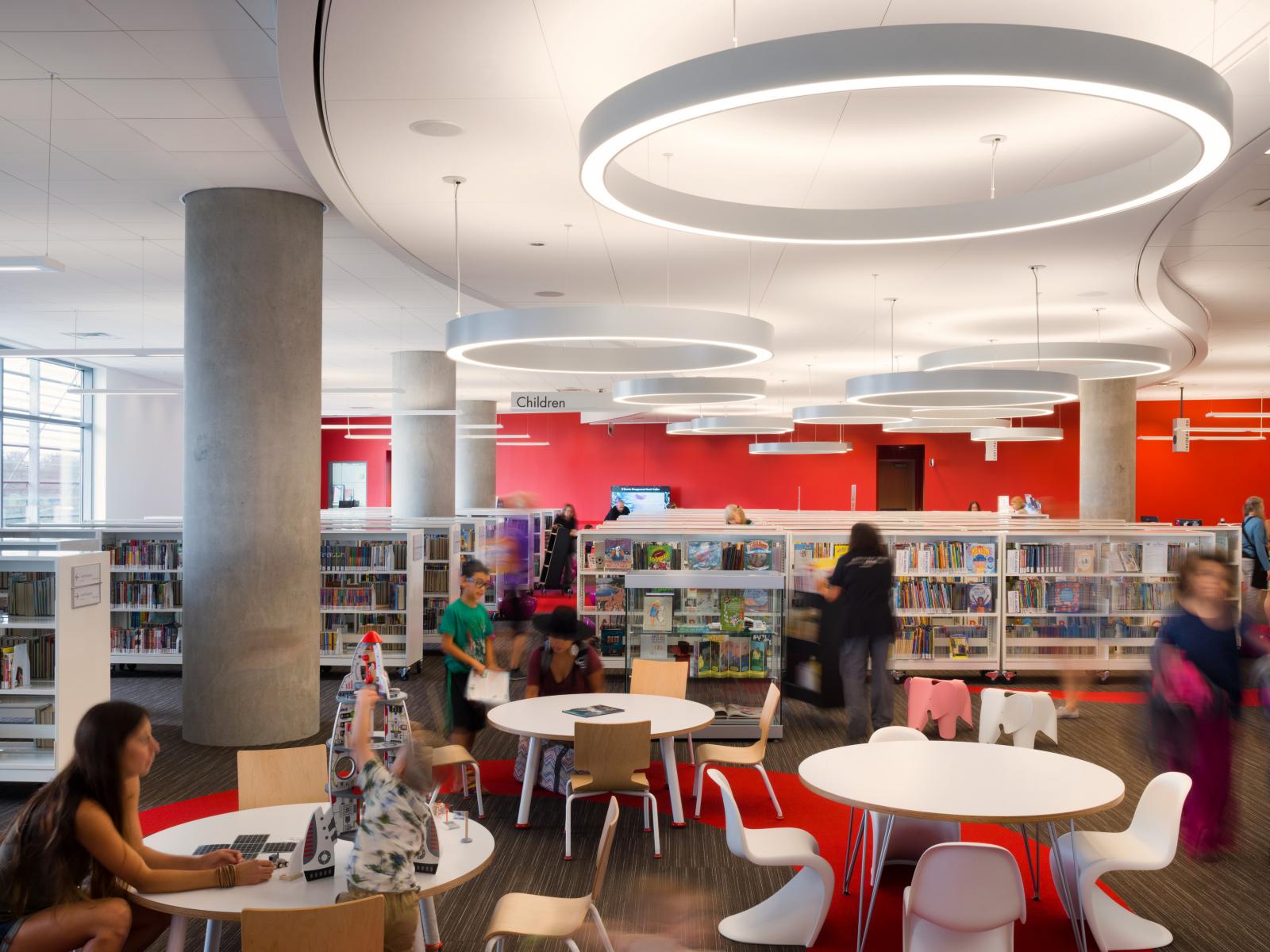 09000_P_N149_board.jpg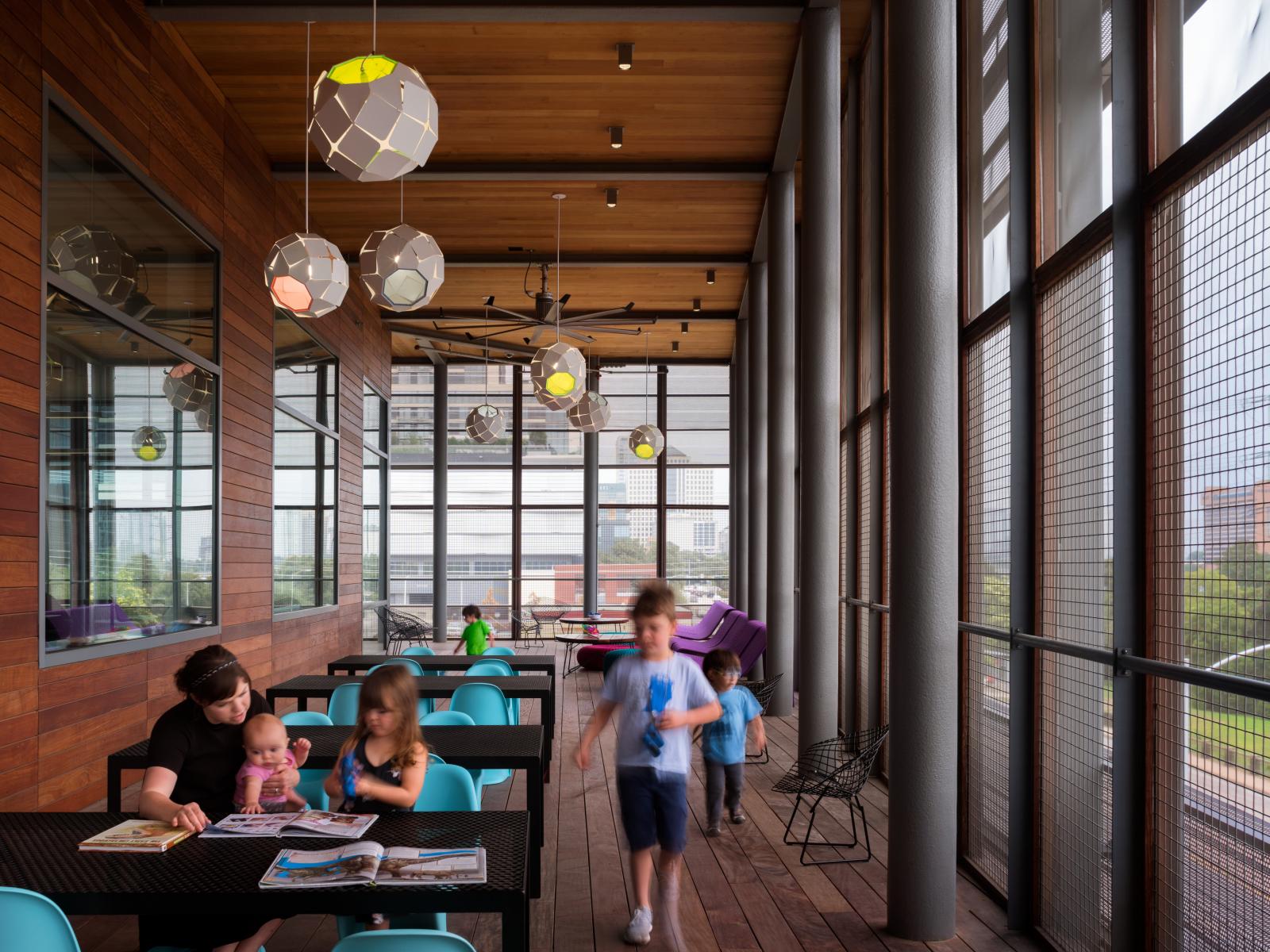 09000_P_N75_board.jpg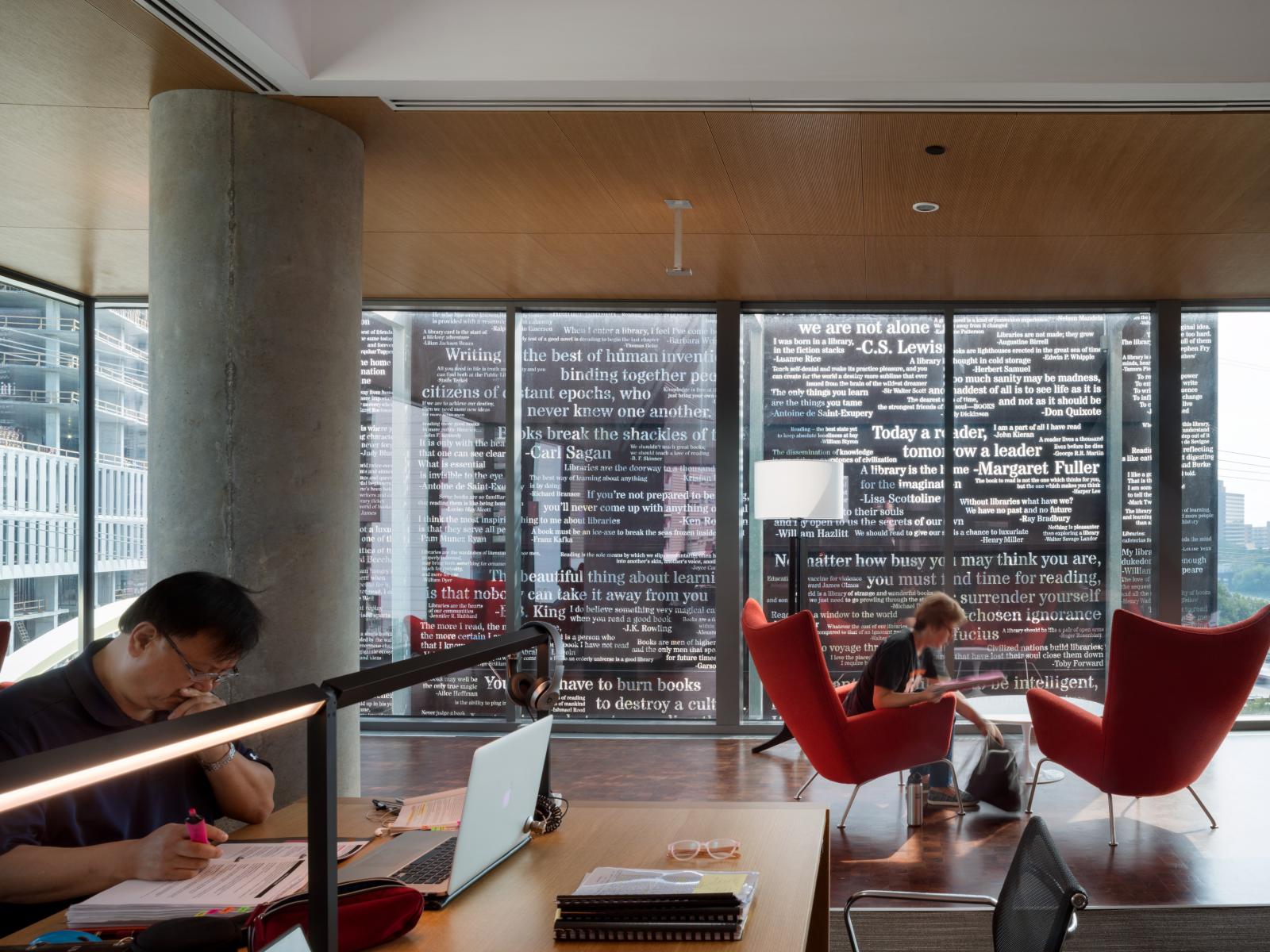 09000_P_N118_board.jpg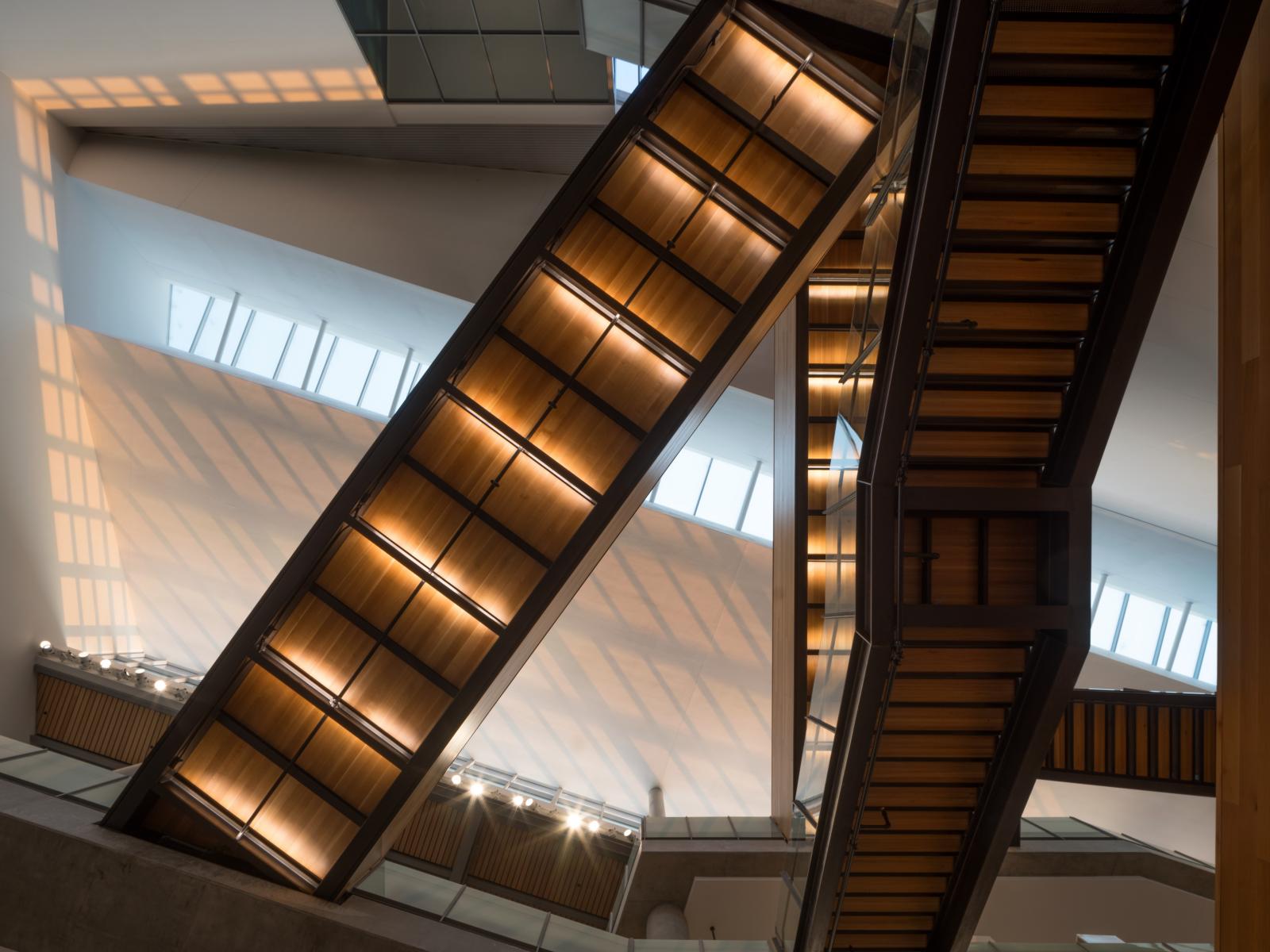 vertical3.jpg
09000_P_N201_board.jpg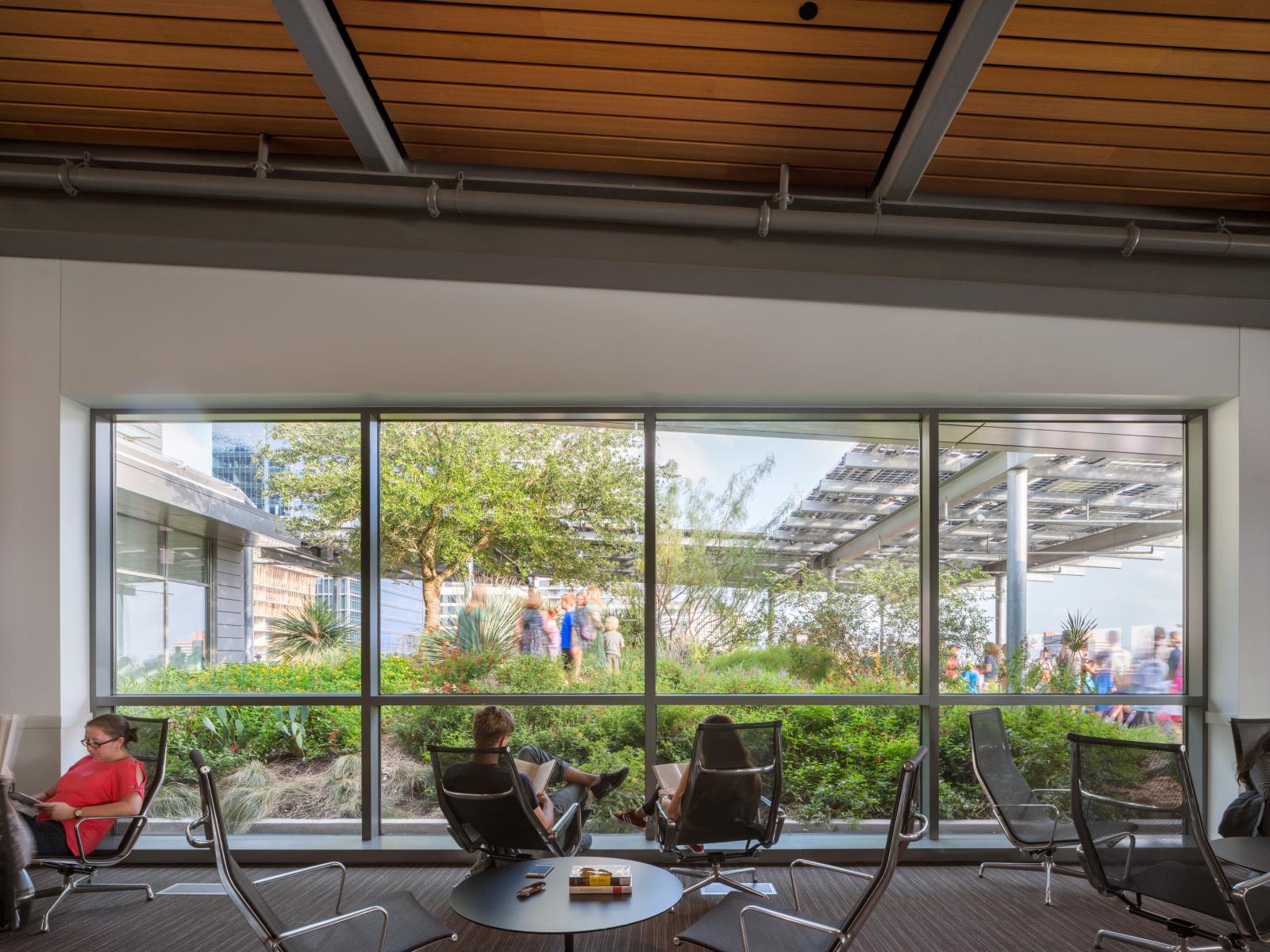 09000_P_N271_board.jpg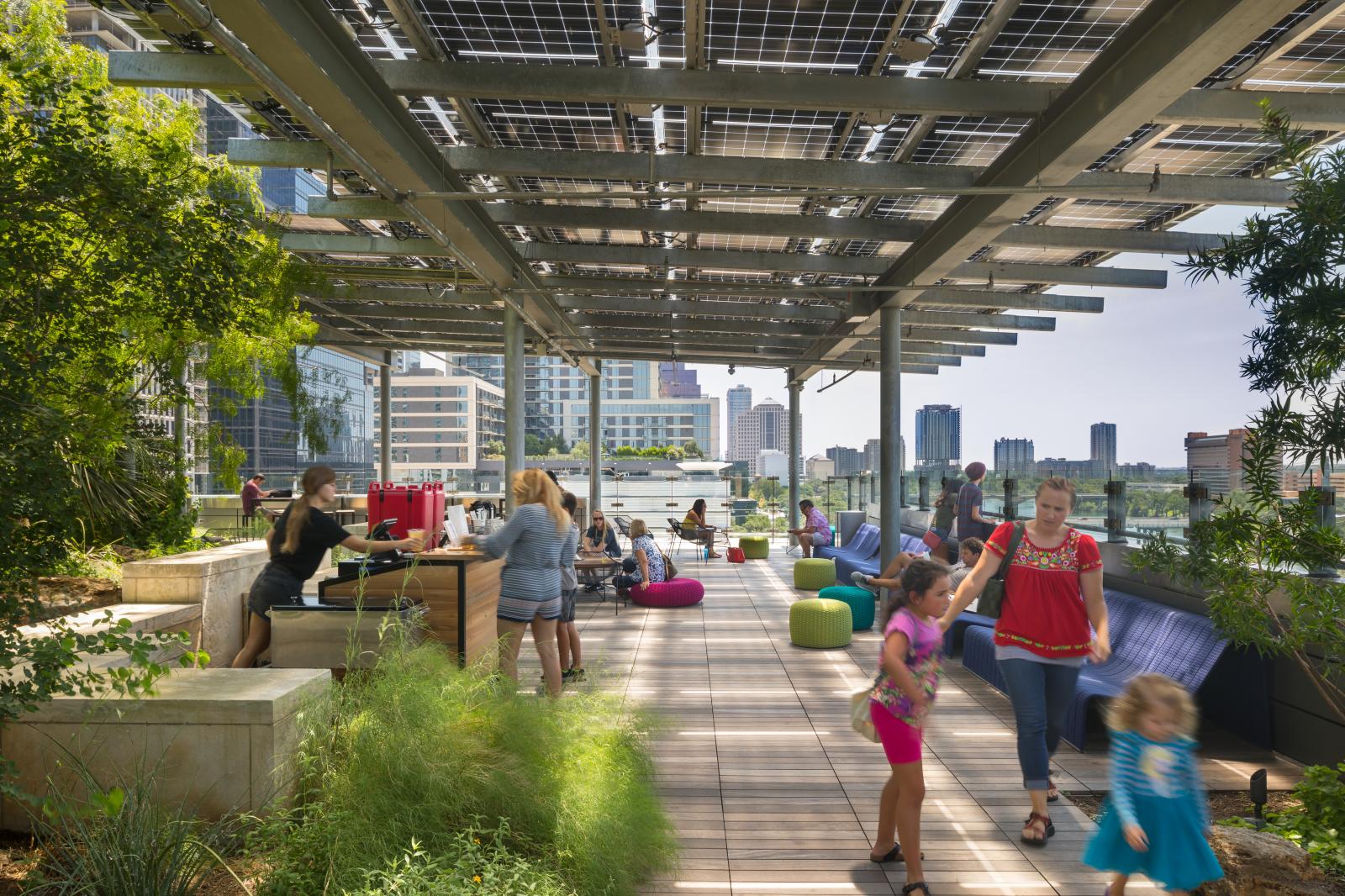 09000_P_N272_board.jpg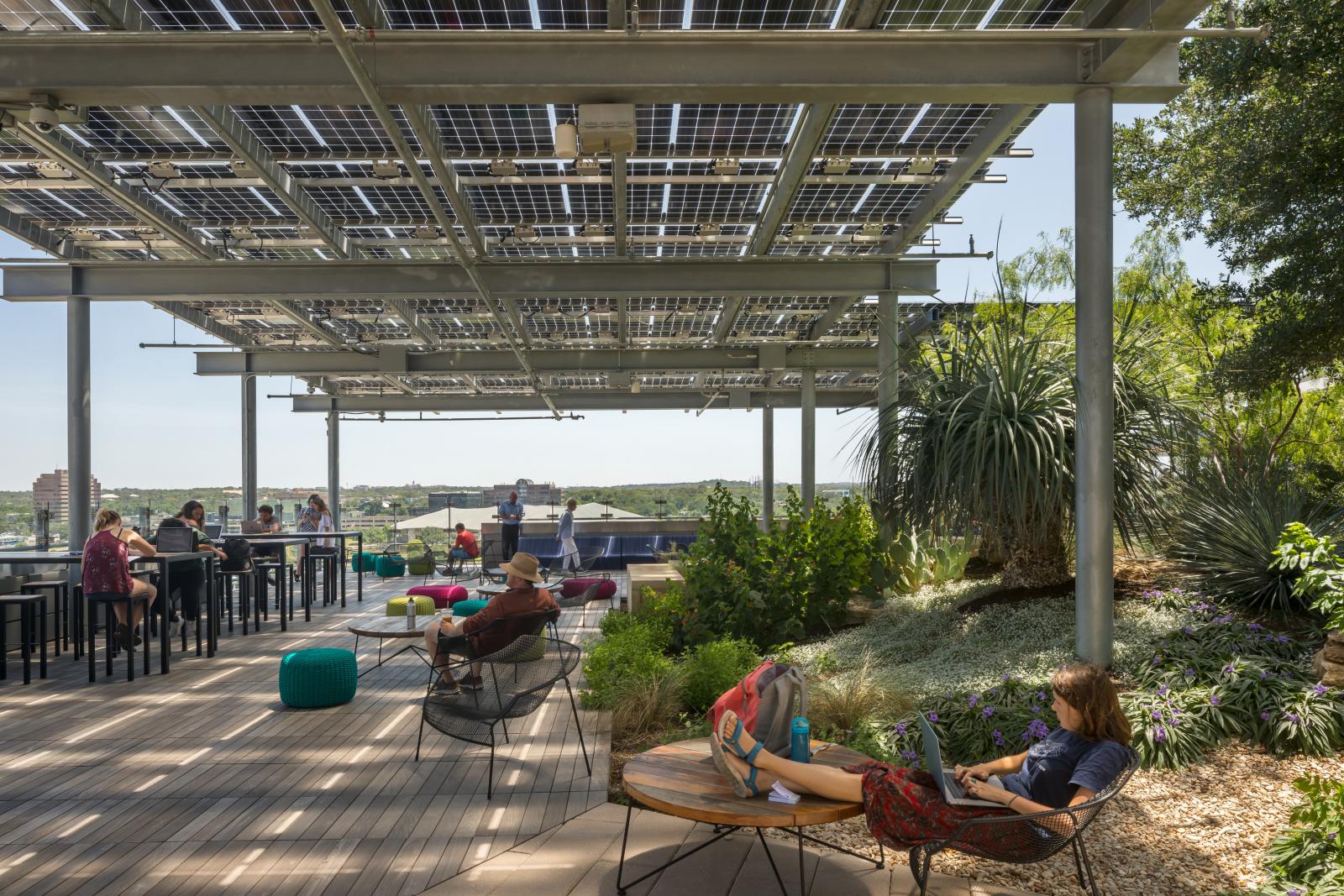 ACL 01 Context Plan.png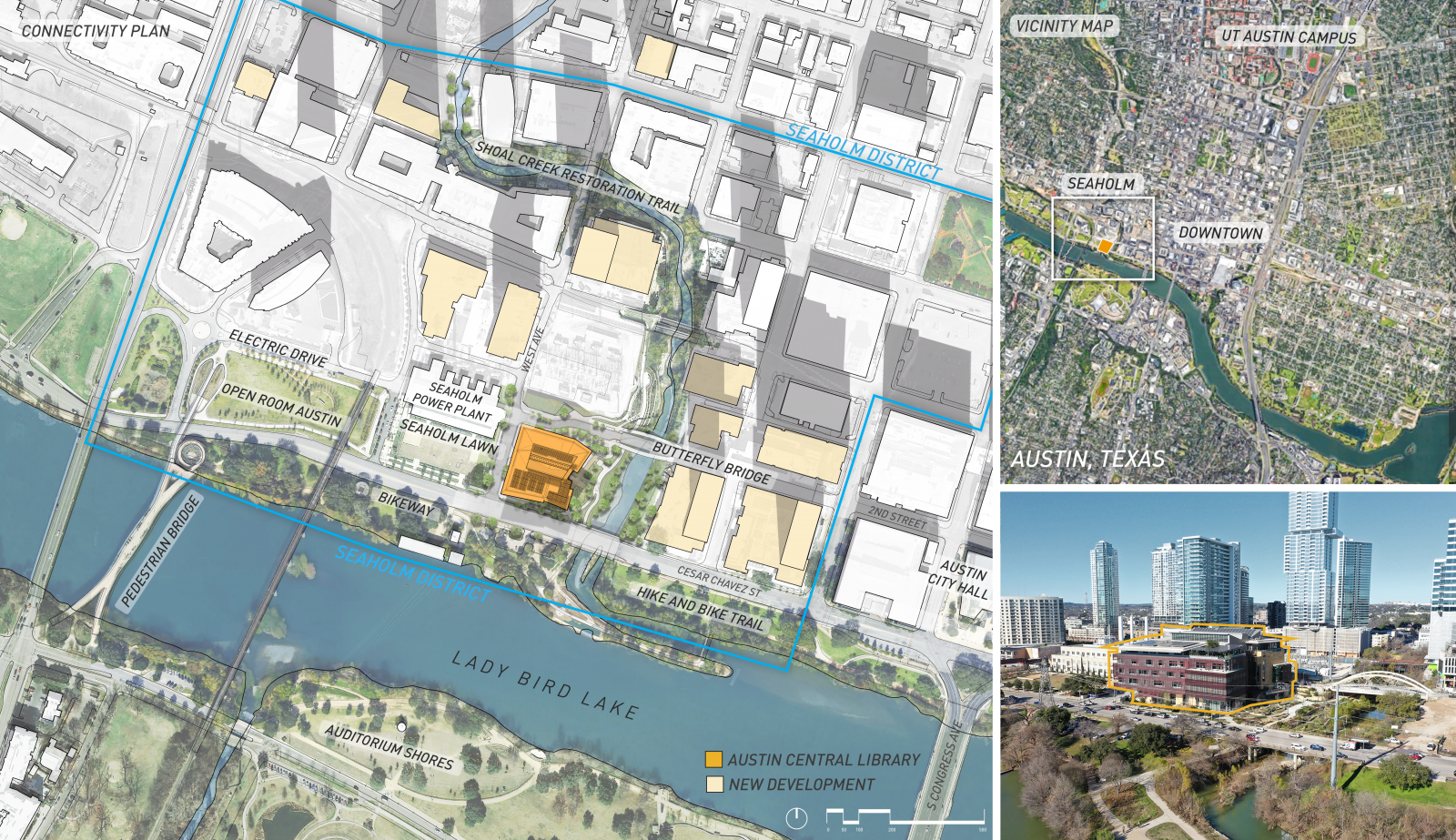 09000_P_N7_board.jpg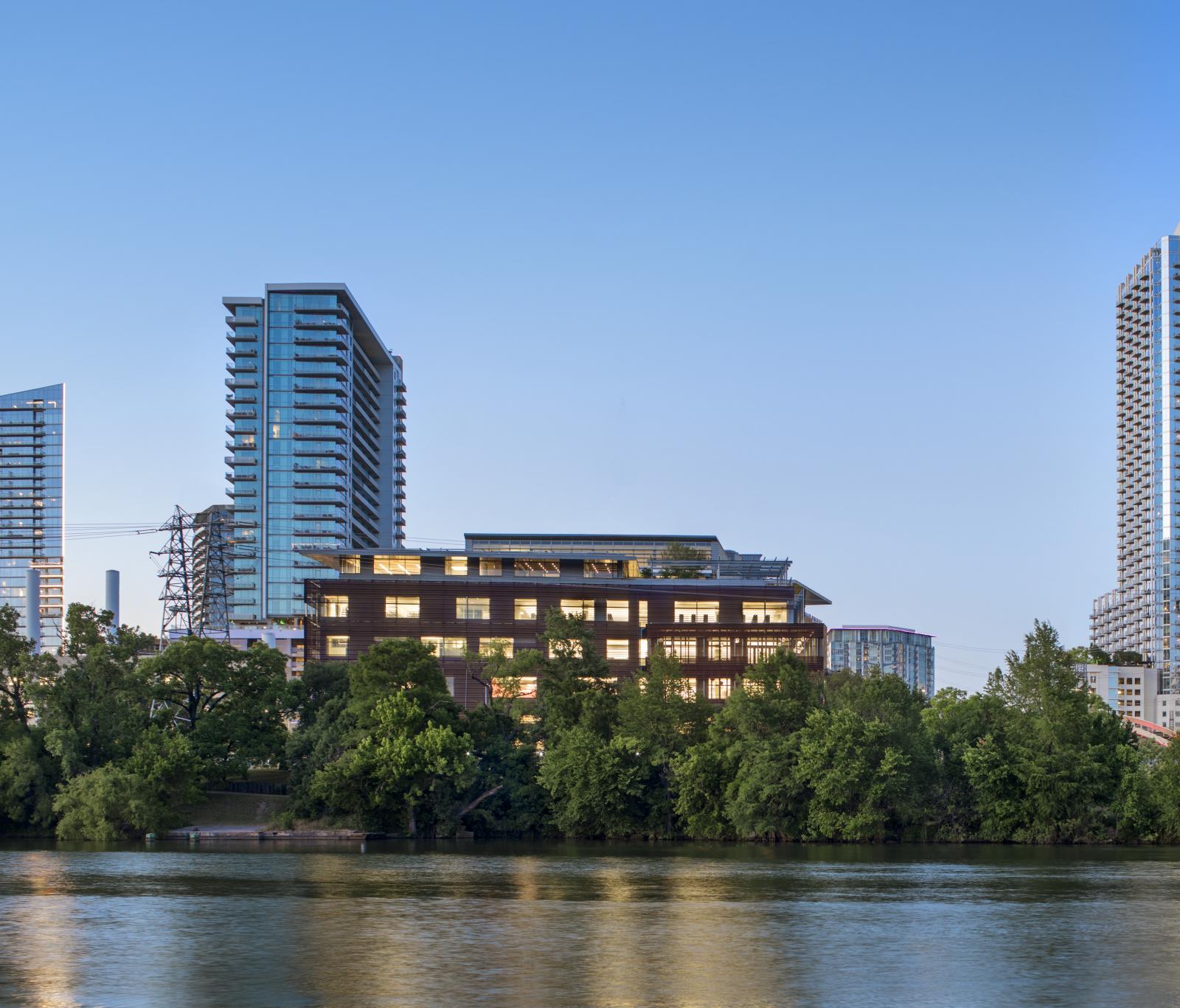 Awards
ALA/IIDA Library Interior Design Award
AIA Austin Design Award with Sustainability Commendation
American Public Works Assoc. TX Chapter Proj. of the Year
Architizer A+ Awards Special Mention
Concrete Reinforcing Steel Institute HONORS Award
ULI Austin Best Project Design Award
Austin Green Awards Project of the Year
Finalist for the International Federation of Library Association's Public Library of the Year Award
Excellence in Structural Engineering Awards from the National Council of Structural Engineers Assoc.
Texas Outstanding Civil Engineering Achievement Award
Named one of the World's Greatest Places by Time Magazine
Top Innovator Award from Urban Libraries Council
Project Size
Conditioned: 198,000 sq. ft.
Construction Manager: Hensel Phelps
Structural Engineer: Datum Engineers
Structural Engineer: P.E. Structural Consultants
Mechanical Engineer: Jose I. Guerra
Plumbing Engineer: Encotech Engineering Consultants
Civil Engineer: Urban Design Group
Landscape Architect: Coleman and Associates
Cost Estimator: Eudacorp
Acoustic Consultant: Dickensheets Design Associates
ADA Consultant: Accessology
LEED Consultant: HOLOS Collaborative
Security Consultant: Kroll Security Group
Environmental Consultant: Baer Engineering & Environmental
Interior Design: Shepley Bulfinch
Furniture Procurement: West East Design Group
Food Service Consultant: Cosper & Associates
Permitting: Austin Permitting
Fire Protection: Jensen Hughes
Building Enclosure: Simpson Gumpertz & Hefer
Wayfinding: FD2S
Electric Lighting: Clanton and Associates
Daylighting: Integrated Design Lab
Sustainability Consultant: Center for Maximum Potential Building Systems
Photovoltaic Consultant: Integral Group
Energy Consultant: Supersymmetry USA
Water Consultant: Biohabitats
Electrical Service: Harutunian Engineering
Parking Consultant: Datum Gojer Engineers
Public Art: Celia Munoz
Traffic: HVJ Associates
Photography: Nic Lehoux, Casey Dunn, Andrea Calo, Lara Swimmer
SKETCH2.jpg